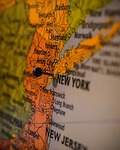 Whether you're looking for work or eager to advance your career, where you choose to live can make a real difference.
Job prospects are not equally rosy across America. Some states are booming, while others still struggle with high unemployment. Living costs and local taxation can vary widely, making a dollar earned here not the same as one earned there. Yet we all seek the same goal: Finding the best possible environments for ourselves and for our families to thrive.
With this in mind, MoneyRates evaluated several factors to determine where workers had the best shot at a healthy paycheck, a decent cost of living and safe workplaces. But we also found steep pressures on wages, stunted job growth and higher rates of injury.
Study Highlights
Texas was the best state to make a living for 2015, moving up from 2nd place last year. It edged out Washington, with the two states trading positions from last year.
Hawaii, while ever-beautiful, is a tough place for workers looking to get ahead. It came in dead last in our analysis of all 50 states, largely due to its sky-high cost of living. Adjusted for taxes and the cost of living, workers in Hawaii get the equivalent value of just 55 cents for every dollar they make.
Compare that to Massachusetts where the average employee makes over 50 percent more than the average employee in Mississippi.
How did your state measure up?
Read the full article at MoneyRates