Friendships & Relationships After College: It's all About the People
Of course you'll maintain your friendships after college! Of course those bonds and emotional commitments you've forged will carry through to meaningful – albeit long distance – relationships after college! As the beginning of your life after college approaches, the idea of not keeping in touch with the college friends with whom you've shared so much just seems ridiculous.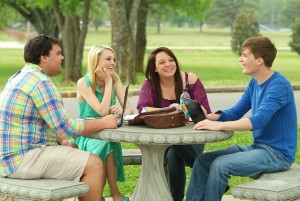 The college experience is a rich and memorable one because it is full of friends, lovers, and acquaintances. The four years you spent earning your degree provided much more than a diploma… those four years also built the foundation for your network of friendships. After college, they can continue to develop and enrich your life as the years go by…with care and attention, of course!
It's easy when all your friends live down the hall, or down the quad, or down the street. Even across town isn't so bad. But graduation usually means that the friends you've spent so much time getting to know will soon be spattered across the country… or even the globe. It takes effort on everyone's part to stay connected with friends, family, and significant others as you begin to focus on the next steps, including  finding a job after college. Not to mention the fun that begins when you find yourself in a new place in a new playing field. It's like being a freshman all over again!
Yes, you can and maintain those friendships and relationships after college. This section is full of articles aimed to help you "make new friends and keep the old", as well as provide guidance on  the ultimate post-graduate crises: long-distance relationships, dating, and … yes, marriage.