So, you didn't get to travel abroad in college? You always swore you would, but graduation has come and gone and you've still never left your comfort zone. Don't worry! There are plenty of jobs out there that actually pay you to travel for a living. However, before you start applying for your passport, you need to know the signs you're fit for the job. According to the DISH Insider's Guide, good travelers go with the flow, make good use of travel apps, try to understand local customs, aren't afraid of getting lost and are OK with changing plans. If, after doing ample soul searching, you still think you're cut out for a life of travel and adventure, here are four jobs to consider:
Photographer
With the slow death of print journalism and the almost-instantaneous rise of Instagram-style photography, you may think this type of career is no longer an opportunity. It's true — it's nearly impossible to make it as a travel photographer, unless you learn how to hustle and can win freelance jobs. Canadian travel photographer Brendan Van Son agrees. He says you'll need to work not only the newspaper/magazine circuits, but also stock photography vendors, client-direct sales, blogs and YouTube. Perfect your craft, take risks, look beyond the main attraction and work your butt off if you aspire to be a travel photographer.
WWOOFer
What is a WWOOFer, you're asking? Well, it's actually pretty cool. WWOOF (World Wide Opportunities on Organic Farms) puts willing volunteers in touch with small organic farm owners looking for help. It may not make you rich, but owners do provide all food, lodging and expertise to those interested. From sowing seeds and chopping wood to making wine and milking cattle, the jobs vary day to day and location to location. There are WWOOF opportunities across Africa, Asia, Europe, the Middle-East and America. This type of experience is perfect for those who understand we all live on the same planet and it's everyone's job to make it a better place.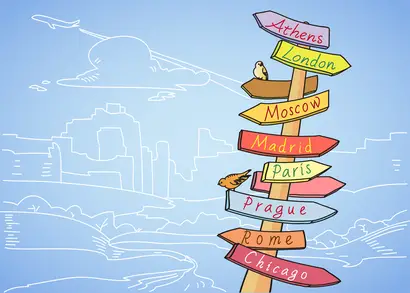 Flight Attendant
Flight attendant jobs may be harder to nab nowadays, but they're still available if you're persistent. If you only want to stop at a location for a night out in New Orleans or a day swim in Hawaii, than the flight attendant life is perfect for you. If you have grander dreams of a week exploring in Thailand, than the flight attendant life may be perfect for you as well: "In my first year, I filled my passport and had to have 28 pages sewn in," former flight attendant Tiffany Hawk blogged on her site. Though the perks are nice (you don't ever have to take work home with you), there are also a few cons. Travel attendants experience extreme fatigue and oftentimes poor scheduling.
Tour Guide
Every big city needs tour guides — city guides, museum guides, ghost-tour guides. What better way to upgrade from being a tourist yourself? Being a tour guide enables you to move to any location in the world you love most, and the requirements are simply that you learn the city inside and out. Dive in to learn the city's culture, history, language, people and subtle quirks. You'll also need to be good with people and have a sense of humor to keep every tour fresh and fun.