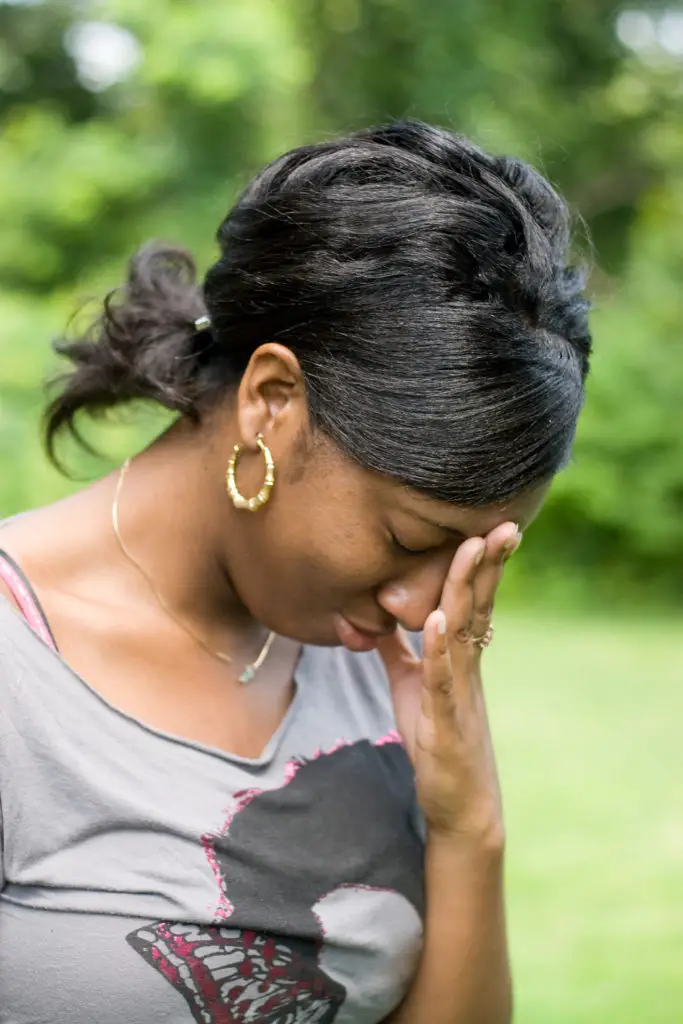 Strengthen yourself.
A brave person like you will not be defeated, a strong person like you will not fail, a person who has been established by time like you will not fall, and the lord will not abandon a good creature like you. Everyone goes through trials. Each of us has his or her problems. The path is different but always remember that God will not leave us astray, and he will not let us be hurt. Just keep the faith, trust, and pray everything is in accordance with the Lord's will.  Everything is worth the wait. The good tomorrow is destined not to be bored, and the blessings that are only for you will come, and you will never feel down and troubled again.  Now strengthen your will for the new morning. All the pain that you are feeling right now will also heal, walk your feet, and follow the destiny that is reserved for you. Trust the Lord, and you will not be hurt or fail again. Make a step one back to take a better move forward. Do not stop until you reach the right direction towards the fulfillment of your dreams. Cheer up for your loved ones!
Close your eyes to stay calm and pray for a speedy recovery.
No matter what disasters, pandemics, or accidents happen, no one likes it, but all we can do is keep ourselves always prepared, be alert and keep calm to know what to do when disaster strikes, work together to raise others to let us lift each other's up and be brave for those who hope and wait for your comeback do not be swallow or discourage, everyone can overcome as long as we stand as one and work together. No one will leave behind.
When our eyes are closed, our mind is restless or a lot of trouble but if it comes from the depths of your heart, every time you close your eyes there you will see the beauties of life on earth as we live we can breathe the air for free you can see the beautiful galaxies for free you can walk towards the beautiful sights while having fun and smiling through the deepest core in your heart is priceless and a fruitful memory. At first, you will feel the pain of what happened to you, but later, you will also see the good lessons that can be learned in your life. You are now a stronger and more positive person to look forward to. Always be thankful and grateful for the goodness and necessity.
Do not despair.
There are many you can count on to help and support you, so do not be discouraged. Many are willing to offer help and a hug for your immediate recovery, so do not be sad. Just be positive and always be thankful that you are still alive and barely breathing. Always wear your smile because that makes you beautiful.
Your loved ones who are looking forward to your return and praying for speedy recoveries do not disappoint them because you are their strength. Please give them hope so that together you can enjoy the good life that awaits. It is good to go for a walk with loved ones, eating together in front of the meal, and happy to share stories, and praying together to express gratitude to God for each blessing. So friend, be strong because they already miss you. Although I cannot feel the bitterness caused by the tragedy you have, I cannot lift the weight that has fallen on your chest, but all I can do to help you is to pray for you to recover faster and share some words of wisdom to somehow alleviate your sadness.  Do not worry because you will not be alone, and we will monitor you, give you some of your favorite foods to keep you happy, lively, and awake until you are completely improved. Believe that you can and will be able to cling to God's plan that you will not be left behind and that you will not be left, so trust and keep your faith.
Perhaps you are now asking why things happened, what is the reason, why do you still feel so overwhelmed by the amount of trouble in your mind? We have nothing else to blame because everyone goes through trials. You have any questions in your mind that no one can answer, or there is no answer for now. 
Help yourself we are just here to support you.
We also have nothing to contribute to those running troubled in your mind, but to help you heal, please strengthen your will and give words that can alleviate the situation in every problem no one likes but need to strengthen oneself to overcome always think positive so as not to You will be even more discouraged when you try to rebuild yourself for those who hope and love you. Do not think that you are wrong. Let all the wounds heal, and one day you will understand what all you are going through now and what will help you to be stronger.
Keep the faith.
Strengthen yourself like a tree whether it falls or cuts its branches and loses its fruit; when the rainy season comes, it will be full again and ready to grow larger, more durable, and more fruit to give grace to others.
Perhaps this is the way to cling to God, do not be discouraged knowing that you are just preparing to be stronger. Trust me, friend, everything will be fine also, just wait.
Now you will learn more to appreciate yourself and appreciate the life that is given as well as the life that is lent to us. Be thankful for all the blessings every day because there is nothing permanent in the world. Do not miss every second that lets you feel sad treasure every second we still have left while still living in this wonderful world and still breathing freely because life is very short and we do not know how long we will be in the world and we also do not know if maybe tomorrow there is nothing left for us or maybe tomorrow you are one of the most successful creatures. No one knows what will happen. Sometimes not our plans are followed if not God's plan because he knows better, and his plans will always prevail.  Just keep the faith and wait for God's perfect timing.
Be brave and steadfast.
We believe in your ability to trust yourself that you can, and you will be able to for the next few days you are ready, and you are more stable, like a house that in the past storms remains standing and sturdy.
It may be difficult for you now to be happy but shouldn't you still be thankful because you are still alive? Whatever you need, you just say so that we can help you and if you feel weak, hold on to God, and he will help you restore your resilience and courage.
That courage comes from the depths of your heart, and you can draw courage and strength from the people who support and are willing to support you wherever and whatever you go through. So do not be sad, my friend, you are not alone. Expect someone to care for you and help you recover, and include you in prayers for faster recovery and a healthier mind. Now all you have to do is eat more to regain your strength, sleep tight to relieve the fatigue and weight you feel and pray to regain vitality and hope in life. Keep being positive. Always look for beauty.
Do not be sad but be thankful because you are still alive.
It has happened, and we can no longer recover, but all that is needed now is to accept willingly and not blame oneself as a lesson for the next stage of life, knowing that things should not be done the things that need to be let go for lighten the mood and help with self-regulation. Leave all the toxic in your life and forget that, as well as everything that weighs on your will, is thrown away so that you can move on to a happier and easier life.  Just think that life is really like that there are events that we do not like, but the trials are not given just to hurt us. I believe that we are given trials to strengthen us and strengthen against the challenges of life like storms. They will leave lessons to be used in the next chapters of our lives.
Have a positive outlook and find beauty in life.
Do you believe that when people are happy, we often no longer appreciate those we have always wasting money, time, and moments sometimes, when we are too sad, we neglect ourselves and loved ones when we feel the lack of hope no word of mouth wants to do but kill one's own life? When people go through an accident, pain, pandemic, tragedy, at first we feel pain and at the same time the question why me and why did this happen to me? Because we no longer know how to look at the things we need to focus on, we do not appreciate the blessings that are bestowed, we no longer value ourselves, and we gradually destroy ourselves, which also causes damage to the environment, so the result is quarreled: landslides, accidents, and more.
Because we lack care and love and can no longer be thankful as now you have survived the disaster, what should you feel. Is it just sadness and grief? Or maybe you should be thankful because you are still alive and start enriching everything you still have and growing the goodwill you have and serve as a lesson so that you will not be negligent again. Our lives are one only does not destroy and do not waste. Every day is grace to rejoice and give a smile to be inspired by others. Keep productive and fruitful stop wasting negative emotions or vibes. Let us enjoy lives the way to helping others. Do not immerse yourself in adversity; get up in the morning be happy and agile. Look at life with joy and praise beauty. Do not let the sadness stay that you feel you can help yourself and you can also get back to where you are because I believe that all the events in our lives we choose and no one should be blamed but get up when you stumble, help those in need and be the voice of the weak. Let's help each other. Trust that you can get up, be strong, and rebuild yourself with a better version, more stable, and happier.
You're in my prayers, Stay strong, Glad to offer warm hug and sympathy.
When unexpected calamities occur, both the victims and the people who know them go through a hard phase. Unthinkable heart-breaking tragedies such as tsunami, hurricane, earthquake, etc., devastates people. Such natural disasters destroy people's homes, communities, work, and often take up loved ones' lives.
In a world where things spread fast, like fire, the hardest challenge is expressing distress and comfort to the broken. Victims are left with wounds and scars, which can be given comfort through mere words. But the real issue is how to convey heartfelt proper messages without being awkward? That's why we planned to set up certain genuine samples so you can get an idea and express it. If you had once tried and failed at it, do not worry. We do know that most of us weren't taught how to empathize and sympathize, but the greatest strength is the wish to learn those. 
Before moving to the samples, we would like you to know the key principle of comforting someone. It's simple, listen. Many a time, we'd have conveyed our condolences without proper context. Listening to a victim's emotions will get you an idea of their exact loss so you can convey without fluffs. Remember never to advise or break-in while they are venting because a true friend must give a shoulder to lean on first and then some soft words. 
Let's check some ideal texts of comfort you can send.
Heart-Warming Messages:
We'll be presenting you the messages using the names Scott and Taya as an instance. If you wish to forward the exact sample, you can change the name. 
We have given ten samples under each natural disaster we've usually known about and a few common condolences. But, remember heartfelt condolences require original add-ons, so have a glance and take a chance. 
Message Examples for Earthquake Victims:
Dear Scott, when I watched the aftereffect of the earthquake on the TV, my heart broke. Though I can't get close to you right now, I believe you're safe and strong. You're in my prayers, Scott. Stay strong.
Taya, I am out of words, but I am so glad you're alive. I am not good at expressing my emotions but know that I am rooting for you to heal and turn this experience into a strong future. Please don't lose your hope; we've got this.
Taya, if only I could come to your place, I'd have because I so badly want to hold your hands and take part in your sorrows. However, I'm glad that you're doing great, and I do believe you'll get through this. The disaster was terrible, but these wounds will soon turn bliss. I love you so much.
Dear Scott, you're a strong man, and you should know many of us to need you, so don't feel down. At this moment, we are so thankful to God for having kept you safe and sound. We couldn't even imagine the difficulties you'd have to face, but we do believe you'll make it. Stay strong, buddy.
Taya honey, fathoming your experience is weakening my knees. Earthquakes totally suck, but can we stop mother earth? But we surely can stop the creeping fear inside you. I'm always here for you, and you're in my special prayers. Keep your heads up; we shall overcome.
When I received the news of the tragedy, you came up in my mind, Scott. I am so sorry about the pain you went through, and I want to take this moment to tell you that my deepest prayers and condolences are with you. Take heart and believe in a positive future.
On this sad occasion, I don't know whether my words will give any comfort, but I want to offer you and your family a warm hug and sympathy. The weeks ahead are going to be bright, and please do stay healthy. If there's anything I can do, please ping me, Taya. I love you.
On behalf of my family, I convey my sincere words of comfort. Even picturing the trauma and the loss you went through shatters me to pieces. But, together, let's go through it and ease the burdens slowly. You are worth more, Scott, and I believe you're a guy who can flip the coin. Lots of love.
As you're striving hard to move past the difficult weeks ahead, I'd wish to come closer and comfort you, but due to the inability to enter the zone, I'm writing you this message. I am extremely mortified on hearing this news, and this must be overwhelming for you. You can get through this, Scott but remember, things move slowly but surely. Kindly accept my sympathy and my love for you, which I am sending with lots of prayers.
Oh, Good Lord, I am worried and saddened on hearing the tragic quake news. This is terrible, and I can't visualize the damage it caused around. As much as I want to give you tight hugs, I am not able to reach there. Here's my big virtual hug, Taya. Healing and living are going to be soon. God be with you.
Messages for Hurricane Victims
Hey, Scott. If you've received this message, kindly reply so we'll know you're safe. We at home are so worried for you, bro. We are praying and are always having you in our thoughts. Please stay healthy.
Taya, I heard about the hurricane, damn it's so horrible! But what eases my heart is that you're okay. Thank God. In the meantime, while you revert to me, I want to express my joy because you're safe. My prayers are with you and other victims.
When I heard the hurricane news, I was lost for words. Scott, we want you to know that all of us back at home are praying for you. Lift your chin buddy, don't give up. The loss will soon turn into benefits. God bless.
Dear Taya, I am writing this to you on behalf of your parents as well. We're super worried, and please update us soon. If there's anything we can contribute, ping me up.
Dear Scott and Taya, I hope you both are doing good with the kids. At this point of tragedy, we have no words to say as we are flabbergasted. Stay strong as always, you both, because the kids need you more now. After all, you've both have crossed worse times, and so this will be gradually moved ahead too. Take heart.
We are very sorry to hear about the losses the hurricane caused. The aftermath was worse this time, and we are thinking about you. All we pray to God is that you will piece things back together bravely. Love you.
My honest condolences to your family and others around your neighborhood. We sincerely pray for the lives who rested in peace due to this hurricane. May everybody find solace and find love in God's mercy.
We learned about the disastrous hurricane. Man, I know how terrible it is to lose lives, but I'm proud of you for holding up your heart. Scott, I am always standing there for you and praying here. You've got this best friend!
I am so mad at the calamity that caused deaths and injuries. The damage is extensive, but I am so grateful that you survived it. I am sincerely sorry for your pain and loss but let me know anything that crawls you out. I am here to hear 24/7.
Taya, I hope you're well now. Aftermath pictures on the news sent shivers down my spine, and I couldn't imagine the trauma you're under now after losing your home. We can overcome this because God's got this. Call me up anytime; I'm in to aid you. 
Message for Tsunami Victims
Taya, I know you've probably received plenty of comforting messages, but I want to say that you're the only one in my heart at the moment whom I'm yearning to see. I am so heartbroken to know that the tsunami has shattered your home. I am praying for you, and I know you're super strong. You can get over this.
Scott, are you okay? Please revert. I'm hella worried and sad. I heard that you'd survived the waves, but I don't know what's eating your mind. Please remember, I am here for you. I love you.
When I switch channels, everywhere I see the visuals of the tsunami's damage. My heart's sinking every time I remember you went through it, but I'm glad you're alive. You're the best, and I know you'll win this over. May the force be with you!
Mi Amor Scott, how are you? How are things going on? This year's been terrible for you, and I am so sad about it. I have sent a gift to your place because I couldn't make it in person. May the flame in your heartburn endlessly and give you courage. This dark time will be lit by your strong heart. Yes!
Mom, I can't believe that a tsunami hit your locality. God, I wish I was next to you right now. Mom, I am so happy that you're okay. I'm coming soon, so stay strong until then—lots of love, mommy.
We convey our deepest sympathy to your town as the destruction scale has traumatized everyone. Our thoughts and prayers are with the people who are boldly progressing through this hard time. United we stand, soon we overcome.
Little did we know that Tsunami will happen in your community. Good gracious, you're fine, but it hurts to know you went through this alone, Taya. We are sure that you'll be resilient to the catastrophe's effect. You're such an inspiration for always being brave. You can ace it, girl! Feel free to call me any time for any help.
My God, the tsunami tragedy was terrible, and I'm so sorry for the uncertain predicament. My family is constantly praying for your upliftment. My daughter has made a handmade comfort letter which I have sent to your place. I hope it will give you some healing.
Where there is mourning, there is joy in the morning. The past does hurt, but it also teaches us the best lesson. Isn't this something you always tell me? The experience you had to go through during a tsunami is unexplainable. Accept my sincere prayers and blessings. With love, your mom.
Dear sister, all I want at this moment is to grab you back home here because I don't know how you're managing things there alone. Everyone at home is committing you to God in prayers. The tsunami was so unexpected, and we are so worried about all the other victims. We know you'll get through this. Please call us asap; we miss you. 
Messages for Wildfire Victims
My dear Taya, the wildfire was a misfortune. We are regularly praying to God for you. We'll soon stop by your home; until then, keep staying strong. 
Scott, I'm so alleviated you're safe after the fire. I was going crazy with stress when I heard what was going on. Thankfully, you've survived through it. Stay strong, honey.
Taya and Scott, we found out about the rapidly spreading fires in your area. We trust you've sorted things out. May God shower his blessings on your family.
Taya dear, I am eased to the point that you're fine from the wildfires, yet dear God, what destruction! Take care and be strong; we're with you.
Hey, I am so sorry for your loss. All of us at our church have been petitioning God for the victims' healing. The Lord always remembers his people, so please keep the confidence. Love you.
The unavoidable natural disaster has occurred once again. Wildfires that've been consistently consuming areas have made thousands to leave their homes. We are so proud that you're trying your best to change the situation. We are so happy that you're safe. Can you give us a call and update things so we can contribute something? Stay healthy.
Death is a terrible truth, and God has a reason behind it. When we heard about your loss, we wanted to give our sincere sympathies during the distress. Remember that you're valuable in the eyes of God. He's got you and your family. Stay blessed.
My sympathies go out to you and all the wildfire victims. None of us are ready for death, and we are extremely grateful that you faced it and returned mightier. Kindly talk to me if there's any need which I can help with.
My best friend, I am so sorry about the misfortunes you encountered because of the rapidly spreading fire. All-day and every day, you're on my mind, and each rosary that I am reciting is for your well-being. I am here with open arms for you to come. Stay brave!
When I heard you were caught in the wildfire, my heart skipped a beat. I don't know how even to convey the suffocation I endured when I imagined your loss. But I am so grateful to have you alive. Please don't hesitate to vent or ask for anything. I love you so much. 
Common Condolences Messages
May God cover his wings around you and your family at this moment of grief. We love you, and our deepest sympathy goes out to you all.
We convey our love, prayer, and support to you at this phase of pain with heartfelt love. We hope everything in the future brings you lots of comfort.
Our prayers continue for you and your loved ones who rested in peace. May this experience quickly ease and give you beautiful memories to cherish. Sending warm and long hugs.
He was a great brother, and to know that he no more will be next to us crushes our hearts. May his memories and moments bring us happy smiles throughout the lifetime. He is forever with us in our hearts.
Taya, we really wish to be next to you during this disaster. But, unfortunately, due to the aftermath, we couldn't get into your community. But, stay confident and keep your heart strong. All this pain will fade. We love you.
This feels so unfair! You didn't deserve to go through this chaos. At the same time, I am so inspired by your braveness. Please keep staying bold like this. I am sure you'll heal in no time.
I can't envision what you're feeling right now, yet I need you to realize that we are only a call away—my genuine sympathies.
May the affectionate recollections of your dad bring you comfort during this difficult time in your life. My heart and supplications go out to you and your family. The government has been doing a great job at your place—our prayers to all the victims out there near you.
Words may not get the job done to connect the sincere distress that I feel for your traumatic experience. However, please acknowledge my sympathies, and I will make certain to include your issues in my daily prayers.
Dear Scott, we are upset about your misfortune. I will be dropping by your home soon, and you're always welcome at our homes. Please do feel free to ping me for anything. I know my words may not get the job done, but until I come in person and fill you with warmth, stay strong.
What to-do and to-not while constructing a condolence message?
When you're sending a condolence text, the key factor you ought to focus on is the recipient's main loss. Sympathies are a speech of compassion toward the mournful receiver; hence adding too many unnecessary pieces of advice, fluff, or random things might hurt them more. Try not to compose extra-long messages as the person has already received numerous messages. Here are the What to do and What not to do, which will get you a picture of compassion messages.
What to do?
Tell the beneficiary you are upset about their misfortune. 
Include quotes or religious texts that will give some comfort.
Make them feel that you're always available to seek.
Let them know how thankful you are to know they are safe and sound.
Empathize and state that you know they are stressed, and you can feel it as well.
If you're not good with words, add that you have no clue how to express them, but your feelings are genuine. If they know you, they know this is true.
Encourage them that the moment shall pass, and things will get better.
You can say how picturing their current state is so hard. This will make them feel they're strong. 
Including words like dear, love, sweetheart, honey will give a close touch and will reach your heart to them. Make sure you use it only for those who are comfortable with it.
Stress that they're bold, capable, and brave to overcome the disaster. These encouraging statements often make the victim feel like they're fit to conquer tough times.
Express your gratitude for the relationship you both carry. The victim will be glad to have found you and would be open to you. 
Ask them questions that will make them open more but make sure you don't ask triggering or forceful questions.
What not to do?
Do not advise. You can suggest but never advise.
Don't state you've gone through worse than what they're going through. That's not a way to tell they can overcome it. That will make them feel horrible and like a coward.
Do not bring religion in vain and say stuff like, "God was angry; hence he brought this on all of us." That hurts religious people as well as makes non-religious people dislike religion/religious people.
Do not tell them to have been aware or precautious of the disasters. Natural disasters are uncertain, and even if the news has been updating about it, it's not easy to quickly move away. 
Don't talk about helping with money right away. Express you're ready to help for anything and if they ask you for money and you're okay with it, proceed. Bringing in money right away makes them feel like a charity shop. Avoid it.
Wrapping it up…
Someday or the other, every one of us will go through a difficult phase. Conveying heartfelt messages might sound simple, but those very words bring light to the person you genuinely care about. Almost all people have the heart to take part in others' distress, and if you're one among them, you're someone to be respected.
We hope our samples and tips helped you to compose and mold your loving messages to the victims. We also send our deepest condolences to all the people who have lost their loved ones during this ongoing pandemic. Covid-19 has taken a toll on all of us and we sincerely send our sympathies to the families and individuals. We got this together, everyone. Have a nice new year.