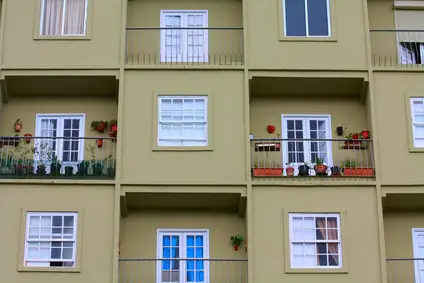 Many colleges across the world provide on-campus apartments . Behind the success of advancements, there are usually many hardworking specialists who had to go through years of higher education. The number of college/university students grows each year from around the globe. Many of them want to pursue education in the most reputable institutes which are far from their own homes. So, with an increase in population, there should be a demand met for their housing.
Luckily, there is no need to fret as colleges are prepared to meet these demands. Many colleges across the world provide on-campus apartments. This is convenient since students don't have to worry about transportation. colleges facilities are also open to students, making their living experience a lot more comfortable.
Types of on-campus Apartments in colleges :
This is the option most freshman college students apply for.
Sometimes colleges do not give the students freedom to choose. So, by default students either stay in the dorms for the whole duration of their course or depending on college policy, they can stay there till sophomore year.
Some college dorms offer a shared 2–3-person room with a community bathroom down the hall, while others provide a single or shared bedroom with a private bath.
Some college dorms have now even set up private bedrooms with shared common rooms.
Dorms are an excellent way to get familiar with your peers and settle into this new chapter of your life.
Sorority or Fraternity Houses:
A sorority or fraternity is a club in college that aims to cultivate a bond, friendship, or grow a community, etc.
Females join sororities and males join fraternities.
These two organizations have their own houses provided by the college.
These houses usually differ from college to college. Some provide facilities that others do not. So, thorough research beforehand is suggested before joining a sorority or fraternity.
University Housing Units:
 Very similar to regular apartments and a decent substitute for dorms, you can often find multi-bedroom housing units with much more space than what a dorm room could offer.
However, unlike regular apartments where you can have your independence, University Housing has set rules provided by the college just as you would have in a dorm setup.
Fortunately, you are also liberated from paying monthly rent, utility bills, etc. as everything is included in the "room and board" fees which are to be paid at the start of the year/semester.
Off-campus accommodations:
These are either houses or apartments outside the campus not provided by the college.
Although you will have to pay monthly rent, utilities, groceries, maybe even transportation, etc. you will also have an independent space to yourself away from the noise of on-campus housing activities.
Usually, by junior or senior year, many students opt for this living style.
They can now focus more on their education in a quiet surrounding and on their terms.
It's a great option as it helps students to reduce stress and focus better.
If you are one of the lucky few students whose house is close to college, then you don't need any of the above-mentioned living spaces.
You are exempted from paying rent and additional fees, etc. as your parents will most likely continue to do so as they always have been.
Commute won't be a problem if you have your own personal transport.
Advantages of Living On-Campus:
You'll probably hear this advice from everyone, but it's best to live on-campus during the first year or two of college.
It's the perfect first step in switching over to an independent life. 
You won't be thrown right away into the world of paying rent, utilities, cooking, etc.
It's an easy way to adjust to your new surroundings. Living on-campus means you'll get to be around more students such as yourself. So, you all can figure things out together.
Creating Your Own Social Circle:
College life often offers exciting events on campus.
By living in dorms, university housing, or in a sorority/fraternity house, it won't be such a hassle to attend these events.
You can make friends and who knows? Maybe even possible roommates if you plan on moving out to an off-campus housing unit later.
As mentioned above, the commute is not a problem when living on-campus.
On-campus housing units tend to be very close to classes and libraries.
Being late to class won't be an issue for you and you'll be able to get that extra sleep off-campus students don't have the privilege of. 
Granted, this one's a little bit of a gamble, but usually a safer option than the rest.
In case, if on the off chance, you do encounter an issue, you are allowed to file a complaint or even request to change your room if things go south. A privilege you won't be able to enjoy if you later opt for an off-campus housing unit.
But if you're lucky, your roommate can end up being one of the best things that have ever happened.
One of the most important things about living on-campus is that you don't have to worry much about security or safety. Colleges provide students with safety and security.
Whereas, in contrast to off-campus housing, you have to do a little bit of research on safe neighborhoods. 
The better the safety/security of a neighborhood, the higher the rent of the houses/apartments there.
Conclusion:
In the modern-day and age, there are plenty of options available to students for accommodation during their 4–6-year college life. It is also understandable that each student has their own needs and living styles that they are already accustomed to. Therefore, colleges have provided different living options on campus to meet the needs and demands of each student. Although off-campus housing sounds exciting, it's best to enter the real-world step by step and on-campus housing schemes are a decent first step. 
Frequently Asked Questions
Do College dorms have an age limit?
No, usually, colleges allow adult students to live in on-campus dorms/apartments, but students over the age of 25 often opt for off-campus housing.
How much does a dorm cost?
The cost of dorm fees depends on the college you are attending or applying to. However, it approximately ranges from $8,000 to $13,000 annually.