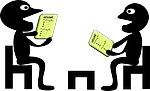 If you find yourself feeling queasy at the thought of negotiating your salary, you aren't alone. Research from Salary.com reveals that around one-fifth of candidates don't counter the first number on the table after they receive a job offer.
In fact, a poll by the Society of Human Resource Management found that nearly 80 percent of those surveyed expressed that they didn't like to discuss money or negotiate employment terms.
Female candidates are even more affected by this apprehension.
According to Linda Babcock and Sara Laschever, authors of "Women Don't Ask: Negotiation and the Gender Divide," 2.5 times more women than men feel "a great deal of apprehension" about negotiating.
Babcock and Laschever also found that while 46 percent of men report "always" negotiating their salary, only 30 percent of women do so.
That's a shame, because you might be leaving a lot of money on the table. "The worst thing that can happen when you push for more is that they say 'no,'" says Anne Devereux, chief strategy officer at Lantern and founder of Parlay House. "But if you do it with grace, they will respect your courage and persistence – and if you don't ask, you will never know what could have been."
To avoid the remorse of bypassing this crucial last step of your job search, here are four strategies for successful salary negotiation:
Read the full article at: The 4 Most Powerful Salary Negotiation Tactics – US News