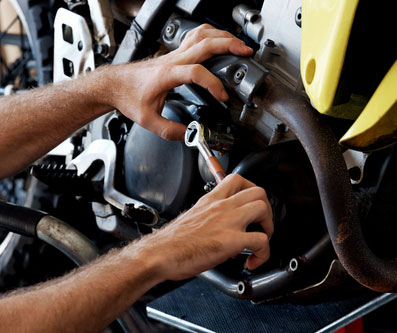 Gallup's 2013 State of the American Workplace survey found that 70 percent of U.S. workers dislike their jobs. Some simply hate their bosses, while others are forced to do something they dislike simply for a paycheck to cover monthly living expenses.
Motivated people who love saving lives and communicating with others go to medical school or become nurses. Mechanically-inclined individuals who are good with numbers become engineers. The key to happiness with any career is turning your passions into something that can also earn money.
Granted there are few people in the world who earn a good living playing video games; but the point is any hobby can become a career if you work hard enough at it and take the necessary steps to monetize the activity.
Greenbacks for Grease Monkeys
Five days per week, you place phone calls to potential clients hoping to close deals and make a commission. Your stress relief on the weekends entails buying motorcycle parts and restoring old bikes. Your perfect career is thus starring you right in the face if the proper initiative is taken.
Car enthusiasts can begin the transition from hobby to career by finding work changing oil or doing tune-ups at a local shop. Automotive Service Excellence (ASE) certifications can be had simply by studying for the tests and passing them. No formal education is required. A Master Certified Technician diploma hanging on your garage wall can lead to opening your own shop and quitting your "day job."
Motorcycle mechanics are more specialized and only work half the year, unless of course you live in the south or on the West Coast. But you can earn credentials online in as little as three months and either start your career at a local shop or establish your own business.
Earn Money Writing
It's impossible to know exactly how many blogs exist in cyberspace. But to gain some perspective, users publish about 43 million new posts every month, according to WordPress. But very few people earn money blogging, and even fewer earn enough to support themselves entirely from writing. Blogging can grow into a career with patience and perseverance.
Google AdSense and Amazon Associates are advertising platforms every blogger should use to potentially earn money. Granted you'll need thousands of page views per day to earn anything from either program. But having them in place in case a post goes viral can't hurt. Try to publish at least one new post per day, as Google will index your blog faster the more active it is.
Writers can also earn money as freelancers. Elance, Odesk, and Writerbay always have opportunities available for you to apply for. It's very possible to earn a living solely from these platforms if you're persistent and willing to take constructive criticism.
Culinary Cash
Food is a passion of a lot of people, whether they like to eat it or cook it. The latter group can transform that hobby into a business with just a few simple steps.
Some state and municipal regulatory agencies require food sold for profit to be prepared in commercial kitchens. But several states have passed cottage food laws, which allow the sale of certain foods without a license right out of your home. California passed the Homemade Food Act in 2013 and Forbes reported that over 1,200 home-based food businesses were in existence one year later.
Cooking is your hobby, but you must think of it as a business first to earn a living. Check with your state and local commerce departments to learn about any required health inspections and courses necessary to get started. Take a few business courses online and attend local seminars not only for networking purposes, but to learn from those are already where you want to be.