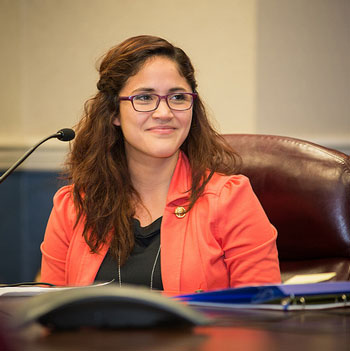 You did it. You nailed an internship. Now it's time to make the most of it. But, don't put so much time and effort into finding and securing an internship that you don't consider the nuts and bolts of the internship itself. Then, once it's over, you could look back and wish you had done some things differently.
Check out these seven things many interns forget to do:
Network.

Internships are a great opportunity to network and meet people in the industry who have already begun building careers. However, many interns don't take advantage of the networking opportunities. Try to meet everyone you can, make connections and save contact information—you never know what opportunities will come up down the line.
"Every meeting, lunch break, and work event is a networking opportunity," said Jessica Solomon in a blog post for Chegg. "Switch up who you sit with, engage someone new in a conversation, and take the extra step because it definitely won't hurt."
Develop relationships with the team and management.

Internships are great for developing skills and gaining experience, but they're also good opportunities to develop relationships with the team and management. Get to know your coworkers—they can help you learn about the industry and make the most out of your internship experience. Plus, they can serve as references or even recommend you for full-time positions they might hear about.
"Your current colleague could be your future employer, and your next job may rest on a recommendation that has yet to be written," Solomon said. "You never know when that little favor you did for someone at work will become the tiebreaker between you and an equally qualified applicant."
Write thank you notes.

We may live in a digital world, but don't underestimate the power of a handwritten thank you note. After the internship is over, take time to thank the organization and write a few words about your experience.
"The best thing to do is send a handwritten note thanking them for the experience and opportunity to work with them," Alison Graham said in a post on Fastweb. "It'll leave them with good thoughts about you and you can most likely refer to them for a recommendation later."
Attend as many events as possible.

Internships offer chances to attend events you might not be able to otherwise. Take advantage of that and attend as many events as possible. It can be tempting to pass on opportunities that are outside of work, especially when you're busy with school, but after the internship is over, you'll be glad you attended everything.

Be engaged as part of the team.

Internships are temporary by nature. They have a start date and an end date. However, that doesn't mean you shouldn't be engaged as part of the team. Ask questions, participate, and be involved in order to make the most out of your time with the company.
"Your internship should challenge you while providing real work experience, so do not wait for a week or even month before you feel like you're giving value to the company," Solomon said. "Reach out to other employees to assist with a project or attend one of their meetings."
Contribute ideas.

It's easy to feel intimidated as an intern, but you're part of the team, too. Speak up in meetings and contribute ideas if you have them. You'll stand out as a stellar intern and be more involved in the company.
"As an intern you are an unknown being…starting at the bottom," said Rebecca Shapiro in a post on CRCC Asia. "Though not an ideal position to be in, you have everything to gain from being as enthusiastic and hard working as possible."
Save work samples for a portfolio. After the internship is over, collecting work samples can be a big hassle. Instead, keep a file of all your work—virtual or otherwise—as you complete it. That way, after the internship has ended, you have all of your work in one place and can easily build a portfolio. You'll be glad you did when you start interviewing for other positions.
Your internships can help you gain experience in your industry and position yourself for your dream career. Be sure to make the most of them.
Former interns, what are things you wish you would have done?
Article contributed by Val Matta
Val Matta is the vice president of business development at CareerShift, a comprehensive job hunting and career management solution for companies, outplacement firms, job seekers and university career centers. Connect with Val and CareerShift on LinkedIn.