Indiana University Bloomington was also known as the State Seminary and Indiana College. It has been known as Indiana University since 1838. The motto of Indiana University is "Lux et Veritas," which means "light and truth." Since the university started, it has spread the light of education and knowledge among students around the world. Indiana University is a public research university because it offers facilities for research students. Indiana University provides education to more than 45,000 students who come from both national and international countries. Indian University tries to provide enough instructors and advisors so that they can fluently solve the issues of the students and they can concentrate on their studies, so Indiana University has almost 2,200 academic staff working to help the students.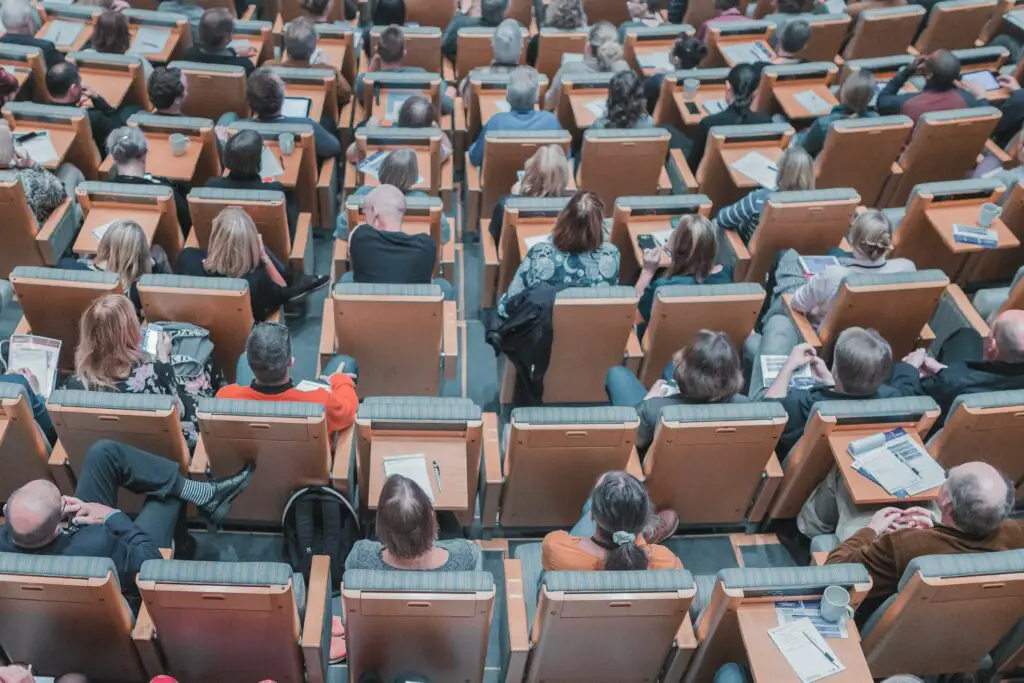 Indiana University Bloomington
Indiana University Bloomington is a prestigious university and a member of the Association of American Universities. You can pursue your scholar programs at this university, and it has different facilities for scholar students, which makes it popular among students who want to pursue a Ph.D. from Indiana University.
The ranking of Indiana University is in the top hundred universities in the United States from different survey websites and magazines, and the programs of Indiana University have good national rankings, which means Indiana University could be the right place if you want to pursue your undergraduate, postgraduate, and scholar studies at a prestigious university.
The business schools and programs of Indiana University are in high demand among students, as it was ranked number one by Bloomberg Businessweek for its public undergraduate business program operated at the Kelley School of Business.
Indiana University has some affiliated schools and colleges that are working in partnership with the university, and these colleges are running job-oriented programs that can help students achieve their dreams and lead comfortable lives when they leave the university.
The acceptance rate at Indiana University is 80%; it offers more than 2,000 undergraduate courses, and the average annual cost at Indiana University is from $43K to $45K. It varies according to the course and for abroad students.
Eligibility for admission to the Indiana University
If you are seeking acceptance to Indiana University, you must have the following eligibility requirements to get accepted at Indiana University.
An applicant must have scored more than 60% in his high school and other academic schools.
The minimum GPA required for admission to Indiana University is 3.73 or higher.
Your SAT and ACT scores should be at least 1160, and the higher eligible SAT score should be 1350 or more to be considered an eligible student for admission.
The ACT and SAT are mandatory exams if you fill out an application for admission to Indiana University Bloomington.
The average eligible ACT score at IU is between 24 and 31.
Indiana University has determined an eligibility credit score according to the subject you are applying for, and you should check the eligibility of the stream you are putting in for at Indiana University.
If you possess all these eligibility requirements, then the chance of your admission to Indiana University is 80%.
The application fee for Indiana University is $65; a fee waiver is available at the university.
Some programs of the Indiana University Bloomington
Here is a list of some programs at IU Bloomington:
Mass communication and media studies
Liberal arts and sciences, or liberal studies
Kinesiology and Exercise Science
Biological and Biomedical Sciences
Computer Sciences
Political science and government
Community health and preventive medicine
Fine and studio arts management
Health and physical education or fitness
Besides, Indiana University Bloomington offers more than 550 academic programs in different streams and subjects. You can choose the program according to your preference, and you will be accepted according to your eligibility.
Fees and Other Costs at the Indiana University Bloomington:
Indiana University has divided its fees and financial aid into two parts: those for students who have Indiana residency and those for those who do not.
The tuition and fees at Indiana University are $11,446 for Indiana resident students and $39,118 for living abroad students. The room and board expenditures of Indiana University for living abroad and Indiana residents are the same: $12,228. The cost of books and supplies for Indiana residents and out-of-state students is $900. The transportation cost for Indiana resident and nonresident students is $712, and you can keep $2,170 for your expenses at Indiana University. If you calculate the average total cost of Indiana University Bloomington, the total direct cost for resident students is $23,674, and the total direct cost for out-of-state students is $51,346. The total indirect cost for Indiana University students, both residents, and nonresidents is $3,782.
The total attendance cost of Indiana University for Indiana residents is $27,456, and for out-of-state, it is $55,128.
Most of the classes at Indiana University cost an average of 3 credit hours per semester, and if you calculate it according to the programs, it requires 15.5 credit hours per semester.
Specialization of the Indiana University Campus and Facilities for Students:
Indiana University provides on-campus housing for its students. You can be a part of the athletic team at Indiana University because you can play games like basketball and baseball, and a few more indoor and outdoor games are available for the students. Indiana University has a quality gym on campus where the students who are fitness freaks can go and keep themselves healthy and fit. You can join the arts and culture program at Indiana University, where you can be a part of more than 1,500 world-class arts and culture programs.
First-year students at Indiana University get good care from the management, as they get housing options near the classes and campus events. They can enjoy their freshmen life at IU as they get more community and neighborhood options, student organizations available to help them, and a few other benefits for first-year students at Indiana University.
Herman B. Wells' statue is a sign of good luck for Indiana students, and the students try to shake hands with this statue as a tradition. You can participate in bicycle races and wear the traditional candy-striped pants of Indiana University.
Ranking of the Indiana University Bloomington:
The rank of Indiana University Bloomington is 72nd in the national university rankings by US News and World Report, and it received a rating of 4.8 out of five stars. It has the 41st-best rank as the best college for veterans; it is in the 176th position in the ranking of the best value schools rankings, and it has the 361st-best succession for the top performers on social mobility. Indiana University is at the 29th-best rank in the top ranking of public schools, and it has the 8th-best ranking for its business programs.
ARWU awarded its ranking between 41 and 56; Forbes has given it the 90th rank; the WSJ has given its 97th rank, and Washington Monthly has put it at the 48th rank.
Indiana University's different programs are also in the top 10, as the marketing program is at the 3rd rank, the management information systems program is at the 7th rank, and the production and operations management program are at the 12th rank.
Affiliated Colleges of the Indiana University Bloomington:
Here is a list of some affiliated colleges of Indiana University that are spreading the light of knowledge among the students throughout the years with Indiana University:
College of Arts and Sciences
The Media School
Hutton Honors College
Jacobs School of Music
Kelley School of Business
Maurer School of Law
School of Education
Luddy School of Informatics, Computing, and Engineering
O'Neill School of Public and Environmental Affairs
School of Public Health-Bloomington
Besides these colleges, a few more are affiliated with Indiana University, and for details about those colleges, you can visit the website of Indiana University Bloomington.
How can you apply for admission to Indiana University?
The students who seek admission to Indiana University and fill out the application form should follow these steps to fill out the form:
Indiana University offers two types of applications: the common application and the IU application. You should fill out one of these forms.
You can use the IU application or its official website to fill out the application form for Indiana University.
Fill in the details like name, email, birth date, and expected year of high school graduation, and register your account with the IU.
You will get login credentials on your registered email and phone number, which you can use for filling out further details at Indiana University.
Apply for admission before the end date for applications, validate your details before the last submission, and upload the required documents for acceptance on the portal.
Pay the application fee after filling out the descriptions and checking them, and send your test scores to Indiana University.
You can also apply for scholarships at Indiana University.
Some Crucial Alumni of Indiana University
Some notable alumni of Indiana University are as follows:
Douglas Hofstadter
Andre Watts
Joshua Bell
James Watson
Jimmy Wales
John Chambers
Hoagy Carmichael
Bob Chapek
Not only are these notable alumni of Indiana University, but some more crucial alumni are from Indiana University who has served brilliantly in their field and have become great role models for the students currently pursuing their course at Indiana University.
Conclusion:
Indiana University Bloomington is one of the top and most prestigious universities in Indiana and is known as a public research university. Indiana University started its journey in 1820. Since then, it has continually worked to provide great personalities to society. The expansion of the Indian University of Bloomington campus is almost 7.32 kilometers. The library of the Indiana University Press has an enormous collection of books, more than 9.9 million of which are available in the library. It has more than 800 online database stores of books, which students can access from anywhere and anytime when they want to study. It has three different museums for students, which are the center of attraction for the students at Indiana University.
FAQ:
Is the COVID-19 vaccine necessary for Indiana students and staff?
Yes, Indiana students, faculty, and staff must have the COVID-19 vaccine to move onto campus, and abroad students must be fully vaccinated.
Is IU Bloomington a Tier 1 school?
IU is a public and national university. It is recognized as a Tier 1 school for graduate and undergrad programs at Indiana University.