We all know animals and humans have shared a special bond for ages. They are the most loyal creature on earth. They not only guard their owner but they bring warmth into their lives. Having a strong sense of empathy and awareness, they interpret the mood of their caretaker and help them to feel better. So, do you share the same bond with animals and want to become a veterinary doctor but are clueless about the journey? Don't worry we are here to share the relevant information regarding the Question "Can You Go Straight To Vet School After High School?"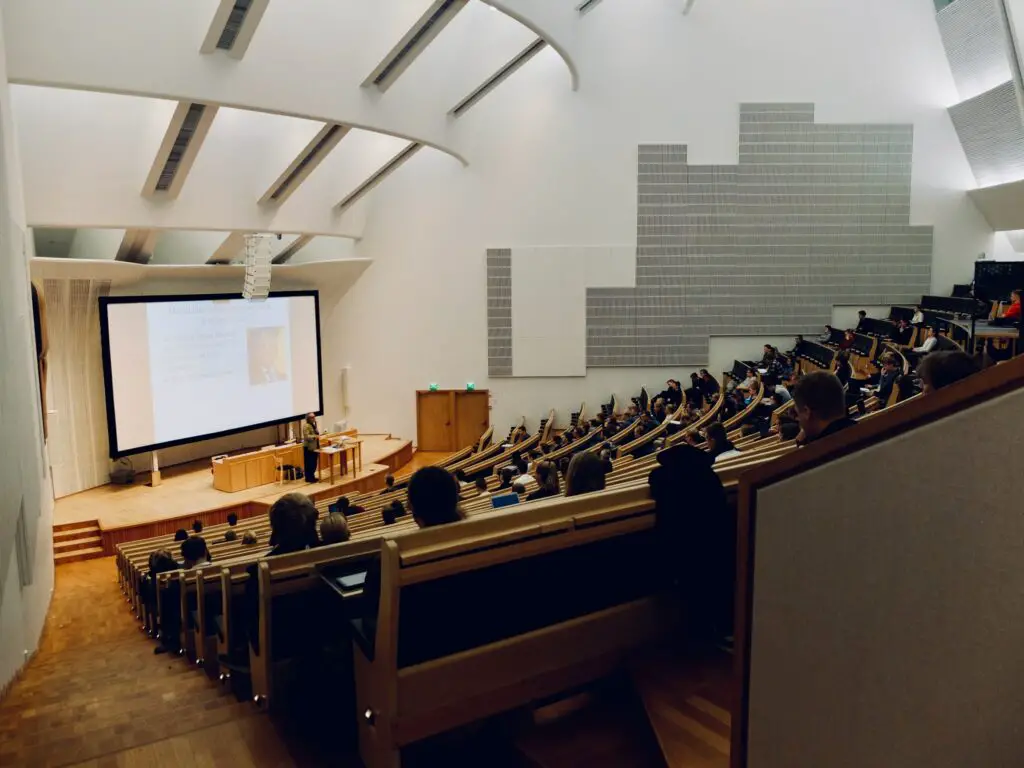 Becoming a successful veterinarian is a complex process that takes years of hard work. One cannot take direct admission to vet school after passing high school. 
Students need to first complete an undergraduate degree of three-four years that too in the field of science, zoology, and botany and must have some letter of recommendation with them by the end of their undergraduate degree program. They have to clear GRE (Graduate record examination) with good marks to get enter a vet school in the United States of America. 
From here we will now discuss the entire process of entering a vet school, the duties, and the qualities of a veterinary doctor in detail.
Criteria to get admission to a vet school in the USA  
STEP 1  Prerequisite Classes 
In the very first step students have to complete an undergraduate degree program just after passing high school and for that, they need to take prerequisite classes in subjects like biology, zoology, genetics, physiology, organic chemistry, and inorganic chemistry including lab practices with two semesters in each subject. It will take up to four years to complete the UG degree. These prerequisite courses will give vet aspiring students what they need to learn to be considered for admission. 
Pursuing other courses like animal nutrition, anatomy, and other science-related ones apart from what is mentioned above in the Undergraduate program will add up to an extra impact on the conclusive result. 
Good grades in pre-veterinary courses are the primary demand at vet schools in the United States as the total number of veterinary universities is low and the list of applicants is huge. Good grades help them in narrowing down the huge list of students who applied for vet schools.
STEP 2  Letter Of Recommendation 
Vet schools generally ask for three to five letters of recommendation. Applicants can get two from an academic advisor, science professor, or undergraduate research mentor, one from a non-science background faculty member of the college, and two from active veterinary doctors. 
A letter of recommendation is an important step in admission to a vet school. So before asking for it applicant should arrange a meeting with the recommenders he/she wants to get a letter of recommendation. Keep in mind that the recommender must know you well and be able to describe your work ethic, research ability, academics, intelligence, volunteering experience with any veterinary doctor or animal shelter, professionalism, performance in class, skills, personal attributes, etc in an extremely influential manner. 
Remember to avoid asking for a letter of recommendation from any family member, friends, or relatives.
Recommended Experience 
Applicant should have volunteering experience of at least three weeks to one month with any veterinary doctor, animal shelters of exotic, aquatic, wildlife, and other different categories, in-depth research work in either animal food or animal medicines, experience with the breeding of different species, and relevant part-time work experience at any pet shop, zoo, the aquarium will also be considered. Other than this leadership skills at work and extracurricular activities in college will give an extra wreck to the applicant's CV. 
STEP 3.  Application Essentials 
To get admitted to any vet school in the United States, VMCAS Application is mandatory to submit and it must follow the minimum requirements stated below:- 
• Successful completion of all prerequisite courses.
• Successful completion of the four-year undergraduate degree program.
• 3.5 and more GPA.
• Three weeks of veterinary or animal-related work experience.
• One-page personal essay ( not more than 5000 characters) that gives a clear picture of yourself and why you choose the veterinary field. 
• At least three letters of recommendation from An academic advisor, a veterinary doctor, and one from a science faculty professor. 
Transcript Application Requirements 
Student needs to fill VMCAS application form from its official website.
Complete the form with all genuine information. Then contact the registrar of the college. Provide him the 
Application ID form and all the original transcripts as per the guidelines and ask him to attach all the documents carefully with the application form and request him to send a mail of one transcript on VMCAS official mail id.
Transcription verification contains:
 •   Applicant's registration and fee payment   
 •   Current enrollment information
 •   Application form status 
 •   Receipt  of application fee    
 •   Original transcripts request letter
 •   Receipt of the initial veterinary course payment 
 •   Degrees of applicant 
 •   Mark sheets photocopies 
 •  GRE or MCAT scores
 •   Copies of the applicant's ID proof
Make sure that you attach all the original transcripts as per the requirements and they should be directly sent from your college registrar's mail id.
STEP 4  GRE And MCAT Conducted By ETS 
The full form of the GRE is Graduate Record Examination. It is a standardized test that evaluates an applicant's verbal reasoning, logical mind, quantitative reasoning, and critical thinking skills. 
This Computer-based test takes around three and a half hours where multiple segments are divided with respective time limits. This includes analytical writing,  quantitative test, verbal reasoning blocks, and crucial thinking ability test there is a chance for a break partway through the exam. Students have to score 53 percentile on quantitative screening tests and 65 percentile in verbal reasoning to get selected for veterinary school. Some Vet schools take GRE ( Biology) test also and some accept the MCAT (The Medical College Admission Test) test. 
The good news is selecting students in vet schools is now not limited to GRE or MCAT test scores but the committee also sees students' growth, veterinary experiences, and other extracurricular activities performed during their undergraduate program.
Keep this in mind that the VMCAS application's last submission date is 31st August every year make sure your school receives your GRE or MCAT score before the expected date of application submission. Also, students have to take regular follow-ups of his/her original transcripts and GRE scores via mail vet schools will not inform anything from their side.
STEP 5  Selection Process 
If your GRE or MCAT scores are as per the guidelines and your transcript application is impressive then you will receive an interview invitation via mail probably in December. 
The committee will take mini individual interviews that include orientation, A small faculty introduction, some scenario-based questions, and a sequel like this in three stations. Each covers a time duration of 30 minutes. 
If you get selected your application will be further recommended to the Associate Dean of that university and Student Affairs who will make the final decision regarding the admission offer. 
Selected applicants will be notified about approval of admission to veterinary school by the end of February and they have to accept the offer via mail and pay the required fee for the first semester in April which is non-refundable.
Qualities of a Veterinary Doctor 
• Decision-Making Abilities 
Veterinarians must be accurate in their diagnoses. They should be patient enough to decide what method of treatment must be applicable for different kinds of injuries and diseases in animals and select appropriate medicines for them. They should also be brisk and decisive under any critical condition. 
•  Compassion
Veterinarians must be compassionate and empathic towards any creature. They must treat them with core heart and respect. They should understand the feelings of pet owners and should be sensitive enough when dealing with them. 
• Manual Agility 
Veterinarians should be enough polished that they have strong control over their hand movements and be careful while treating injuries, stitching big wounds, especially on sensitive areas, and performing surgeries on different kinds of animals. 
•  Communication Skills 
Strong communication is important skill in any field. Veterinarians must be confident about their words and must be able to deliver correct pieces of information to their supportive assistants and compounders. Not only humans, but they should be experts in communicating with animals and can politely give an appropriate explanation of the diagnosis as well as treatment options to the pet owners and simplify the dos and don'ts to their staff.
• Problem-solving Skills
Veterinary doctors should have strong problem-solving abilities and relevant knowledge about their work. They should be brilliant in their diagnosis and treatment of animals. Besides this, they must know the correct dosage form to be administered and the effects and side effects of different kinds of medicines on diverse species.
• Patience
Patience is an extremely important quality that every veterinary doctor should maintain during treatment. It is necessary to remember that your patient is a living creature with a sense of pain and feelings of their own. Animals don't understand what you are trying to do with them, they may perceive it as dangerous and will react vigorously and sometimes they get irritated and don't want your presence. Patience is the only thing that will help you smoothly get through these conditions.
Roles And Responsibilities of Veterinary Doctor 
Veterinarians are expertise in animal treatment. They are first-line physicians who take care of any medical problems that arise in and from the animals.
There are several roles and responsibilities of a veterinary doctor stated below: 
• They diagnose the problem and provide the correct treatment to the animals. 
•  Treating any kinds of injury in animals by administering proper doses, giving proper scheduled vaccination performing surgeries, and other procedures. 
• Evaluating various diseases caused by animals that affect humans, such as rabies in dogs and cats or Lyme disease, etc. 
• Doing deworming and removal of harmful batteries and parasites in puppies and other animals if required. They ensure the domestic animal to be is safe and healthy by doing regular checkups. 
• They are also expertise in research over different treatment procedures in complicated cases. 
• They do proper spaying of domesticated animals and street dogs. 
• They do several animal breeding and also helps in balancing the ecosystem by saving several endangered species through the breeding process. 
• They spread awareness of animal health and its importance to common people. 
• They give relevant information about what is good and bad for domestic animals and give proper instructions about dos and don'ts to their owners.
Conclusion
In the final section, we conclude that Veterinary Science is a promising career. Veterinarians not only makes a lot of money, but also they are the only one that educates both animal and human health. Veterinarians work hard for welfare of animals. The demand for veterinary services has expanded enormously over the years. As more people are either buying or adopting domestic pets in the United States of America, they require more veterinary doctors for routine tests and treatments for their pets. 
FAQ
1. What if I need to change my name on the application form? 
It can delay the process but yes, you can change your name if your registrar manually writes your present name and VMCAS id on the transcript before sending the final documents file to the VMCAS official site.
2. Is it necessary to attach all the documents with the transcript form? 
Yes, it is very important to attach all the required original transcripts with the application form otherwise your application will be rejected by the allotted committee.
3. Can I send my application to VMCAS official website before my transcripts are received?
Yes, you can submit your application at any time once it is filled. However, VMCAS processes your application after you submit all the mandatory official transcripts and do the required payments.