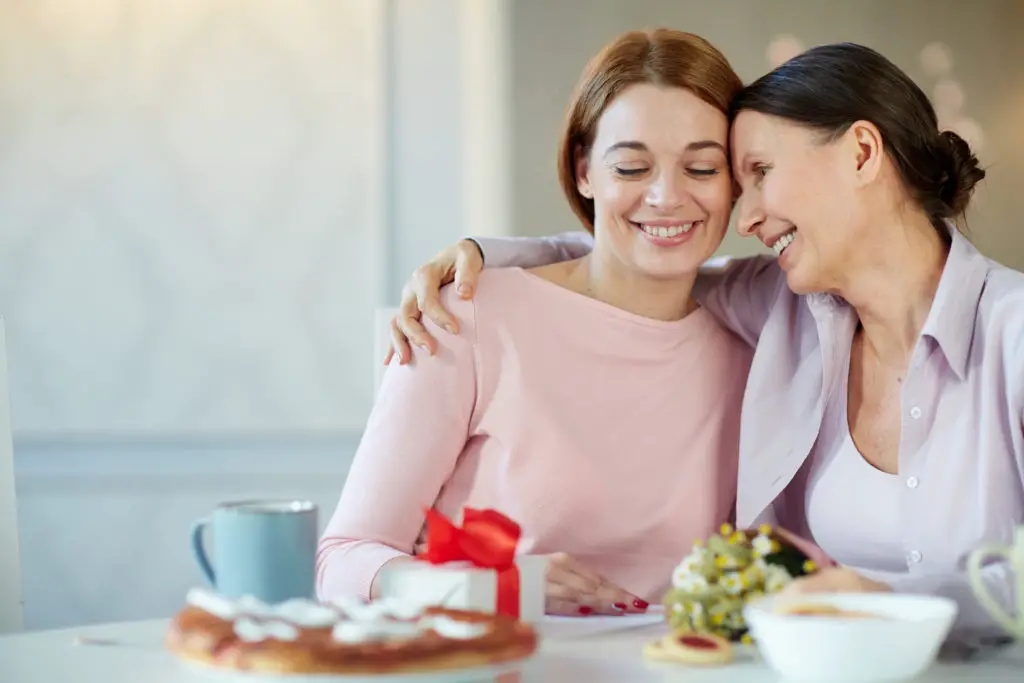 Have you ever looked at your mom working and doing stuff for you or either for the family? How does that make you feel? You would have thought how hard she works; she never gets tired of doing things for us. You must have realized her worth when she might have left the house on you, or you have thought of doing things to make her work less. In any situation where you realized how important she is for you, what came to your mind at that time? You might have thought of hugging her or thanking her for all her efforts. Here are the best ways to say Thank You Message to Mom.
To hug her, there is just a single way to go and physically hug her. But what about thanking her? She is not an ordinary person, so why thank her ordinarily or most commonly by just approaching her and saying thank you. You can thank your mom in so many different ways. We would help you to find a suitable form to thank her. These ways may not help you directly, but they might strike an idea of your own. So stay with us to the end. Finally, your mom may thank you for your message to her.
What is the need to thank our mom?
First of all, why do we thank anyone? To show our gratitude towards them and what they do or did for us. It is just a word that represents a lot more than just gratitude. It shows your feelings, how you care about things, how well you are raised, what kind of person you are, and whatnot.
Don't we thank waiters when they serve us? Don't we thank someone when we are allowed to do something? Don't we use this word often? Yes, we do and not just thank someone but sometimes to be polite and friendly. 
Why can't we thank the person who works for us every day without getting tired, who kept us safe inside her for 9 months, who manages her work and home with ease, who raised a superior child, who takes care of every demand or requirement you present, who dedicated her whole life to her family, and whatnot? Of course, a thank you can't unleash her from the family's burden, but it shows that the family she works for and dedicates her life to knows how important she is. It shows that you recognize her efforts. It brings joy and a smile to her face, so why not say thank you?
Why don't we say thank you?
It's like, why do we throw a birthday party to say "happy birthday"? Why don't we say it? These different ways of doing things and applying our creativity make a simple and ordinary moment unique and extraordinary. Saying thank you is okay, but it will look far better when added with some creative ideas.
Now before moving forward, how many times have you thanked your mom? Some people must be thanking their mom daily, weekly, or monthly, but some don't. Some want to thank their mom, but they hesitate because of their relationship with their mom, her fear, or any other thing. Some want to thank her, but they cannot thank her by saying thank you because of the fear, type of relation, shyness, or whatever. Some do not want to say thank you. It is so ordinary. We can help you find different and creative ways to thank your beloved mother. 
Different Ways to say Thank You Message to Mom
The simplest way to thank your mom can be considered helping her through the work and household duties. You can contribute by reducing the work that your mother does. For example, swiping and mopping the house, doing dishes, working on garden duties, making your or others bad, arranging the house, and whatever thing you can do to help her. This way is simple yet most effective. 
What she would love more than you helping her and making things easy for her. All of her duties and work being half of the actual work will make her happy and relieved. You must try this out if you are not an open person and you want to thank her without even saying thank you to her. Then, she would know that you care for her and know the challenges she faces while managing the house.
Buying Presents For Your Mom
First, research a little bit and find out what your mother loves, what she needs, or what might interest her. When you find it out it will be easier for you to select a perfect present for her. You don't have to wait for an occasion or function to give her something. You can gift her whenever as a thank you gift.
Gifting your mother doesn't mean you have to purchase something expensive; you can give her some flowers. The present is a present that doesn't have to be expensive. It is all about what it symbolizes and the feelings it holds within. A symbolized gift is worth more than its price. So be careful and active while selecting one.
What about some decorations and a cake? It's nothing but the impact that makes much more. Several occasions might be a reason to conduct a party. Why wait for an occasion when you can have a party anytime and anywhere, like rooftop, bedroom, garden, or living room. 
Just use some balloons, lights, papers, and banners. You can order or bake a cake. Some candles, sparkles, photos, and gifts can add some more decoration. If you want to choose an occasion, you have a new year, Mother's Day, mom's birthday, or any other relatable occasion that will work.
What about a surprise trip?
If you own a car or have the privilege to travel, you can plan a surprise trip to your mom's favorite place, monument, tourist destination, natural heritage, or a public place. It would be a fun ride with your family. You can explain the course of the trip, like providing a holiday to mom or making a change. 
You can even book a table in your mom's favorite restaurant and give a treat to her by letting her choose the menu. Or you can order her beloved meal if you can't step out because of the covid pandemic that is currently going on.
Hosting a Small Gathering
Why don't you inform your family members and call them for the gathering? You can call your grandfather, grandmother, uncle, aunt, cousins, your mom's friends, and whomever your mother loves and have a bond with. This small gathering can be a surprise for her.
In present covid pandemic times, if you cannot host a gathering, you can host video conferencing with all your loved ones and have fun. You can even conduct a surprise party at your relative's house. You can explain the situation, and they will help you conduct a party for your mom, and she would not even get to know about it.
Every one of us uses social media. You can thank your mom and show how much you love her through your posts, stories, highlights, tweets, snaps, status, or any other medium you like. Instagram, Facebook, Twitter, Snapchat, WhatsApp, or any other social media platform can help you with it.
Occasions like Mother's Day or your mother's birthday can be a perfect moment to showcase your gratitude and love. Let the world know what she means to you.
You Can Use Your Talent
What is your talent? If you know how to sing, you can sing a song for your mother or write a song. You can perform a dance step for any occasion or party you have conducted for your mother. How about painting a picture of her? Or you can paint what she adores. 
You get the opportunity to showcase whatever talent you have. However, when you perform at the party you have conducted for your mother it would be way more enjoyable. You know how much she loves you and what you do, so what will be the best scenario for doing so?
Greeting Cards and Messages
You may not be able to express your feelings, but you can write them down. Then, write a greeting card with all your feelings and emotions in them or whatever you wanted to thank your mom for. Finally, you can give that greeting card to your mom either directly or with some flowers, gifts, and bouquets. 
You can write a message to your mom. This may contain your feelings, gratitude, love, and emotions towards your mother. First, you can thank her through the message. Then, you can either stick it to your refrigerator or can place it somewhere it might catch the sight of your mother.
Some Messages That Might Benefit You
How can I express my feelings with some words, when I cannot thank you enough for everything you have ever done for me.
Mom, thank you for being there for me forever since my first day. Love you.
Mom, do you know who I recall in all my problems? That is none-other than you.
Mom, you are like my whipped cream who decorates my pie of life.
When people compliment me and my qualities, I always think of you and thank you for what I am today.
I wandered around and searched for a perfect person but I never got to find anyone other than you. Love you mom.
God couldn't stay with all of us therefore he made mom for all of us and gave me his best creation.
Cannot thank you enough for having my back and never letting me fear anything.
My friends or family may feel ashamed of my behaviors or personality but you are the only one who accepts me the way I am.
I was observing you, my mother, and I thought how is it possible for a person to be so fearless, strong, powerful, active, positive, and lovely at the same time!
Mom I know I have troubled you a lot and I want to apologize and thank you at the same time for not minding it and being my lovely mother forever.
Your sacrifices and oblations are the reason what made me what I am today. There is nothing that can pay you off. 
My first teacher, my doctor, my cook, my guardian, and my everything thank you for being there 24*7 and 365 days available for me.
Why do I have to wait for Mother's Day when you never wait for any day to make it up to us, every day is Mother's Day for me my lovely mother.
I have friends but I do not have best friends. You know why mom, because you are my best friend and I do not need anyone else.
My doctor said I do not have a heart because I gave it to my dear mom.
Thank you, mom, for crying with me in my bad moments. Thank you, mom, for laughing out loud with me on my happiest of days. Thank you, mom, for swaying with me in my rhythms. Thank you, mom, for helping me in finding the right path. Thank you, mom, for correcting my decisions. Thank you, mom, for everything you do for me. 
Mom I was nothing without you and I still am not. You are my everything mom.
I cannot imagine how hard it must have been for you to keep me inside you for nine whole months. I can never repay you for what you have done but I can show my gratitude and love, thank you, mom.
Thanking you is not enough. The debut of what you do for me is unpayable. It is like whatever I will do for you would not be enough. It can never be.
Whenever I am in trouble or in difficult situations your teachings help me get past it. Thank you so much mom for those lessons.
When I cannot take it anymore and think of quitting, your thoughts and teachings provide the strength and power to face anything. Thank you, mom, for teaching me all those things and making me strong as you are.
When I look at my achievements, I realize that my best achievement is that I am your child, mother. That feeling is priceless.
My motivation to grow and become someone is you, mother. I want to become something so that I can provide everything that you never had in your life.
I want to hug you mom, I want to kiss you, I want to have long conversations with you, I want to fight with you, and I want to get shouted at by you, my mom. 
Being a parent is not easy at all now I can understand that mother. You never complain about anything. How could I become even 10% like you? I couldn't thank you enough.
Thank you, mom, for making me a wild horse in this world of fake unicorns.
To an awesome mother from an obedient child, thank you mother for behaving like a wall who stood there forever to protect me from everything and never let anything harm me.
I could never ask for a better mother than you. Thank you for being such a person who makes me proud.
I get the vibes of jealousy when my friends look at us and crave to have this type of relationship with their mothers. Thanks for being the best mom on this globe.
Mom, you are the reason why I try to change and be a better person. You are the one for whom I want to become the perfect child. Because you are the perfect mom, thank you.
Thank you, mom, for realizing what I am worth and what I am capable of.
Mother, you made me comfortable with myself when my classmates and friends led my morale down. Thank you for making me strong enough to face these negative things and be myself.
Where can we use these messages?
You have a decent collection of messages for thanking your lovely mother. Now, where and how can you use these? We might help you with that. Other than these ideas, you can use these lines according to your mother's personality. You know your mother far better, so why don't you use that knowledge to create something special and unique. Some ideas we thought of are:
Why don't you post a picture of yourself and your mother? If you think of doing so, these messages will act as perfect captions for the perfect post. These messages will work with stories, status, bio's, and tweets. There are various social media platforms to execute these ideas and thank your mom for creativity and feelings. Or why don't you text your mother these messages once in a while? It will maintain a constant smile on her face. Mother's Day or her birthday can be a reason to text her. 
Greeting cards, invitation cards, and any letters about your mother or party you conducted for your mother can be a perfect moment to use these messages. Giving her a greeting card without a special occasion is not that bad. 
Talking is the best way of communicating as it showcases all the feelings and emotions. You can approach your mom and tell her how you feel about her and how thankful you are. You can use these lines and make your words more loveable. 
We understand the challenges some introverts and shy people face. You may feel shy in telling your mom how grateful you are to her. Do not worry. We can help you with that. You can write down your feelings using the lines we shared and stick the note to the refrigerator, or keep it under her pillow or somewhere it might catch her sight.
Frequently Asked Questions
What if I am away from my mom in another city?
In this digitalized world you do not have to be present somewhere you can video call or conference from any part of the world. Even if you will just call her, it will mean a lot to her. You can order a present for her online which will get delivered to her. These are not just it; you can do so much more just tap and search your interests.


Is delivering money instead of gifts a good idea?
Absolutely! What is not purchasable with money? When you send gifts, they may not be suitable or required by your mom. But when you send money, your mom can purchase whatever she likes and she wanted for a long time. Sending money is an absolute yes, it is a perfect thought you can go for it.


How can I create a creative message considering my mother's personality?
You can easily create your messages considering your mother's personality. First, be sure of what qualities you want to mention in your message. After that, you can go through our list of messages and grasp the ideas of how you can create a perfect message. Then find out which words you are going to use in your messages. Then you will have to mix them up by keeping in mind active and passive voices and the tone you are using there. The quality must be the center of the message. You can create a perfect one, try and your results are going to turn out awesome.


What about the ones who don't have mothers?
Who is a mother? She isn't just a person who gave birth to you. She is the one who taught you everything, she is your first teacher. She cares about you. Mother is not just a person it is a feeling. Anyone who cares about you and is a guardian figure for you is your mother. If you are raised by a person, anyone that could be is your mother. Children living in orphanages have a warden who is their mother. Every one of us has a mother because she is not just a person, it is a feeling that could be found anywhere or on anyone.