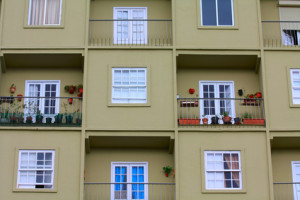 As graduation approaches for many college seniors across the country, it seems like there are a million things to prepare for. Adulthood means new responsibilities, including paying for and taking care of your first home. While you might have found that perfect job and are ready to leave your dorm room behind, moving into your first apartment can present a whole new set of obstacles. Before you sign a lease, prepare yourself with the following tips:
Create a Specific Budget
Your new cost of living does not just include rent for your new apartment. You also need to set aside money for your electric and water utilities, renter's insurance, pet deposits, groceries, gas and phone bills. Before you start looking for a place to live, get realistic about exactly how much you can afford. According to Bankrate, a good rule of thumb is to factor about 30 percent of your monthly income for rent. However, remember that this can fluctuate between cities and depends on if you are sharing rent with roommates. Sit down and figure out exactly what you can spend each month on necessities and what you can set aside for savings and entertainment. And, Bankrate also suggests setting aside at least three months of living funds before moving into your first place to give yourself a cushion.
Have the Right Financial Documents
Before you can get serious about signing a lease, you need to make sure you have all the documents and information you need. Start by checking your credit score because if you have low or no credit, a landlord may require a bigger deposit from you or more financial records. Some common financial documents you need include your most recent pay stub, a tax return, a bank statement and proof of employment. If you are in need of a cosigner, such as your parents, the landlord will probably need all of that information from them as well. Figure out exactly what you need and get it together before you start apartment hunting so you are ready to make a move when you find the perfect place.
Ask the Right Questions
Once you find the place you want to call home, knowing the right questions to ask will help you know exactly what you are getting into. Some questions to ask your new landlord include:
"What alterations can I make?" If you are planning on painting or installing heavy photo frames, check to make sure you are allowed to alter the apartment. Most places will have a stipulation that you have to return the apartment to its original condition, so make sure the changes you want to make is worth it.
"Are pets allowed here?" While you may not have a dog now, you might want to get one in the future. Some landlords forbid pets or charge a high pet rent fee, so be prepared.
"How do you feel about long-term guests?" If you have a significant other staying with you or moving in, a landlord may want to screen him or her the same way you were.
"What utilities do you cover? And how long is the lease for?" Some landlords cover water or other small utility bills, so this will factor into your budget. Also, not every lease is six or 12 months (some are 13 or 14 months), so you need to plan ahead.
Make It Your Own
By far, the most fun part about moving into your first place is furnishing and decorating. But, you have to do this wisely so you don't blow all of your money on dishes, a couch and decorations. Try to keep it to the basics the first few months, and then make a list of necessities and even some luxury decor items to slowly add. Some apartment essentials include a bed with quality sheets, a table and chairs, basic kitchen utensils, dishes, a few pots and pans and a coffee maker. Also, don't forget about cleaning supplies, a shower curtain and other bathroom necessities.
While you may have some hand-me-downs from your parents or older siblings, you also should pick a few things to make it your own adult space. Think about adding some stylish custom drapes or a new bedspread. And, once you have a little more disposable income, consider adding a fun lamp, a large mirror and some colorful artwork to give your place some style.