We all know the look of a college apartment; it's the land of lost hand-me-downs. I personally had everything from my grandfather and aunt. My grandfather had moved in with my aunt about the same time I got my first apartment in college, so I benefitted. I got my bed from my aunt and all kitchen items from my grandfather. The couch was a loveseat from my mom's office and the chair was part of an old set long replaced. Slipcovers were my best friend.
Once I got out of school and started to save up some money, I started to yearn for a more "adult" and "put together" look. There were few items I had that weren't hand-me-downs. It was time to change that and this is my story of what I replaced and when. You'll be surprised how long it took me to buy some of these things, but that's because I didn't want to take on debt to do it. I suggest you do the same. You have enough debt as it is, right? Yeah, I'm still paying mine off.
New Bed
Your bed is the #1 most used piece of furniture you'll ever have. This is the one thing you should spend the most money on. I upgraded when I got out of college by buying a bed from a friend. I upgraded my double bed to a queen pillow top, but it was still a hand me down.
Fast forward to 6 years later (I needed time to save!), I did the incredible. I bought a Tempur-pedic mattress and a brand new bed frame. The mattress is the most important thing, but the bed frame is the grown up part of the bed. For most of college I had a simple bed frame but wanted something a little more, I wanted a head board. My mom had told me that she didn't have a headboard until she was in her 40s. I didn't want that for myself. I settled on the Ferris Bed from Crate and Barrel. It was expensive but well worth the money.
Lesson Learned: Spend most of your budget on the bed, mainly the mattress, but also hunt for the right frame; it dresses up a bedroom so spectacularly.
Living Room Furniture
When my grandfather passed away, I got an inheritance check, nothing big but enough to buy some furniture. The slipcovered loveseat and chair were not working for me anymore. With that check I bought a lovely set of giant overstuffed furniture that was perfect. Here comes the issue.
A number of years after that purchase, I moved to Seattle and the furniture just wasn't going to fit the new apartment. My best friend was also going to be starting in a new place by herself with no furniture, so I donated the overstuffed furniture to her. My new place was old and fancy, and I knew it was time to upgrade again.
This time I got the furniture I really wanted (think white and classic). I had fallen in love with a couch at Crate and Barrel, but alas the couch alone was $6000. I am all about splurging, but that was a little much. I ended up at Macy's this time, not where I had expected. They had really comfy sets for good prices, so I ended up getting a couch and chair, and my mom bought be the best piece of furniture I own: The matching chaise (like this but not leather).
Lesson Learned: Spend your time looking for something that matches your personality but don't go too crazy on living room furniture. It's mainly decoration, be budget conscious here.
Pots and Pans
This is the area I am still updating, but the kitchen is an area you can take your time on. College students don't make much in the way of gourmet. Or at least I didn't. The microwavable meal was how I rolled in college. Once I got out of school though, I started running into things I didn't have. Strainers, Dutch ovens, so many things that recipes call for and you had no idea existed. These are the things I recommend you spend some money on, once money comes available.
Crock Pot – I bought this red one but soon learned that a programmable crockpot is best. When you have late nights at work, you'll thank me.
Food Processor – This is a recent purchase but well worth it. I've made everything from sweet potato casserole to banana ice cream.
Dutch Oven – This is a do it all pot that is great for cooking and baking meats, plus doubles as a great stew pot and pasta boiler.
Non-Stick Skillet – Get a good one. I make eggs all the time and it's great when you don't have to mess with much in the way of non-stick spray. The less you add to your food, the better.
Caffeine Contraption – I'm not going to say what works best for everyone. I like the Keurig, but some other people might just NEED an espresso machine. Unless you want to be a slave to Starbucks, splurge on a good something to get your fix.
Lesson Learned: Buying matching pot and pan sets are not a good use of money, focus on the key things you really need for the food you make.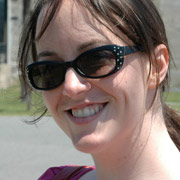 Kate Morris is a 2004 graduate of The University of Texas at Austin that currently resides in Seattle. You can find her other thoughts on katemorris.com.