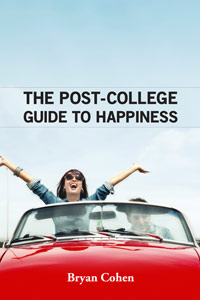 Bryan Cohen here, guest poster and author, promoting my new book The Post-College Guide to Happiness for The Happiness Blog Tour.

"If there were in the world today any large number of people who desired their own happiness more than they desired the unhappiness of others, we could have paradise in a few years."
– Bertrand Russell
Misplaced Anger
Have you ever had an enemy that didn't know the two of you were enemies? You'd silently fumed whenever you saw this person make a grand success. You glared at the back of his or her head when you saw this vile creature in the hallway. Maybe you even put a picture of this person on a dart board and threw projectiles at this enemy's face.
This center of our ire seems to always get the promotion, get the beautiful relationship partner and get everything that we want for ourselves. But did you ever stop to think that the reason you aren't getting all those things is because of the hate you have bubbling inside of you? Perhaps, hating this person is automatically relegating you to second best.
Wanting your own happiness is a major factor of you enjoying your time here. In high school, when I was awkward and unpopular, I was mostly unhappy. I saw these homecoming court members to be getting the girls and the awards. I don't know if I even really wanted these things, but I sure as heck didn't want them to get it.
Now in the Facebook world, we see people we barely even know, having successes and wonderful futures opening up for them. At first, this caused me the same amount of anger and hatred that I had in the high school hallways. That's when I realized something. The hate and anger that I was brewing was completely counter productive to my own happiness.
Blaming, complaining, negativity and hateful speech, thoughts and actions don't jibe with being a happy individual. I love Russell's quote here, because it's so true. Imagine if the inhabitants of one country, one state, even one town cut all the hate out and started thinking solely of how to enrich their own lives. We would be living in a much different and healthier world.
The moral of the story is that if you really want to be happy, it's time to stop putting so much attention into wishing other people ill. If that's hard for you, don't think of them at all. Spend all your time thinking about the health and joy of you, your friends and your family. Maybe someday, you'll even be able to hope for the best for these "enemies" you think you have. Now that sounds like a step in the right direction toward paradise.
Bryan Cohen is a writer, actor and comedian from Dresher, Pennsylvania. He graduated from the University of North Carolina at Chapel Hill in 2005 with degrees in English and Dramatic Art and a minor in Creative Writing. His website Build Creative Writing Ideas helps over 25,000 visitors a month to push past writer's block and stay motivated.