Are you still living with your parents? I lived with my dad until I was 22… and then again from 26-27. There is no shame in staying with your parents through college because, you know what? Living on your own is expensive. However, there comes a time when we all must leave the nice comfortable nest of no rent, minimal bills, and the safety net of mom and dad. If you are preparing to fly free, here are some tips:
1. Budget
This is the single most important thing because, I will say it again: living on your own is expensive. Make sure you include in your budget: rent, utilities, heat, cable, credit cards, cell phone, car payment, car insurance, renter's insurance (some renters require it), gas, food, pet supplies if you have pets, leisure/entertainment, and contingency. There are so many things we spend money on regularly that we don't even consider and when budgeting it is essential to figure these things in.
2. Roommates
You may get through your budget and think "Holy crap, I cannot afford to live by myself!" If this is the case, then think about living with a roommate. Ideally you will find one you already know and already get along with, but through some networking you can find someone who would be a good match for you. Also, look for people who are already established in an apartment and looking for a roommate themselves; the added bonus here is you will probably not need to furnish an entire place, most likely just your bedroom.
3. Location
Yes, maybe you want to live right in the bustle of town because that's where all the best bars are and you can walk everywhere. However, living directly in town is often much more expensive and parking is horrendous. If you expand even a couple of streets outside the center of a town you will see rent decrease dramatically. In addition, make sure you are in a place where you don't mind commuting to where you need to go. Maybe 45 minutes from work doesn't seem like a lot, but consider rush hour traffic, poor weather conditions, etc – 45 minutes can quickly turn into well over an hour.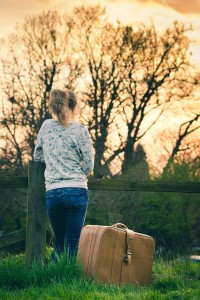 4. Test Everything!
In my recent apartment I was in a rush to get settled because I unexpectedly had to move from my last place and my dog was staying with friends while I crashed on another friend's couch – it was a mess. So I chose the first apartment I saw, moved in the next weekend, and all was well. Until I realized half the outlets don't work, there are no screens, one of the kitchen drawers is missing, the kitchen floor is on a slant, there is no fan in the bathroom, the closet door fell off the track the first day… Be picky, and test everything.
Moving out of the nest is exciting and fun, so don't make it needlessly stressful! Be sure you are well-prepared financially and emotionally, and don't settle for the first thing you see. Pretty soon you will searching for your own worms instead of relying on mom.