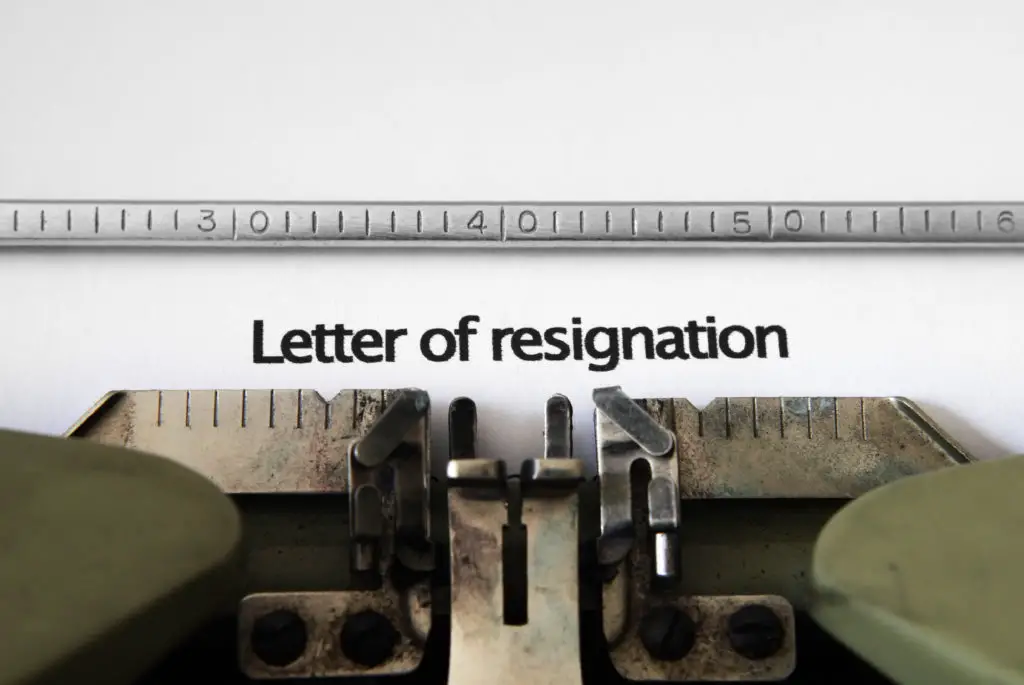 Encountering hardships or have doubts about resigning from your job at Amazon? Well, you are at the ideal place then. We will give you a thorough understanding of how to go about it. This article will encompass everything that will work for you to resign from your Amazon job. We have attempted to incorporate all the twinkling details. We are mindful that you don't wish to resign in an unprofessional manner. We also believe that you will maintain cordial relations with your colleagues. Therefore, we are here to save you from the clutches of legal disputes. The article ahead will lay down the integral guidelines you must observe. So, fasten up your seatbelt while we take you through this subtle procedure! 
Now, let's get into the main answer. So, you must know that there are diverse ways in which you can resign at Amazon. Here's a meticulous guide on all those methods to facilitate your process. Make sure you read all of it that follows.
Through a Resignation Letter

Chalking Out Your Last Working Day: This is going to be your first step towards resigning. You must use your mental faculty and plan out your last day at the Amazon office. Then, as per your planned date, complete all the projects and chores already entrusted to you. Try to clear the work mess and finish off everything before. Two months before the last date, give your notice period.
Writing a Resignation Letter: Assuming that you have got a call for work or you have other plans, write down the resignation letter. Before you resign, make sure you hand over all critical items and confidential information shared to you by the organization. With this, you have successfully cleared the first two steps.
Contact the HR or Your Departmental Head: Inform your respective Head of department or communicate to your HR. Let them get acquainted with your decision to quit. This will act as a reasonable formal discussion, and things will be much smoother. It leads to an established way of quitting the job rather than an unwelcome experience.


Resignation Using Amazon A to Z Application: This is the second most predominant way of resigning from your job at Amazon. If you are not willing to face your employer or are shy enough, you may follow this method. Following are the steps that you need to execute to resign employing this application:

Your first step is to log in to the app using your registered credentials.
After your successful login, a screen will appear. Now, scroll down to the end of the screen. You will locate a link to resign.
Click on the link provided at the bottom of the screen that reads, "Thinking of leaving Amazon? We don't want to see you go, but we can help you resign. Learn more"  
Fill in the details asked for, like your reason for resignation, planned last day at Amazon, and if you want a call from HR.
You will ultimately get yourself resigned from your Amazon job.


Not Showing Up When You Wish to Quit: One of the most common and informal ways of resigning is not to show up anymore for your work. However, this method is considered to be highly amateurish. Don't take this method under any circumstances. It leaves behind a notion of an unprofessional attitude towards your work. Nevertheless, when you stop showing up, your HR would reach out to you. He/she will ask you the justification for not attending and if you still wish to keep going. This may usually take a few days or weeks and, in most cases, maybe a month to get the call. When you get it, don't mind conveying your decision to quit. He will process that information and take immediate steps.
Which method is better? 
We propose you go through the first method of resigning, which is mentioned above. Resignation through a formal letter is accepted and ethical. This guarantees that you won't face any legal problems in the future. In addition, there will be the maintenance of a sincere relationship among your colleagues at Amazon. It may also be beneficial when you reapply for a job at Amazon. You may also utilize the Amazon A to Z application because it's designed for that purpose. However, it depends upon your personal preferences, but we appreciate it if you go for the first two.
Good Reasons for Resignation at Job
 You must be a little confused and are inclined to read up about some rationales to quit. So here, we bring to you the top 5 reasons you can give while resigning from your job:
In need of a better paying job.
Not planning to travel much and settle near your residence.
You wish to start your own business, and so it would be quite difficult to manage both at hand.
You've been offered a better job position with a better pay.
Disturbances in personal, family, or healthy lifestyle.
These are among the most common reasons that people give for quitting their present job. So pick up the most suitable one for you. All the best!
More to Know About the Notice Period
We assume that you are perplexed by this term, and you need to learn more. No worries! From the definition to the correct way of presenting it, we have assimilated all your queries from the time to the consequences. Read more! We have brought you all the answers to your doubts right in this article ahead.
Meaning of Notice Period
The next thing that must have struck your head is about the notice period. If you aren't familiar with the term's meaning, here it is- A notice period is the time frame within which an employee is mandated to notify the organization about their quitting. For those who have entered into a contract, it would indicate the ending of the same. 
Ways of Presenting the Notice Period
You can furnish the employer with your notice period in three distinct ways:
Putting down a well-structured letter to your employer or management.
Mailing the same to your employer.
Using the links or other features given on your company's website.
What's the right time for informing your employer about the notice period?
Well, it's been legally suggested that you give your notice period before two months.
You can also refer to your offer letter. Your offer letter comprises all the necessary facts in the clause regarding the notice period.
Consequences of Resigning Without Any Notice Period
If you plan to resign from your Amazon job without giving notice period, these are what may happen:
Owing to the influence on the payment process, Amazon may take the legal route. This will bring a trail of discomfort and unpleasantness on your way ahead.
It will eliminate all your likelihood of rejoining or reapplying for a job at Amazon.
You may be penalized, or the company may instruct you for any settlement amount. In either case, you are at a total loss. Eventually, you may end up creating a hole in your pocket.
You may lose your reputation and drag yourself in legal suits. It will build a distasteful impression among your colleagues. It can also go on to hamper your application for a job anywhere else. Thereby, it's highly recommended that you write your resignation following the notice period. This will help you land safely and without any grievance.
Prospects of Rejoining at Amazon
Wondering if you can rejoin or reapply for a job at Amazon? Guessing about your possibilities of getting the job? Don't worry! You are as qualified for a job at Amazon as anyone else out there. It all relies on how you have been relieved from your position of responsibility. In case you have resigned willingly, you may rejoin. But it may happen that the management has taken stringent actions against you. If you have been thrown out of your job, it is unlikely for you to be rehired at Amazon. That is why all through this article, we gave you a comprehensive explanation to maintain decency and make a formal exit. Maintaining formal conduct will benefit you to retain your goodwill and be in touch with your fellows. 
Does Amazon rehire?
The question popping up in your Head instantly is whether Amazon rehires the employees who left voluntarily. We get it correct, isn't it? So here's your answer: If the company finds your reason for resignation valid, you will be given a flag as suitable for rehire. Accordingly, after following all the processes, you may end up sitting at the Amazon office again. 
Final Words of Wisdom 
Go about it gently and relax. We have laid over almost all the aspects for you. Make sure you go across all of them before withdrawing from Amazon. Our effective tips will certainly enrich you with the idea of how to go about it. Be vocal about your choices. We propose you update your contact information before you leave the job. Making a formal exit confirms your probabilities to rejoin or reapply at Amazon. We hope that you have liked our way of putting down all your queries with reasonable answers. We would admire it if you read the whole article and share it with all who require the same. We are hopeful that you've understood all the points regarding your resignation from Amazon. Thank you for reading till the end!
Frequently Asked Questions
Is there a need to call the employer or HR after completing all instructions on Amazon A to Z app?
No, not at all. Your request for resignation will be visible to all of them. 
Is it okay to give a two-week notice before leaving?
Yes, it's regarded as professional
Has Amazon actually rehired anytime?
Yes, there are people who have been rehired at Amazon even within a year