More tablets are expected to sell than PCs in 2015, according to a study by technology research and advisory firm Gartner. Meanwhile, desktop sales have continued to freefall the last few years. Apple co-founder Steve Jobs made the same prediction about tablets and gadgets making desktops extinct in 2010. He even referred to it as the "post-PC" era.
Although a desktop may still be useful in college when hunkering down to study, once you leave campus for good, ditch your desktop for one of the latest gadgets. From tablets to smartphones, today's technology makes desktops obsolete.
Tablets
A portable, lightweight tablet gives you all the functionality of a desktop without the hassle of being chained to your desk. If you want to stay connected with something more than a smartphone, pick up just about any tablet and load it up with apps.
If you plan to work in a creative career, pick up an Apple iPad mini 3. Load it up with Apple-designed apps for creative presentations, photo retouching, music composition and work on spreadsheets and documents. The iPad mini 3 employs an onscreen keyboard, but also can be hooked up to a physical keyboard if you miss having a desktop setup with a dedicated workspace.
Laptops
A laptop acts as a cross between a desktop and a tablet. It keeps you mobile and ready to go, but also enables you to get serious work done. A Chromebook works almost completely in the cloud, which is perfect when you need to work on-the-go. Booting up takes seconds, and you can use your Chrome browser to access your Google Drive for documents, presentations and photos. And although Chromebooks have limited download space, you don't need much when you keep your documents, files, videos and everything else in cloud storage, like Google Drive, Dropbox and Amazon storage.
If you're still on a college budget, you also will benefit from the extremely reasonable cost of a Chromebook. Retailing for around $200, Chromebooks are lightweight, durable and easily replaced if lost or damaged without breaking the bank.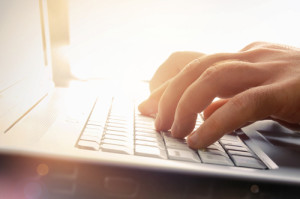 Smartphones
Wired recently ran an article on how smartphones could be your only computer one day. From iPhone to Androids, smartphones already replace many of the functions of your desktop. Create a video from your photos, collaborate with colleagues through Evernote and manage your social media gigs through the Buffer app. External keyboards can also be used with a smartphone to get up and running on a document or presentation if you don't want to type everything up directly on your smartphone's keypad.
Smart TVs
While bigger than a desktop, smart TVs could actually replace the need for a computer sitting on your desk. Connect directly to the Internet and watch shows, movies, slideshows and presentations. Load up a gaming or movie app like Netflix to unwind after a long day at work. And, with the combination of a smartphone, tablet or laptop, a smart TV can easily double as a desktop computer.
Set up Chromecast to cast any webpage from your laptop, tablet or smartphone directly to your TV. Whether you want to read your email on your television or work on a presentation, all you need to do is launch your Chrome browser and "cast" what you're looking at.