In the vibrant tapestry of life at Hope College, one of the most significant threads that binds the college experience is undoubtedly the dormitories. These residence halls aren't just brick and mortar structures; they are a living testament to the institution's commitment to fostering a thriving campus community. As you embark on your collegiate journey, the place you call home matters, and at Hope College, they've taken it a step further. Here, dorms are not just a place to rest your head; they're a haven of camaraderie, personal growth, and comfort. Join us on a tour through these living spaces where lifelong friendships are forged, ideas are exchanged, and dreams take flight.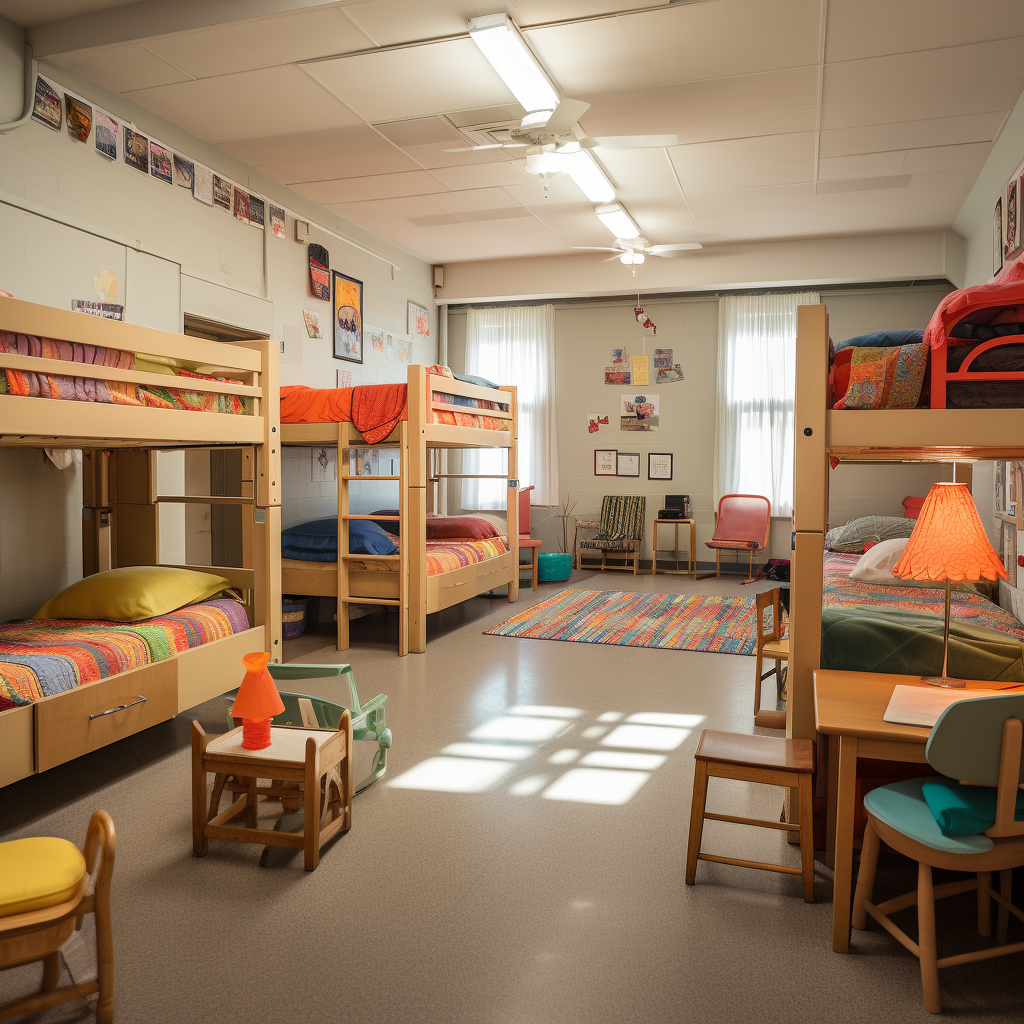 Freshman Haven: Cook Hall
When you first set foot on Hope College's picturesque campus, Cook Hall is your gateway to a world of newfound independence and camaraderie. This residence hall, a classic red-brick structure with a touch of modernity, welcomes the newest members of the Hope College family. As a freshman, you'll find solace and inspiration in Cook's nurturing environment.
Within its walls, you'll discover a spectrum of dorm room configurations, from cozy singles to spacious quads, offering a choice that aligns with your individual preferences and social inclinations. The shared common spaces encourage connections; lounges become hubs of conversation, music, and late-night study sessions. The common kitchen is a place where culinary experiments unfold, fostering friendships over shared meals.
Cook Hall is not just about space; it's about the people. RAs (Resident Assistants) are your guides in the exciting journey of college life, supporting you in adapting to your new surroundings, providing guidance on academic and personal challenges, and, most importantly, creating a sense of community. The proximity to academic buildings and the library encourages a seamless transition from classroom to study sessions, ensuring that your academic pursuits are never out of reach.
Crossing Boundaries: Voorhees Hall
Hope College's Vorhees Hall breaks the traditional mold, blurring the lines between the old and the new. It's not just a building; it's an emblem of transformation and the intersection of tradition and innovation. When you call Voorhees home, you embrace a living space that thrives on diversity and exploration.
This striking residence hall combines the charm of a historic structure with modern, state-of-the-art amenities. Its elegant facade conceals a treasure trove of surprises, including air-conditioned rooms, community kitchens, and gathering spaces. The thoughtfully designed rooms range from singles to quads, and you can choose the atmosphere that resonates most with your personality.
What makes Voorhees Hall truly distinctive is its dedication to international and cross-cultural experiences. By selecting a themed living option, you can connect with fellow students who share your interests in international cultures and languages, leading to a more enriching experience. The Global Learning Community, part of Voorhees Hall, provides a unique opportunity to cultivate a global perspective, making friends from different corners of the world. It's not just a dorm; it's a gateway to the global community.
Creative Sanctuary: Lichty Hall
In the heart of Hope College's campus, Lichty Hall stands as a testament to artistic expression and community collaboration. This residence hall is not just about sleeping quarters; it's a haven for creativity and innovation, fostering an environment where ideas flow as freely as the laughter.
Lichty Hall's unique configuration is designed for the artist in you. Its "living-learning community" approach means that students with a passion for the arts, whether it's music, theatre, or visual arts, can coalesce in a creative hub. The common areas are awash with inspiration, providing spaces for jam sessions, impromptu performances, or quiet moments of artistic reflection.
If you're an art lover, you're in for a treat. The hall is adorned with student artwork, turning the walls into a gallery of imagination. From individual rooms to shared spaces, Lichty is a canvas for self-expression. In-house music practice rooms mean that your muse is never too far away.
Quiet Escape: Durfee Hall
Sometimes, the hustle and bustle of college life can be a bit overwhelming. That's where Durfee Hall comes into play. This peaceful haven offers a serene retreat where introverts and those who relish tranquility can find their niche. Nestled among the grandeur of Hope College's campus, Durfee is a gentle whisper amidst the vivacious conversations.
Durfee Hall's serene atmosphere is perfect for deep study sessions and introspection. Its single rooms offer a level of solitude that is a rarity in the bustling world of dormitories. With its beautiful courtyard, you can find solace in nature and appreciate the harmony between the urban and the pastoral.
The library is just a stone's throw away, making those late-night study sessions a breeze. Durfee is a gentle reminder that sometimes, in the midst of the noise, it's essential to find your peaceful corner to think, dream, and learn.
Athletic Abode: Kruizenga Art Museum and New Residence Hall
Hope College takes its commitment to holistic development seriously, and the Kruizenga Art Museum and New Residence Hall is a testament to this philosophy. This dynamic structure houses students, provides gallery space for art exhibitions, and offers a vibrant atmosphere for athletes.
The unique fusion of art and athletics is a distinctive aspect of this residence hall. The gallery spaces encourage artistic exploration, hosting exhibitions that inspire creativity and discussion. On the other hand, the building's athletic center is a hub for sports enthusiasts, creating a dynamic synergy between the mind and the body.
With the athletic center, gallery spaces, and stunning rooms, Kruizenga Art Museum and New Residence Hall provides a balanced environment for individuals who appreciate both the finer aspects of culture and the excitement of sports.
Future Forward: Cook Village
Cook Village represents the next step in Hope College's evolution in the realm of student housing. This modern complex is designed with an eye on the future, offering a fresh and contemporary perspective on college living. It's not just a residence; it's a step into the next chapter of campus life.
Cook Village's design blends innovation with sustainability. The LEED Gold certified facility is not only stylish but environmentally conscious. The apartment-style living spaces cater to upperclassmen and provide an independent atmosphere that prepares you for life beyond college. The spacious living areas, fully-equipped kitchens, and in-unit laundry facilities make it a home away from home.
The communal areas are where the magic happens. The collaborative spaces foster connections and friendships that last a lifetime. Whether you're unwinding in the courtyard or cooking up a feast with friends, Cook Village is all about the shared experience.
Dream Come True: Phelps Hall
Phelps Hall, with its historic charm and architectural splendor, embodies the dreams of a classic college experience. This stately building, located on the edge of campus, houses both first-year and upperclassmen students, creating a harmonious blend of tradition and progression.
The unique allure of Phelps Hall lies in its timeless elegance. The richly appointed common areas, including the historic chapel, offer an ambiance that transports you to a bygone era. The modern amenities blend seamlessly with the classic decor, creating an environment that pays homage to the past while embracing the future.
Phelps Hall's proximity to downtown Holland provides a gateway to explore the local culture and cuisine, making it the ideal choice for those who relish a blend of campus life and the charms of the community.
Conclusion
Hope College's dormitories are not just buildings; they are vibrant spaces where students find inspiration, build lifelong connections, and embark on a journey of personal growth. Each residence hall is a unique chapter in your collegiate story, offering a diverse range of experiences, from fostering friendships in Cook Hall to exploring the world in Voorhees, kindling creativity in Lichty, and finding peace in Durfee. Whether you prefer the balance of Kruizenga Art Museum and New Residence Hall, the sustainability of Cook Village, or the timeless charm of Phelps, Hope College has a place for you to call home during your academic journey. Your dorm is not just a place to sleep; it's where you'll discover your passions, make lasting memories, and embrace the fullness of the college experience.