With the exorbitant price of college tuition, it is no surprise that several students seek a part-time job while on campus to pay their way through college or support their living expenses. Hence, for these individuals attending a college that allows students to work and earn extra cash is vital. In this article we shall see if Colleges Have Jobs On Campus?
Although college jobs are either off-campus or on-campus, experts typically advise students seeking part-time work to opt for jobs on-campus because of its many benefits. For instance, working jobs on-campus afford students the flexibility and ease of balancing academic workload with extracurricular activities and work, without one suffering for the other. 
Colleges today make available various on-campus job opportunities for students looking to earn extra cash, build up their job portfolio, and get hands-on experience in fields of interest during their stay in school. Some of these jobs include; lab assistants, gym instructors, and workers in the dining hall.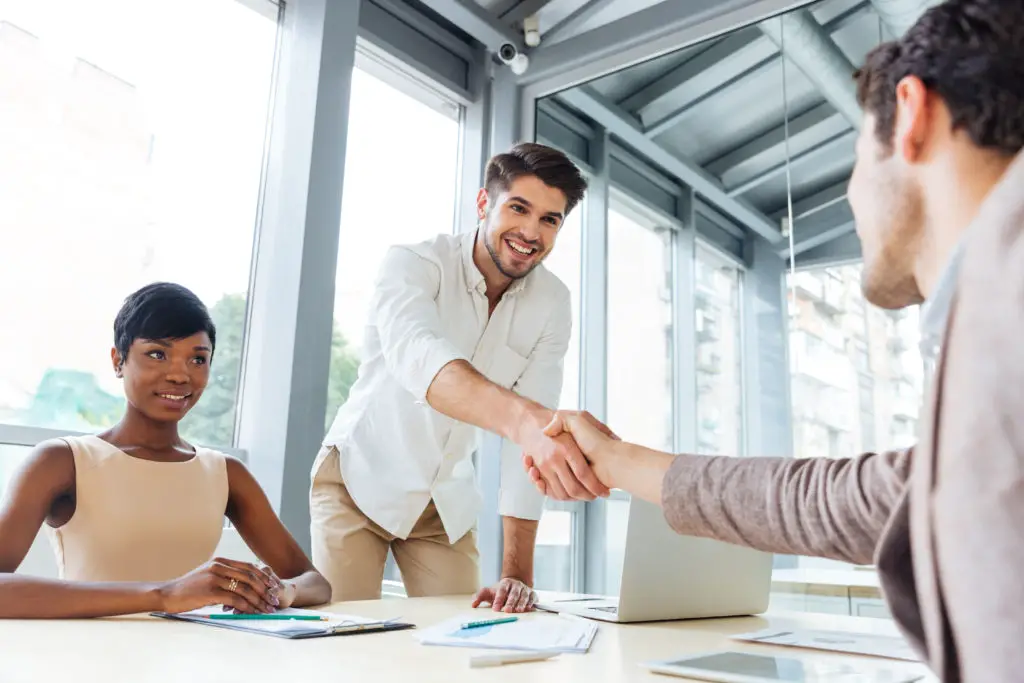 Can I Get A Job On-Campus As A Student?
There are various reasons students may decide to work part-time in college. For some, college jobs are an opportunity to earn extra cash and pay off their student loan. For another, working part-time is necessary to support their living expenses. Yet still, for others, part-time jobs are vital to building up their career portfolio and getting hands-on experience in fields of interest. 
Whatever the reason, most colleges understand the need for part-time jobs today. Hence, many of these schools make available on-campus work opportunities for interested students. 
As we stated earlier, there are several advantages of working on-campus, including;
It affords the chance to meet, interact and connect with other students in the same college, Major, or dorm.
It allows the building of an impressive resume for the future and getting real-life experience of what it means to be in the labor market.
Research shows that students who work in college graduate with higher grades and land impressive jobs compared to those who did no part-time job. Because students who work part-time need to be well-organized, plan, and make good use of available time, they learn to delegate and give the focus necessary to be successful in their studies and jobs.
What Type Of Jobs Are Available On Campus?
There are several on-campus work opportunities available for interested students. These jobs include: 
1. A Barista. For students looking for a flexible work environment that does not require much from them, working as a barista in an on-campus café is usually the best option. However, there is the advantage of enjoying a free cup of coffee and having the opportunity to improve your coffee-making skills.
2. IT Assistant. If you love computers and are interested in gaining experience in the IT sector, this job might be the right fit. Note that this job may require being good with laptops and prior knowledge of handling software.
3. Teaching Assistant. A teaching assistant, in this case, is a student who aids a professor in a particular discipline. As a teaching assistant, you may have the task of invigilating exams, grading exam papers, assisting a professor with relevant research, etc. In some colleges, this position is for outstanding students in particular courses or disciplines such as Math, Physics, Journalism, etc. 
4. Library Assistant. As a library assistant, your work generally includes overseeing the library, ensuring students are not loud, and that no one is eating and drinking. Being a library assistant allows you to get some academic work done while on the job.  
5. Tutoring. Tutoring is another popular way of making money as a student in college. If you are knowledgeable in a particular course, you can decide to tutor fellow students in that course for a stipulated fee. To make good money as a tutor, you need to have solid experience and expertise in that course or discipline 
What Are The Advantages Of Getting A Job On-Campus?
There are many benefits of working on-campus. They include: 
1. Earn extra cash. Having a job that brings in additional money, no matter how small, is one main reason college students look for part-time work. According to students' needs, the extra cash can pay off student loans, tuition fees, support living expenses, and ease other financial burdens. Typically the pay of a college job may be at a fixed rate or dependent on how many hours you work. 
2. Network. Having a job on-campus allows widening your social cycle as you may meet with other students, professors, non-teaching staff, grad students, etc.  
3. Save on money and time. Working off-campus can be tasking, energy-sapping, and money-demanding, for the student seeking to balance work with academics, but working a job on-campus is not. For instance, working on-campus removes the long hours spent commuting to and fro between your job and school.
4. Gain experience and build a resume. As we said above, working in college allows you to gain practical experience and improve your portfolio or job resume. It gives you the upper hand and helps you stand out from peers when applying for the desired job.
Conclusion
There are plenty of work opportunities for students desiring to work part-time in college, including jobs located off/on campus. However, with academics, clubs, and other activities filling up college life, getting a job on-campus is the best solution if you want a balanced school life. Most on-campus employers understand that many of their employees are students. They get the study demands that come with being a student and are usually very flexible, giving student employees the benefit of being able to work and earn around their study hours. 
Frequently Asked Questions
Is it hard to find a job while in college?
Finding a job in college largely depends on your interest, if you have the required skills for the job or if you are willing to learn them.
What are some college part-time jobs that pay well?
Barista, Campus-Ambassador, Teaching Assistant, and Library Assistant, are some of the high-paying college jobs.