The University of Michigan was created in the year 1817. The school is highly regarded and is amongst the best public institutions in America. On the other hand, Michigan State was created as the first land grant college in 1855. The school grew beyond its founding agricultural purposes to become known for stellar graduate programs and top-notch faculties and facilities. Here we will see about Michigan vs Michigan State
Both schools are highly rated, and the fact that they are both located in the same state is very impressive. However, the decision on who has the best overall program is split. The best we can do is go through both schools' features to give you a subjective answer.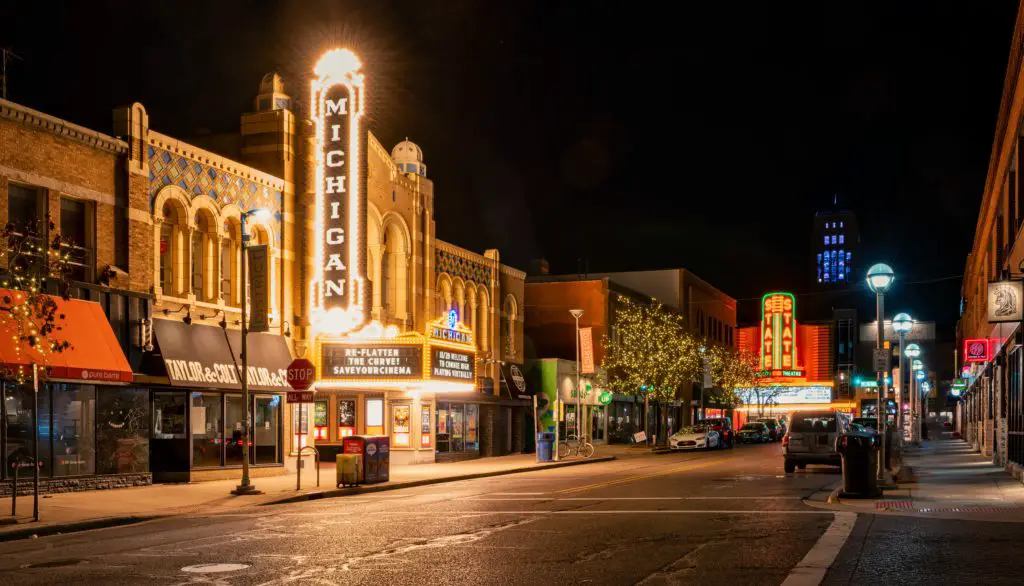 Academic Requirement For Both Schools Admission
When it comes to your chances of getting in, MSU has a higher acceptance rate than U of M. This falls to MSU having no minimum admission requirement, the schools make admission decisions based on a combination of different factors such as:
Your academic performances 
the quality of the curriculum you present
Standardized test results 
Experiences and extracurricular activities 
They care about your grades, but they aren't too hung up on it. The school keeps an open mind and makes decisions whilst taking into account your experiences, recommendations, and application essays. An applicant with low grades but excels in other factors is said to have a good chance of getting into the school. The University of Michigan also looks at all the factors mentioned above, but sets a higher academic requirement for interested applicants. The average high school GPA for MSU freshmen is between 3.5 to 4.0, whilst U of M in contrast has a higher average of 3.9.
Based on these numbers, MSU comes in as more favorable if you have lower grades and test scores. Whilst U of M claims its admission process takes all factors into account and not just the numbers, the statistic points to MSU being the better option for applicants with lower test scores and grades.
 Michigan VS Michigan State (Ranking and Acceptance rates)
In terms of acceptance rates, statistics from academic requirements should suggest to you the school with the lower acceptance rate. The University of Michigan is quite the exclusive school boasting an acceptance rate of only 23%. This is why the school is ranked very high on the long list of prestigious institutions in America. Niche.com gives the school an A+ grade on its website, taking the school's academics, values, and sports into account.  Niche.com also rates the school as the number one public university in America, it has the second-best college for Kinesiology and Physical therapy, and the second-best college for sports management in America.
According to U.S and World reports, U of M is ranked 24 on their list of American Universities. The school Is also third on their ranking of Top Public Schools and Top Business Programs, the school also boasts of being ranked 8th on their list of Best Colleges for Veterans. 
Washington Monthly ranks the school 29th on their list of National universities. Their ranking is based on factors such as social mobility, research, and service. 
In contrast, MSU is rated far below U of M in the lists mentioned before. However, the school is still cited as one of the top universities in America. Niche.com gives the school an A grade on their lists, while Washington monthly ranks the state university at 45 on their university ranking. The university is ranked 13th for college athletics, 20th for agricultural sciences, and 20th on the Top party schools listing. On U.S News and Reports's overall university list, MSU is ranked 80th in National Universities, 32nd in Top Public Schools, 48th in Best Undergraduate Engineering Programs, and 9th in Learning Communities. 
  Both schools have impressive rankings, while U of M is ranked considerably higher than MSU, MSU's ranking is amongst the top percentile of all the National Universities. Despite this stellar recognition, the MSU has a high acceptance rate of 71%, making them one of the best schools available for students in the state.
Academics
The University of Michigan teaches 280-degree programs in its undergraduate schools and colleges. The school has 19 different schools and colleges within its territory and operates on a trimester-based academic calendar. Its fall semester is from September to December, winter starts in January and runs till April, and Spring or summer between May and August. Some of the nineteen schools and colleges in University Of Michigan are :
Medicine
Literature, Science and the Arts
Nursing 
Pharmacy
Architecture and urban planning
Music, Theater, and Dance
Public policy
The MSU comprises 21 colleges, the school offers 200+ programs in these colleges, and they operate on a semester-based calendar with their fall semester starting in September till December and their Spring semester running from January till May. some of the schools and colleges on MSU grounds are:
College of Agriculture and Natural resources
College of Education
College of Engineering
Graduate School
College of Human Medicine
Honors college
James Madison college
more information on the faculties and colleges of both schools can be found on their school website. Check online to make sure the school has faculties that offer the program you want.
Sports Programs (Michigan State University)
This happens to be the most controversial topic in this argument. The populace of Michigan has started street fights over who has the better athletics program. The great spartans have fans who roar loud in the face of any opposition, bearing their maze and blue icons in every part of their daily lives.
Michigan State is a member of the Big Ten Conference. The school Spartans participate in 25 different varsity sports. Volleyball, wrestling, gymnastics, and football are some of the games the school fields a varsity team for. 
 MSU's football, basketball, and ice hockey teams are the most notable among their varsity teams. The school's football team boasts six national championships and four Rose Bowls. Their male basketball team has won the NCAA national championship twice, and their hockey team has three national championships on its belt.  
Sports Programs (University of Michigan)
Of course, the University of Michigan is also a member of the Big Ten Conference. There wouldn't be much of a competition if they weren't, they have 29 varsity teams and their football team has 11 national championships in its cabinet. Dating far back to the year 1901, they have had three Heisman Trophy winners in their historical ranks. The basketball team loses out in the national championship argument having only one Trophy in their name. They however have an edge against their neighbors in terms of head-to-head ties. The wolverines topped their derby rivals 102-86 in derby games played.  The wolverine's ice hockey team is one of the highest-rated varsity ice hockey teams in the nation. The men's ice hockey team has in their Trophy cabinet a record-setting 9 NCAA championships, a majority of which they claimed between the years 1948-1964.
Housing Policies 
Another factor to consider in your decision is both Universities' housing policies. The two rivals have unique policies. While Spartans must spend their first two years on campus, their state rivals don't. Wolverines can choose between living on or off-campus. The school has no specific requirement for housing choices. On-campus housing facilities are however very popular amongst the freshmen students at the U of A. 
The two schools divide their campuses into neighborhoods. The University of Michigan has three neighborhoods, while cross-city rivals have their campus divided into 6 regions.
Both school's housing is also very affordable, and they both offer different options and environments for you to make selections from. 
Financial Aid 
The University of Michigan and Michigan State are both very expensive universities. Attending The University of Michigan comes with a $32,272 price tag for in-state students and  $69,326 for out-of-state students. The Spartans on the other hand are slightly cheaper alternatives, with a $25,590 price tag for in-state students and $51,402 for a student from outside Michigan.
The University of Michigan gives a lot of in-state students financial aid. 70% of the in-state undergraduate populace are on financial aid from the school. While only 40% of out-state students have access to university financial aid. On the other hand, 60% of Spartans are on financial aid from the school. The school tuition is about $25,590 for in-state undergraduates and $51,402 for their out-of states counterparts.  
The two schools have different merit-driven scholarship programs for stellar applicants who need to subsidize the cost of college. Both schools are also given impressive ranks for returns on investment. U of M is ranked 78th and 165th for in-state and out-state students respectively on Payscale's ranking of best value colleges. On the same note, MSU is ranked 228th and 449th for in-state and out-state students respectively on the same list. 
Extracurriculars
Both schools' students boast of lively campus life, the two public institutions have about 60 fraternities and sororities on each of their respective campuses. The University of Michigan is home to about 1,500 student organizations, while the Spartans are blessed with more than 1000 student organizations on their campus. MSU is also home to highly regarded intramural sports programs in the country. 
Schools Location and Weather 
Both Universities are housed in small cities. The University of Michigan is located in the friendly city of Ann Arbor, a place highly regarded as an excellent environment to live in the country. The small city offers all the amenities that you might expect larger cities to possess. shopping malls, dining, and parks are all things to explore in the humble city. 
Ann arbor also has a larger population than their rivals hometown, they boast of a population numbering up to 117,082, while East Lansing has below half of this number (48,709). 
Michigan States University is also located in a small city with such amenities. The city is said to be smaller than the wolverines, with MSU said to have a trail that runs from campus to the state-building. However, its smaller populace gives students an intimate college experience which is very important to many candidates. East lanon is also close to many state agencies, giving work opportunities to thousands of people in the school.
Winter in Michigan is a freezing experience. Temperatures are said to be below freezing levels on the daily average, so this should be accounted for if you aren't used to such temperatures.
School population and size 
The University of Michigan has an undergraduate population of about 30,000, while graduate students number up to 15,000. On the other hand, Michigan state Is home to about 39,000 undergraduate students, with their graduate student numbers reaching up to 11,000 on its campus. 
Conclusion
Picking the right uni can be a stressful task. Narrowing down the best school to give yourself the best chances is mentally tasking. In this scenario, the right information might leave you more confused as to what your best option is.  MSU is friendlier in terms of acceptance and requirements, while U of M is rated higher in most rankings and listings. MSU is in the top percentile of all national institution listings, and Both schools have excellent financial aid for both categories of students. MSU's tuition is considerably lower than its state rival, and both sports team programs are evenly accomplished. So the answer to your dilemma is more personal than it is subjective. Who do you think serves your vision,  your decision should be based on your financial and academic credibility coupled with your dreams and aspirations.
Frequently Asked Questions
Is MSU affordable?
MSU's tuition is lower than its state's alternative, the school's tuition is $29,590(in-state students) ,$51,402 (out-of- state students).
Can I get into the University of Michigan with a 3.6 CGPA?
The university is very exclusive so its CGPA requirement is very competitive. The average freshman at U of A is 3.9 -4.0. 
Does MSU care about the environment?
MSU is regarded as one of the most eco-friendly campuses in the nation to school in. The school's knights center for environmental journalism is also one of the few in existence in the U.S.