Who has not heard the name of Yale? People from all around the world wish to be a part of Yale's legacy and work hard to achieve it. Belonging to the place is a self-rewarding journey, and graduating from Yale University is an honor in itself. Let us know about What Is Yale Known For.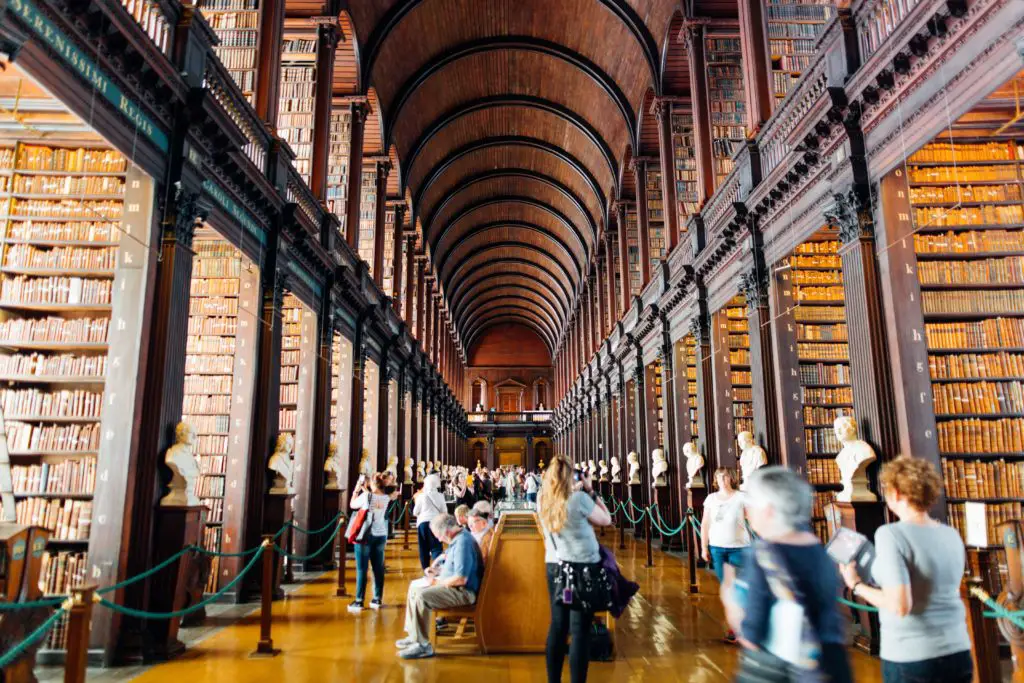 Why Do Students Wish To Go To Yale?
The innovative undergraduate and graduate programs, world-class faculty, historic campus, and quality student life attract students.
The university is filled with students who are passionate about their academics, responsible for their future, and aim to achieve the best in life. Yale is known for beautiful traditions and an exciting student life that allows students to have exposure and deal with responsibilities on their own.
 The campus is an ethereal sight, and the events at the university make rigorous studies a little easier. Students from all over the world wish to join the Yale university because of its uniqueness and world-class education that is not only about academics but also about building a future for the students.
 Let's dig deeper into each of the most renowned characteristics of the university.
Innovative Degree Programs
Yale is known for its exhilarating and unorthodox undergraduate and graduate programs. Acceptance rates of this university are incredibly low because of a highly competitive environment and academically meticulous programs.
Apart from all the other shiny reasons that Yale is known for, rigorous academics is the major reason why students wish to study here. Following degree programs are widely known for their innovative course structure and remarkable faculty.
The Psychology major at Yale provides a broad scope of choice of careers in the future. When combined with research and education, the major can open doors of opportunities in fields like business, law, political science, medicine, etc. A student of Psychology has to choose two courses from social science, such as public policy or law, and two from natural sciences, such as physics or biology.
Students pursuing an English major at Yale university must take fourteen courses and meet the Senior requirements mentioned on their website. The program at Yale offers a unique approach to learning different genres of literature including, the Shakespearian era, Medieval times, Modern, Digital, and other literature related to history. The course structure of an English major is distinct from other Ivy League colleges.
Major in Engineering Sciences 
Yale university encourages liberal arts academics which can be observed in its Engineering Science major. The course structure offers less technical and more social science-related subjects. Students have an advantage of graduating with a double major, for example, Electrical Engineering with law, and Mechanical Engineering with Economics or Computer Science.
The most famous major at Yale University in Global Affairs. Students at Yale are blessed to shape the curriculum according to their interests. The courses include,
Economic development
Global Health
International relations
Foreign policy and diplomacy
Climate policy
The students have to structure their course according to their interest in a major, which requires thirteen months to complete. Yale's course structure flexibility makes Global Affairs a popular program in Ivy League colleges.
Major in Molecular, Cellular and Developmental biology at Yale University is a set of distinguished courses put together to achieve a world-class natural science education. The course prepares students to have a wide range of successful careers which require scientific research skills, critical thinking, analytical skills, and an understanding of the real world.
 It is necessary to take Physics, Chemistry, and Organic Chemistry to graduate from the program. Along with Natural Science subjects, students are required to have a broad understanding of liberal arts to develop knowledge of a diverse array of practical world affairs.
Major in Computer Science 
One of the best programs that Yale university is known for is Computer Science. A student has an opportunity to combine majors such as Economics, Mathematics, and Psychology with the major Computer Science. It is also preferred that the major is selected with other technical degrees to broaden the scope of jobs when the graduated student enters the practical world.
The most diverse and undoubtedly the most popular major at Yale University in History. Every History student is required to take Seminars in the department, participate in the Senior Essay and take a Pre-Industrial Class. The History major covers the important historical aspects of every region in the world including, Africa, Asia, Europe, and Colonial history.  
Yale University has a well-known faculty of Economics. However, the subject rigorously challenges and demands a lot of effort from the students. All students are expected to achieve at least an A- in 75% of the courses. The Economics major has mandatory subjects that include Micro and Macroeconomics, Calculus, and basic mathematical concepts. The undergraduate students must take Core and Field courses along with electives and introductory courses to complete the course with flying colors.
Major in Statistics And Data Science 
The students of Statistics and Data science must have a strong mathematical background. Yale university trains the students by providing them with introductory classes in Calculus, Linear Algebra, and Basic mathematics to build a strong foundation. All students at Yale must take mathematical and practical foundations to have a command of the subject of Data Science. The major is technical so every student must have a mathematical brain to survive the degree.
Major in Political Science 
The best Political Science major is offered at Yale University. The Political Science course ensures that the students are well-informed about the broad prospects of politics, the agents and institutions behind it, and how a society catalyzes or diminishes the role of politics in a region. A student must pass twelve terms and choose at least three courses from International relations, American government, and political theory to graduate from the program.
A Plethora Of Exciting Extracurriculars
Yale is known for its rigorous academic program, but surprisingly, the students take time out to enjoy and explore the unlimited opportunities that the university provides them. Yale also has a vigorous athletic team for the university's young sports enthusiasts. Find out about the activities at Yale in the list below.
Athletics, Sports, and Winning Teams
Although Yale is an Ivy League college known for academic challenges, the university has succeeded to incorporate athletic victories along with academic accomplishments. Yale has achieved historic victories in Varsity Sports. The team Yale Bulldogs is part of more than thirty sports.
Participation aside, Yale has managed to train its athletes to win. The team has won several championships, including the golf national championship of 1897. The hockey team of Yale is one of the oldest teams in the history of university athletics.
The society is for all the bibliophiles at Yale to experience bookbinding and preparation. The students in the Guild of Bookmakers society come together to learn about binding books and craft book art that will be published by the university itself. These books are later kept in the library or studied as Yale's literature.
A Capella (Music Society)
The A Capella groups at Yale University are creative geniuses! More than ten A Capella groups are elevating the name of their university by putting on thoughtful performances. One example of the A Capella group is Something Extra. This group is all-women, who are dedicated musicians who perform pop, jazz, folk, rock, classical, and much more.
Yale University is known for its expertise in liberal arts, media, and performing arts. The society of Arts at Yale is building a narrative of its own. They claim to provide a chance to learn visual arts to every aspiring artist or anyone who finds art intriguing. Whether you are a born artist or someone who does not know how to hold a paintbrush, society is equal to everyone who joins to learn and explore this field.
Yale Political Union (Society of Politics)
That is right! Yale has its political union divided between the right-wing and the left-wing. Some parties include liberal, conservative, federalist, independent, and several others. The right and left wings debate on several political affairs in the world.
One of the societies known as the Alexander Hamilton Society carries out conferences that discuss the problems of the modern world and loopholes in the American government. This society is sumptuous for political science degree aspirants who want to indulge in an intellectual debate session.
Asian American Student Alliance (Culture Society)
The cultural societies at Yale University are inclusive and diverse. Students from different ethnicities joined hands to form societies and interact with people who are like them. The Asian American Student Alliance is one of the cultural societies at Yale that aims to engage with Asian American students so that they are united in the political activities and student activism at the university.
One of the famous health and counseling societies at Yale is the Public Health Coalition. This society aims to spread awareness about the importance of public health, education, and services. The society does so by organizing mentorship programs on campus and arranging events that include training, yoga, and other health-related activities.
Spoon University (Culinary Society)
One of the culinary societies at Yale University is the famous Spoon University. The Spoon society aims to boost the confidence of students who are living in dorm rooms and do not have an idea of how to cook. Spoon University celebrates cooking and the joy that comes from creating a meal from scratch. Apart from that, this society also encourages videography, photography, marketing, and event planning. So if you want to join Yale, keep in mind the all-in-one Spoon society.
If a student is joining Yale because of its popularity in performing arts, they must consider joining this society as well. The Yale drama coalition is all about giving a platform to passionate theatre performers who are willing to learn or teach aspiring performers. This society encourages talent from all over the campus. Any student can join and learn the basics of theatre performance, theatre organization, and managing the performance or event.
American Society Of Mechanical Engineers
One of the Science and Engineering societies of Yale includes the American Society of Mechanical Engineers. This society encourages collaboration amongst members, sharing of knowledge, and skill development.
ASME aims to provide its members with the best career enrichment opportunities by giving them a platform to learn about cutting-edge technology and brilliant scientists. The society arranges workshops and seminars to provide learning opportunities to its members.
Conclusion
Ivy leagues are challenging, but at the same time, they are exhilarating. Students dream to witness experiences at Yale because of the endless opportunities and world-class education the university has to offer. The university is known for excellent academics, extracurriculars, traditions, and societies. There are so many reasons to come to Yale and have a time of your life.
Frequently Asked Questions
What is special about the academic programs offered at Yale?
The university has a median acceptance rate. Students enrolled in the university are provided with world-class faculty, a distinctive course structure, and a chance of structuring their courses in some majors. Students are educated in a way that they learn important technicalities of science and engineering as well as global and political affairs in the world.
Is Yale overrated as an Ivy league?
Yale has proven its excellence since it was first established. The university is not overrated because it is worth the hype. The exhilarating societies, the enthusiastic sport, beautiful traditions along with rigorous academics is what makes Yale unapologetically unique.
What kind of a student I should be to go to Yale?
A student must excel at academics, but it is not the only factor that leads to admission to Yale. Students with an athletic background or a talent in art, literature, science, or anything might get student admission at Yale. However, to graduate with a good score, you need to be highly diligent, passionate, and punctual.