To know what are the admission requirements and GPA for West chester university…read on this article..
West Chester University is a public university in Pennsylvania, United States. Established in 1871, West Chester University is home to notable alumni including the current First Lady and former second First Lady of the United States; Jill Biden. West Chester University has programs for both undergraduate and postgraduate students, with quite a few special programs. If you want to study at this great University, you need to know about the requirements, and this article is here to guide and provide you with all the information you need. 
By and large, for application into an undergraduate program, the GPA expected in High school is B to B+ (this is higher for some majors e.g. nursing which requires an A grade), and an average SAT score of 1060 – 1200 (higher for some majors, for example, the nursing program needs an average SAT score of 1250) or an ACT score of 20 – 26 and ranked or positioned among the top 40%. Submitting your SAT or ACT score is no longer necessary (this is because of COVID-19 disruption in taking the exam) and has been made optional for Fall 2022 applicants.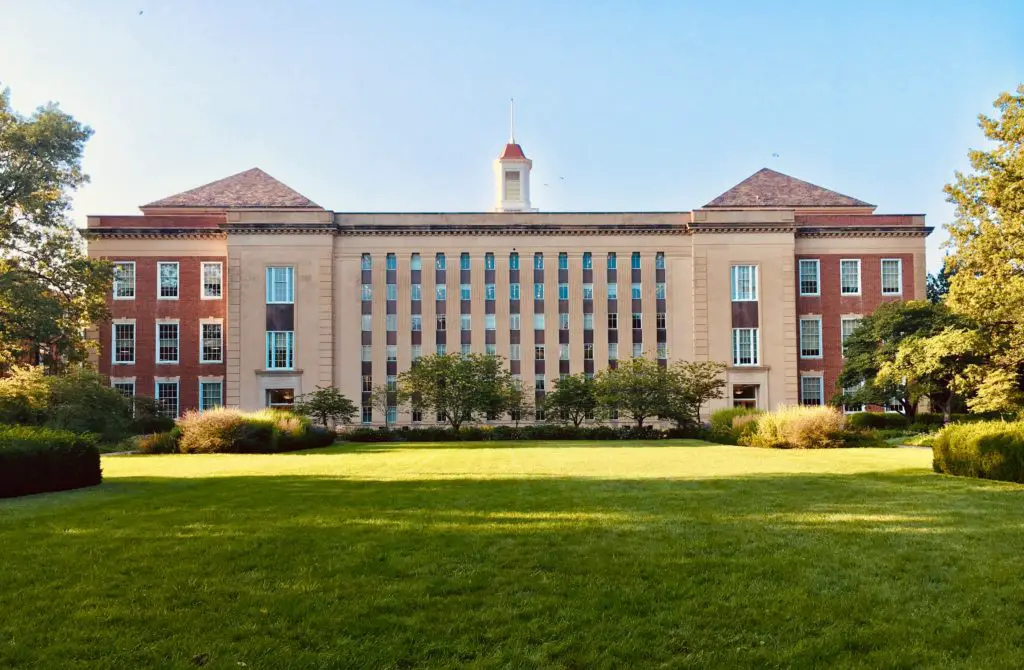 High School Curriculum Requirements
Admission requirements for West chester university
To gain admission into the West Chester University of Pennsylvania, there are some expected core high school curriculum requirements. These are:
Four (4) years of English Language
Three (3) years of Math (for the most competitive applicant, it can be up to four (4) years). The Math curriculum must include Algebra I, II, Geometry, or computer science.
Three (3) years of laboratory science (up to four (4) years for competitive candidates). The Lab Science curriculum must include chemistry and biology.  
Three (3) years of social studies.
Competitive candidates or applicants have, in addition to the above requirements:
Two (2) to three (3) years of foreign language
Honors, Advanced Placement (AP), or International Baccalaureate (IB) courses.
Application Evaluation
At West Chester University, when evaluating an application, what matters the most is the strength of the academic record of the applicant. These include the 
GPA)which is a minimum of B to B+
rank (the department may demand the rank of a candidate during the application or if provided by the applicant). It must be in the top 40% rank.
Applicants with strong academic credentials are prioritized by the admissions committee. 
We have some majors with special steps in their application process. These majors are:
Respiratory care: Applicants to this major need to attend an interview with the department.
Music: All applicants interested in music majors will undergo an audition before the admission committee will review their application.
Studio Art and Graphic & Interactive Design: All applicants need to submit a portfolio together with their application.
Acceptance Rate of West Chester University of Pennsylvania
Looking at the Acceptance Rate of West Chester University, it is 86%; meaning that in a number of one hundred (100) candidates, about eighty-six (86) of them get admitted. What this means is that West Chester University is lightly selective and that if you meet the admission requirements stated above, you can get admitted. 
Available Majors at West Chester University of Pennsylvania
Chemistry
Biology
Early Childhood Education
Mathematics
Computer Science
Political Science
Business Administration
English Studies
Accounting
Athletic Training
Psychology
Education
Special Education
American Studies
Social work
All of these, including others, are the available majors at West Chester University.
The most popular majors at the West Chester University of Pennsylvania include humanities, business, liberal arts and science, nursing, management, marketing, and related services, health professions and related programs, etc. 
Some majors run special programs. An example is the Athletic Training major. The undergraduate Athletic Training program is now Health Science: General – Sports Medicine Studies BS. Once you enroll in this major, you are enrolled directly into a 3+2 program where you earn two degrees at the end of your program. The first 3-year B.Sc will be in Health Sciences – Sports Medicine Studies BS while the second 2-year M.Sc will be in Athletic Training.
Due to limitations in the number of students that can be admitted into each department, applicants are allowed to choose a second major when applying. Another reason for this is that the competitive nature of the admission process makes many applicants unable to get into the major of their choice. If a candidate is undecided about what second major to choose, there is an option of selecting the Exploratory Studies Program. This is otherwise called Undeclared. It means that the applicant can explore different options or majors before finding one that fits.
How to Apply
Application forms are always sold online. To apply, follow the following steps:
Complete the application form for admission on the school website.
You will have to pay a non-refundable fee for your application form using your online credit card. An application form cost $45.
There is a need to submit a high school transcript (official copy)
Send in your SAT or ACT scores (if you wish to do so), Remember that this has been made optional.
Additional Requirements
Although requirements and qualifications for admission still need to be met, including SAT and ACT scores, getting admitted is not entirely subject to them. Letters of recommendation, personal statements, and considered extracurricular duties, are all necessary and they contribute a whole lot to getting into the West Chester University of Pennsylvania.
Conclusion
After going through this article to learn about how to get admitted and the GPA of the West Chester University of Pennsylvania, you can start working towards applying to this school. Consider all the minimum requirements and you will see yourself halfway in already.
FAQs
Do I need to submit an SAT or ACT score?
No. This has been made optional. But if you want to submit your scores, you can still go ahead.
Is there a specific program that requires an SAT or ACT score?
No. There is no exempted major in the new policy.
Is the application still ongoing for 2022 admission?
No. Form sales have close in April 2022.