Overview of UMaine Housing Options
When it comes to the University of Maine (UMaine), finding the perfect place to live on campus is an important part of the college experience. UMaine offers a range of housing options to suit every student's needs and preferences. Whether you're a freshman just starting your college journey or a returning student looking for a change, UMaine has something for everyone.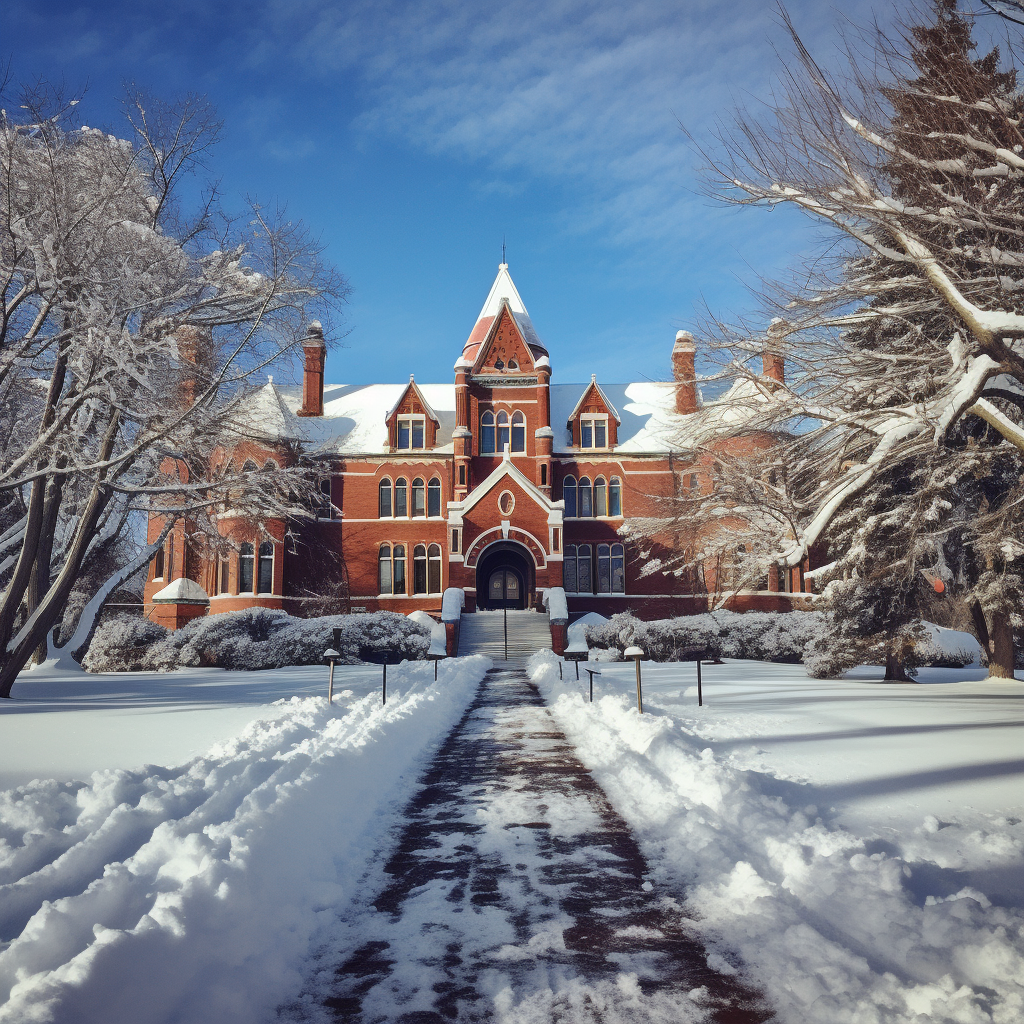 UMaine provides three main types of on-campus housing: residence halls, apartments, and Living Learning Communities. Each option offers unique benefits and amenities that contribute to a comfortable and enriching living environment. In this article, we'll explore these housing options in detail, discuss the advantages of on-campus living, provide guidance on the application process, and offer tips for a successful on-campus experience.
So, whether you're looking for a vibrant community atmosphere, convenient access to campus resources, or a supportive academic environment, UMaine has housing options that will suit your needs. Let's dive in and discover the exciting world of UMaine housing!
On-Campus Housing Options
When it comes to finding the perfect place to call home during your time at the University of Maine, you have several options to choose from. Whether you prefer the lively atmosphere of a residence hall, the independence of an apartment, or the unique experience of a living learning community, UMaine has housing options to suit every student's needs and preferences.
Residence Halls
Residence halls are a popular choice among UMaine students. These buildings are located conveniently close to academic buildings, dining facilities, and other campus amenities, making it easy for students to navigate their daily lives. Residence halls offer a vibrant and social living environment, where students can easily connect with their peers and build lasting friendships. The halls are equipped with various amenities, including study lounges, communal kitchens, laundry facilities, and recreational spaces, ensuring that students have everything they need within reach.
Apartments
For those seeking more independence and privacy, UMaine offers apartment-style housing options. These apartments provide students with a more autonomous living experience, while still enjoying the benefits of on-campus living. Apartments are fully furnished and equipped with kitchens, allowing students to prepare their own meals. Living in an apartment gives students the opportunity to explore their culinary skills and create a comfortable and personalized living space. Apartment living also provides a quieter atmosphere, ideal for students who prefer a more tranquil environment for studying and relaxation.
Living Learning Communities
UMaine takes pride in its living learning communities, which offer a unique and immersive experience for students who share common academic interests or goals. These communities bring together students who are enrolled in similar majors, programs, or courses, fostering a sense of camaraderie and providing opportunities for collaborative learning. Living learning communities provide a supportive environment where students can engage in academic discussions, study together, and receive guidance from faculty and staff who are dedicated to their success. By living in these communities, students can enhance their academic experience and form lasting connections with like-minded individuals.
No matter which on-campus housing option you choose, UMaine ensures that you have access to a range of resources and support services to help you thrive academically, socially, and personally. From convenient locations to engaging living environments, UMaine's on-campus housing options are designed to create a sense of community and provide a home away from home for every student. Discover UMaine housing and find the perfect place to start your college journey.
UMaine provides a comprehensive range of housing options for students, including residence halls, apartments, and living learning communities. Each option offers a unique living experience tailored to meet the diverse needs and preferences of students. Whether you thrive in a bustling social atmosphere or prefer a quieter and more independent living environment, UMaine has the perfect housing solution for you.
Benefits of On-Campus Living
Living on-campus at the University of Maine offers a multitude of benefits that greatly enhance the college experience. From convenience to safety and security, on-campus housing provides an environment that fosters personal growth and academic success.
Convenience
One of the key advantages of on-campus living is the unparalleled convenience it offers. With residence halls and apartments situated strategically throughout the campus, students have easy access to academic buildings, libraries, dining options, and recreational facilities. No more rushing to catch a bus or fighting traffic to make it to class on time. On-campus living allows students to enjoy a short walk to their classes, freeing up valuable time that can be utilized for studying, socializing, or participating in extracurricular activities.
Community and Social Opportunities
Living on-campus provides an unparalleled opportunity to immerse oneself in a vibrant and diverse community. The close proximity of fellow students fosters a sense of camaraderie and encourages lasting friendships. Residence halls often organize social events, such as movie nights, game tournaments, and themed parties, allowing students to connect with their peers and create memories that will last a lifetime. Additionally, the University of Maine offers various living learning communities where students with similar interests or academic goals can live together, further enhancing the sense of belonging and fostering a supportive environment.
Academic Support
On-campus living is not only about socializing and making friends; it also provides valuable academic support. Many residence halls offer study lounges, where students can collaborate on group projects or find a quiet space to concentrate on their studies. Living in close proximity to fellow students also makes it easier to form study groups, seek advice from classmates, and engage in academic discussions. Additionally, resident assistants (RAs) are available to provide guidance and support, ensuring a smooth transition to college life and offering resources for academic success.
Safety and Security
Safety and security are paramount concerns for any student, and on-campus living offers peace of mind in this regard. The University of Maine campus is equipped with a comprehensive security system, including 24/7 surveillance and well-lit pathways. Residence halls are secured with key card access, ensuring that only authorized individuals can enter the buildings. The presence of trained staff, such as resident assistants and security personnel, further enhances the safety of on-campus housing. In the event of an emergency, help is always just a phone call away.
By choosing to live on-campus at the University of Maine, students gain access to unparalleled convenience, a vibrant community, academic support, and enhanced safety and security. These benefits not only contribute to a positive college experience but also set students up for success in their academic pursuits. So, why wait? Embrace the advantages of on-campus living and make the most of your time at UMaine!
Applying for UMaine Housing
When it comes to applying for on-campus housing at the University of Maine, the process is straightforward and convenient. Whether you're a first-year student or a returning student, UMaine provides a seamless application process that ensures you secure a place to call home during your academic journey.
Application Process
To apply for UMaine housing, students need to complete the online housing application through the university's official website. The application typically becomes available in the spring semester, allowing students ample time to submit their preferences and secure their desired housing option.
The application will require you to provide personal information, such as your full name, student ID number, and contact details. Additionally, you'll need to indicate your housing preferences, including the type of accommodation you prefer, whether it's a residence hall or an apartment, and any specific requests or considerations.
UMaine offers a variety of housing options to cater to different preferences and needs. Whether you're looking for a traditional residence hall experience or the independence and amenities of an apartment, the university has you covered.
Deadlines and Important Dates
It's crucial to keep track of the deadlines and important dates associated with the UMaine housing application process. Missing these deadlines may affect your chances of securing your preferred housing option, so it's important to stay organized and plan accordingly.
The university typically sets specific deadlines for submitting housing applications, and they are usually communicated through official channels such as the UMaine website or email notifications. It's recommended to regularly check these sources to stay informed and ensure you don't miss any critical dates.
Moreover, UMaine also provides an academic calendar that outlines important dates for the entire academic year, including housing-related deadlines. This calendar serves as a valuable resource to help you stay on top of your housing application process and other key academic milestones. You can find the academic calendar on the UMaine website.
Roommate Matching
Living with a roommate can be an exciting and rewarding experience, fostering new friendships and creating a sense of community. UMaine offers a roommate matching process to help students find compatible roommates who share similar interests and lifestyles.
When applying for UMaine housing, you'll have the opportunity to indicate your preferences for a roommate. The university's housing office takes these preferences into account and makes every effort to match you with someone who complements your lifestyle and living habits.
UMaine understands the importance of a harmonious living environment and strives to create a positive roommate experience for all students. However, it's important to note that roommate requests are not guaranteed, and the ultimate decision rests with the housing office based on various factors.
By participating in the roommate matching process, you open yourself up to the possibility of building lifelong friendships and creating lasting memories during your time at UMaine.
In the next section, we'll explore what it's like to live in UMaine housing and the various benefits it offers. From room furnishings to dining options, there's a lot to discover about the on-campus living experience. Stay tuned!
---
Read more about UMaine housing and other university-related topics on UMaine's official website for the latest news, events, and academic resources.
Living in UMaine Housing
Once you've secured your spot in one of the on-campus housing options at the University of Maine, it's time to settle in and make yourself at home. UMaine offers a comfortable and convenient living experience for students, with a range of amenities and policies to ensure a safe and enjoyable environment.
Room Furnishings
UMaine provides fully furnished rooms in both the residence halls and apartments. Each room typically includes a bed, desk, chair, dresser, and closet or wardrobe. Some rooms may also have additional furniture, such as bookshelves or bedside tables. The university takes pride in maintaining comfortable living spaces that promote a conducive atmosphere for studying and relaxation.
Dining Options
When it comes to dining, UMaine has you covered. The campus offers a variety of dining options, including dining halls, cafes, and food courts. Whether you're looking for a quick bite between classes or a leisurely meal with friends, there is something to satisfy every craving. The university also caters to different dietary needs and preferences, with options for vegetarian, vegan, and gluten-free diets. Additionally, meal plans are available to provide students with convenient and cost-effective dining options throughout the academic year.
Campus Amenities
Living on campus at UMaine means you have access to a wide range of campus amenities. From state-of-the-art fitness centers and recreational facilities to libraries and study spaces, there are plenty of resources to support your academic and personal growth. The UMaine Library is a hub of knowledge and research, offering a vast collection of books, journals, and online resources. If you're in need of a break from studying, you can take advantage of the beautiful outdoor spaces on campus, such as the UMaine Campus Map.
Policies and Guidelines
To ensure a safe and harmonious living environment, UMaine has established policies and guidelines for on-campus housing. These policies cover areas such as noise levels, guest policies, and maintenance requests. It's important to familiarize yourself with these guidelines to ensure a positive living experience for yourself and your fellow residents. UMaine takes the well-being of its students seriously and works diligently to enforce these policies, creating a supportive and respectful community.
Living in UMaine housing provides students with a comfortable and convenient home away from home. With well-furnished rooms, diverse dining options, an array of campus amenities, and clear policies and guidelines, UMaine strives to create an environment where students can thrive academically and socially. So, get ready to embrace the UMaine experience and make the most out of your time on campus!
*If you'd like to learn more about the University of Maine, you can check out their official website here.
Tips for a Successful On-Campus Living Experience
Getting Involved in Residential Life
One of the keys to a successful on-campus living experience is getting involved in residential life. Engaging in activities and participating in events within your residence hall or community can enhance your overall college experience. It allows you to connect with fellow students, build friendships, and create a sense of belonging.
Residential life departments at the University of Maine offer a variety of programs and initiatives to help students get involved. These can range from social events, such as movie nights and game tournaments, to educational workshops on topics like time management and study skills. By taking advantage of these opportunities, you can expand your horizons, develop new skills, and make lasting memories.
Building Relationships with Roommates
Living with roommates is a common aspect of on-campus living, and building positive relationships with them is essential for a harmonious living environment. Communication is key in establishing and maintaining a healthy roommate dynamic. It's important to openly discuss expectations, boundaries, and responsibilities from the beginning.
Respecting each other's personal space and privacy is crucial. Flexibility and compromise are also essential when it comes to shared living spaces. By working together to create a comfortable and respectful living environment, you can foster strong bonds and create a supportive network within your living quarters.
Managing Time and Responsibilities
Managing time and responsibilities is a critical skill for success in college and beyond. On-campus living provides an excellent opportunity to develop and practice this skill. With a busy schedule that includes classes, extracurricular activities, and social engagements, it's important to prioritize and organize your time effectively.
Creating a structured routine and utilizing tools such as planners or digital calendars can help you stay on top of your commitments. It's also crucial to balance your academic responsibilities with self-care and leisure activities. By managing your time efficiently, you can reduce stress and ensure that you make the most of your college experience.
Taking Advantage of Resources
The University of Maine offers a wide range of resources to support student success. From academic support services to campus facilities, these resources can play a vital role in your on-campus living experience. It's important to familiarize yourself with the various resources available and take advantage of them.
The academic support services at UMaine include tutoring programs, writing centers, and academic advising. These services can help you excel in your coursework and achieve your academic goals. Additionally, the university offers a well-equipped library, state-of-the-art research facilities, and access to online databases to support your studies.
Beyond academics, UMaine provides numerous recreational and wellness facilities, including fitness centers, sports fields, and outdoor recreational spaces. These resources are designed to promote a healthy and balanced lifestyle for students.
By utilizing these resources, you can maximize your potential, overcome challenges, and make the most of your on-campus living experience at the University of Maine.
---
For more information about the University of Maine, including its academic programs, campus facilities, and student life, visit the UMaine website.
Conclusion
As you wrap up your exploration of UMaine housing options, it becomes clear that on-campus living offers numerous benefits and opportunities for students. Convenience, community, academic support, and safety and security are just a few of the advantages that come with residing in UMaine housing.
Living on campus provides students with the convenience of being just steps away from their classes, the library, dining options, and campus amenities. This proximity not only saves time but also allows for greater flexibility in managing academic and social commitments. Whether you need to grab a quick bite to eat between classes or want to take advantage of the campus gym facilities, everything is easily accessible.
One of the biggest advantages of on-campus living is the sense of community and social opportunities it provides. Residence halls and apartments create a vibrant environment where students can build lasting friendships and connections. Participating in living learning communities further enhances the sense of belonging and offers additional academic support through specialized programs and resources.
Speaking of academic support, living on campus provides easy access to a variety of resources to help students succeed. From study groups formed within the residence halls to tutoring services available on campus, students have the tools they need to excel in their studies. Additionally, living on campus creates an environment conducive to focused learning, with designated quiet areas and access to the university's vast library resources.
Safety and security are paramount concerns when it comes to choosing a living arrangement. UMaine housing prioritizes the well-being of its students, with 24/7 security measures in place. Residence halls and apartments are equipped with secure access systems, and trained staff are available to address any concerns that may arise. This peace of mind allows students to focus on their academic and personal pursuits without unnecessary worry.
Now that you have a comprehensive understanding of UMaine housing options, benefits, and application process, you can confidently make an informed decision about where to live during your time at UMaine. Remember to consider your personal preferences, academic goals, and the resources available to you. UMaine housing is committed to creating a supportive and engaging living environment for all students, ensuring a fulfilling college experience.
If you have any further questions or need more information, feel free to browse the UMaine website for details on admissions, financial aid, academic programs, and campus life. Good luck in your journey at UMaine, and enjoy the endless opportunities that await you!