Overview of the University of Maine campus
Situated in the picturesque town of Orono, the University of Maine (UMaine) boasts a sprawling and vibrant campus that serves as a hub of academic excellence and student life. With its rich history and commitment to providing a top-notch educational experience, UMaine has established itself as a leading institution in the region. Whether you are a prospective student, a current attendee, or simply curious about this esteemed university, this comprehensive guide will take you on a journey through the various facets of the UMaine campus, from its state-of-the-art facilities to its stunning natural surroundings.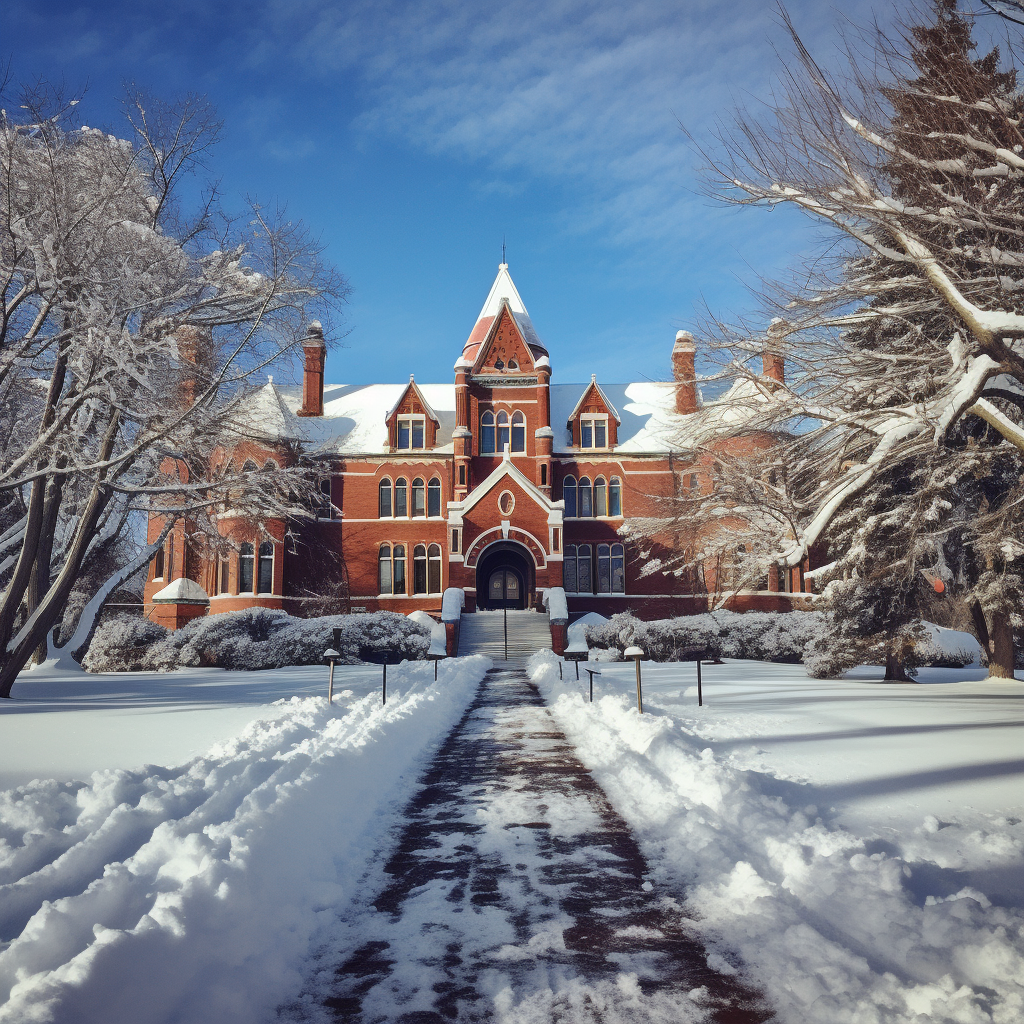 At the heart of the UMaine campus lies a myriad of academic buildings that house an impressive array of programs and departments. From the College of Natural Sciences, Forestry, and Agriculture to the College of Engineering and the College of Liberal Arts and Sciences, UMaine offers a diverse range of majors and disciplines to cater to the academic interests of its students. These buildings are not only spaces for learning but also serve as centers of innovation, where students and faculty collaborate on groundbreaking research and groundbreaking research and creative projects.
UMaine's commitment to knowledge dissemination is further exemplified by its impressive libraries. The Raymond H. Fogler Library, the largest library in the state of Maine, is a treasure trove of resources, offering an extensive collection of books, journals, and digital archives. Whether you are seeking scholarly articles for a research paper or searching for a quiet spot to study, the library is an invaluable resource for UMaine students.
Beyond the academic realm, UMaine provides a vibrant and engaging student center experience. The Memorial Union, a bustling hub of activity, offers a variety of amenities, including a food court, a bookstore, and spaces for student organizations to meet and collaborate. The New Balance Recreation Center provides opportunities for students to stay active and lead a healthy lifestyle, housing an array of fitness equipment, swimming pools, and indoor and outdoor sports facilities.
When it comes to dining options, UMaine leaves no taste bud unsatisfied. The campus is home to a range of eateries, from cozy coffee shops to casual dining halls and specialty restaurants. Whether you're craving a quick bite between classes or looking to indulge in a delicious meal, UMaine's dining options are sure to satisfy even the most discerning palate.
As you embark on your journey through the UMaine campus, this guide will accompany you, providing invaluable insights into the various facilities, services, and opportunities that await you. So, let's dive into the world of UMaine, where knowledge thrives, friendships are forged, and memories are made that will last a lifetime.
Campus Facilities and Amenities
When it comes to campus facilities and amenities, the University of Maine leaves no stone unturned in providing a top-notch environment for its students. From state-of-the-art academic buildings to vibrant student centers, UMaine offers a wide range of resources and services to enhance the overall college experience.
Academic Buildings
UMaine boasts a diverse array of academic buildings that cater to the various disciplines offered at the university. Whether you're studying engineering, business, or the arts, you'll find dedicated spaces equipped with cutting-edge technology and comfortable study areas. These buildings serve as hubs of knowledge and innovation, fostering an environment where students can thrive intellectually.
Libraries
The libraries at UMaine are more than just a place to study. They are dynamic centers of learning and research, providing access to an extensive collection of books, journals, and online resources. From the latest academic publications to rare manuscripts, you'll find a wealth of information at your fingertips. Whether you need a quiet spot for studying or assistance from knowledgeable librarians, the libraries at UMaine are invaluable resources for academic success.
Student Centers
UMaine understands the importance of providing spaces where students can connect, relax, and engage in extracurricular activities. The student centers on campus serve as vibrant hubs of social interaction and personal growth. These centers offer a wide range of services, including lounges, meeting rooms, dining options, and event spaces. Whether you're looking to join a club, attend a workshop, or simply unwind with friends, the student centers at UMaine have you covered.
Recreational Facilities
Maintaining a healthy balance between academics and recreation is crucial for a well-rounded college experience. UMaine recognizes this and offers a variety of recreational facilities for students to stay active and engaged. From fitness centers equipped with state-of-the-art equipment to outdoor fields and courts for team sports, there are endless opportunities to pursue physical wellness and participate in recreational activities.
Dining Options
When it comes to dining, UMaine goes above and beyond to satisfy the diverse tastes and preferences of its students. With a wide range of dining options available on campus, you'll never have to worry about going hungry. From cozy cafes serving artisanal coffee to expansive dining halls offering a variety of cuisines, there's something to suit every palate. Whether you're a vegetarian, vegan, or have specific dietary needs, UMaine's dining services strive to accommodate all students.
As you navigate the vibrant campus of the University of Maine, you'll find yourself surrounded by an array of impressive facilities and amenities. From cutting-edge academic buildings to bustling student centers, UMaine provides an environment that fosters growth, learning, and personal development. So, embrace all that UMaine has to offer and make the most of your college experience.
Campus Services
A university campus is not only a place for academic pursuits, but also a hub of various services that cater to the needs of its students. The University of Maine takes pride in offering a wide range of campus services designed to support and enhance the overall student experience. From health services to career services, the university ensures that students have access to the resources they need to thrive both academically and personally.
Health Services
The well-being of students is a top priority at the University of Maine, and this is evident through their comprehensive health services. The on-campus Health Center provides a variety of medical services, including routine check-ups, vaccinations, and treatment for minor illnesses and injuries. With skilled healthcare professionals, students can rest assured that their physical health needs are taken care of. Additionally, the Health Center also offers counseling and mental health services to address the holistic well-being of students.
Counseling Services
Navigating the challenges of university life can sometimes be overwhelming, and the University of Maine recognizes the importance of providing counseling services to support students' mental and emotional well-being. The Counseling Center offers confidential counseling sessions to help students cope with stress, anxiety, depression, and other mental health concerns. Highly trained counselors are available to provide guidance, support, and resources to assist students in their personal and academic journeys.
Career Services
Preparing for life after graduation is a crucial aspect of the college experience, and the University of Maine understands the significance of career services in helping students transition from academia to the professional world. The Career Center offers a range of resources, including resume building, interview preparation, job search strategies, and career counseling. Through career fairs, networking events, and internship opportunities, the university strives to equip students with the necessary skills and connections to succeed in their chosen fields.
Financial Aid Office
Understanding the financial aspects of attending university can be complex, but the University of Maine's Financial Aid Office is dedicated to providing students with the guidance and support they need to navigate the financial aid process. Whether it's scholarships, grants, loans, or work-study programs, the office assists students in exploring and securing financial aid options that can help make their education more affordable. With their expertise and resources, the Financial Aid Office aims to alleviate the financial burden and ensure that students can focus on their studies.
IT Services
In today's digital age, access to reliable IT services is essential for students to excel academically. The University of Maine recognizes this need and offers a comprehensive range of IT resources to support students' technological requirements. From Wi-Fi connectivity across campus to computer labs equipped with the latest software, students have access to the tools necessary for their academic success. The IT Services team is also available to provide technical support and assistance, ensuring that students can navigate any technological challenges they may encounter.
In conclusion, the University of Maine's commitment to its students extends beyond the classroom. The array of campus services available, including health services, counseling services, career services, financial aid, and IT services, demonstrates the university's dedication to creating a supportive and enriching environment for its students. Whether it's addressing physical health needs, providing mental health support, guiding students towards their career goals, assisting with financial aid, or offering technological resources, the University of Maine strives to empower students to thrive and succeed throughout their university journey.
Student Life
The University of Maine offers a vibrant and engaging student life, providing a plethora of clubs and organizations to cater to varied interests. Whether students are passionate about sports, arts, community service, or academic pursuits, there is a club or organization to suit their preferences. These clubs and organizations not only offer opportunities for students to pursue their passions but also foster a sense of community and belonging.
In addition to clubs and organizations, the campus is abuzz with campus events throughout the year. From guest speakers and workshops to cultural festivals and musical performances, there is always something exciting happening on campus. These events not only provide entertainment but also serve as a platform for students to learn, grow, and connect with their peers.
For those interested in sports, the University of Maine boasts a strong athletics program. From Division I sports teams to intramural sports and recreational activities, there are plenty of opportunities for students to get involved and stay active. Whether cheering on the Black Bears at a football game or participating in a friendly game of basketball with friends, the campus offers a vibrant sports culture.
When it comes to campus housing, the University of Maine provides a variety of options to suit different preferences and needs. From traditional residence halls to apartment-style living, students can find a comfortable and convenient place to call home on campus. Living on campus offers not only proximity to classes and campus facilities but also a sense of community and support.
Transportation is a key aspect of student life, and the University of Maine ensures that students have convenient options for getting around. The campus provides a reliable and efficient transportation system, including shuttle services that connect different areas of campus and off-campus locations. This makes it easy for students to navigate the campus and explore the surrounding areas without the need for a car.
Overall, student life at the University of Maine is vibrant and diverse, offering a wide range of opportunities for engagement and personal growth. From clubs and organizations to campus events, athletics, campus housing, and transportation, the university strives to create a dynamic and inclusive environment for its students.
For more information on student life at the University of Maine, visit the UMaine Student Life page.
Exploring Surrounding Areas
Once you've settled into your life as a University of Maine student, you may find yourself wanting to explore beyond the boundaries of the campus. Luckily, the surrounding areas offer a plethora of attractions and activities to keep you entertained. Whether you're looking for local attractions, outdoor recreation, shopping and dining options, or public transportation, there's something for everyone just a stone's throw away from the university.
Local Attractions
The University of Maine is located in the town of Orono, which is nestled in the heart of Maine's beautiful countryside. This prime location means that you have easy access to a variety of local attractions. From historical landmarks to cultural hotspots, you'll never run out of places to explore. Take a stroll through the charming downtown area, visit the Orono Bog Boardwalk for a nature walk, or immerse yourself in the vibrant arts scene at the Collins Center for the Arts.
Outdoor Recreation
Maine is renowned for its stunning natural landscapes, and as a University of Maine student, you have the opportunity to experience these outdoor wonders firsthand. Just a short drive from campus, you'll find numerous hiking trails, scenic parks, and picturesque lakes that are perfect for boating, fishing, and swimming. Whether you're an avid outdoor enthusiast or simply looking for a peaceful retreat from your studies, the surrounding areas offer plenty of opportunities to reconnect with nature.
Shopping and Dining Options
When it comes to shopping and dining, the University of Maine has you covered. The nearby town of Bangor is home to a wide range of shopping centers, boutiques, and specialty stores. Whether you're in need of essentials or looking to indulge in a little retail therapy, you'll find everything you need just a short drive away. And when hunger strikes, you'll be spoilt for choice with a plethora of dining options, ranging from cozy cafes to upscale restaurants.
Public Transportation
Exploring the surrounding areas is made easy with the efficient public transportation system. The Black Bear Orono Express (BBOE) provides convenient bus services that connect the University of Maine campus to various destinations in the area, including downtown Orono, Bangor, and the Bangor International Airport. With affordable fares and a reliable schedule, you can easily hop on a bus and venture beyond the campus without the hassle of driving or finding parking.
So, while the University of Maine campus has plenty to offer, don't forget to venture beyond its borders and explore the rich tapestry of attractions, outdoor activities, shopping, and dining options that await you in the surrounding areas. Whether you're seeking adventure, entertainment, or relaxation, the possibilities are endless.
Tips for Navigating UMaine Campus
When it comes to navigating the sprawling and vibrant campus of the University of Maine, a little guidance can go a long way. To help University of Maine students make the most of their time on campus, here are some essential tips and resources to keep in mind.
Campus Maps
With a campus as large as the University of Maine, having access to accurate and detailed maps is crucial. Luckily, the university provides an interactive UMaine campus map that can be accessed online. This campus map allows students to easily navigate their way around campus, locate specific buildings, and find important facilities such as libraries, student centers, and recreational areas. The UMaine campus map is an invaluable tool for both newcomers and seasoned students alike.
Parking Information
Finding a parking spot on a busy college campus can be a challenge, but the University of Maine offers a variety of parking options to accommodate its students. UMaine parking information can be found on the university's website, which provides details on parking permits, parking zones, and parking regulations. It's important for students to familiarize themselves with the UMaine parking system to avoid any unnecessary parking headaches.
Campus Safety
The safety and well-being of students is a top priority at the University of Maine. The campus is equipped with a range of security measures, including emergency call boxes, security cameras, and a dedicated campus police force. In addition, the University of Maine offers various safety resources, such as safety escorts and self-defense classes, to ensure that students feel secure while on campus. It's always a good idea for students to familiarize themselves with the UMaine campus safety protocols and resources available to them.
Study Spots
Finding the perfect study spot is essential for academic success, and the University of Maine offers a variety of options to suit every student's preferences. From quiet libraries to cozy cafes, there are plenty of UMaine study spots to choose from. The UMaine library is a popular choice for students looking for a peaceful and productive environment, while the various student centers on campus provide comfortable spaces for group study sessions. Exploring different study spots can help students find the ideal setting that enhances their focus and productivity.
Campus Resources
The University of Maine provides a wealth of resources to support students throughout their academic journey. From academic advising to career services, students can take advantage of a range of UMaine campus resources to ensure their success. The university's website is a great place to start exploring these resources, which include tutoring services, writing centers, and opportunities for research and internships. By tapping into these UMaine campus resources, students can enhance their learning experience and make the most of their time at the university.
Navigating the University of Maine campus can be an adventure in itself, but with the right tools and resources, students can navigate with confidence and ease. By utilizing the UMaine campus map, familiarizing themselves with the parking system, prioritizing their safety, finding the perfect study spot, and taking advantage of the abundant campus resources, University of Maine students can make the most of their time at this esteemed institution.
Conclusion
In conclusion, the University of Maine campus offers a plethora of resources and opportunities for students to thrive and succeed in their academic journey. From state-of-the-art academic buildings and libraries to vibrant student centers and recreational facilities, UMaine provides a conducive environment for learning and personal growth.
The campus services at UMaine are designed to support students in every aspect of their lives. Whether it's accessing healthcare at the Health Services center, seeking counseling services for mental well-being, or receiving guidance from the Career Services office, students have access to a wide range of resources to enhance their overall college experience. The Financial Aid Office is also available to assist students in navigating the financial aspects of their education, ensuring that they have the necessary resources to achieve their goals.
Student life at UMaine is vibrant and diverse, with numerous clubs and organizations catering to a wide range of interests. From academic clubs to cultural organizations, students have ample opportunities to pursue their passions and connect with like-minded individuals. The campus also hosts a variety of events throughout the year, including concerts, guest lectures, and cultural celebrations, fostering a sense of community and camaraderie among the student body.
For sports enthusiasts, UMaine Athletics offers a range of competitive sports teams, allowing students to showcase their skills and represent their university on a larger stage. Additionally, campus housing provides a convenient and supportive living environment for students, with various options to suit their preferences and needs.
Exploring the surrounding areas of UMaine opens up a world of possibilities. Students can indulge in local attractions, engage in outdoor recreational activities, and explore shopping and dining options in the nearby towns. Public transportation is also readily available, making it easy for students to navigate the area and access off-campus destinations.
To navigate the UMaine campus effectively, students can refer to campus maps to familiarize themselves with the layout and locations of different facilities. Parking information is crucial for those commuting to campus, ensuring a smooth arrival and departure experience. Campus safety measures are in place to prioritize the well-being of students, and various study spots provide peaceful environments for concentration and productivity. Additionally, campus resources such as the university library and IT services are readily available to support students' academic endeavors.
In summary, the University of Maine campus offers a comprehensive and enriching experience for students. By taking advantage of the diverse range of facilities, services, and opportunities available, students can make the most of their time at UMaine and pave the way for a successful future. Whether it's pursuing academic excellence, engaging in extracurricular activities, or exploring the surrounding areas, UMaine provides a supportive and vibrant community for students to thrive.