Overview of being a hardworking student
Being a dedicated student is not just about attending classes and completing assignments. It is about going above and beyond, committing oneself to academic excellence, and striving for personal growth. A hardworking student is someone who exemplifies discipline, determination, and a thirst for knowledge.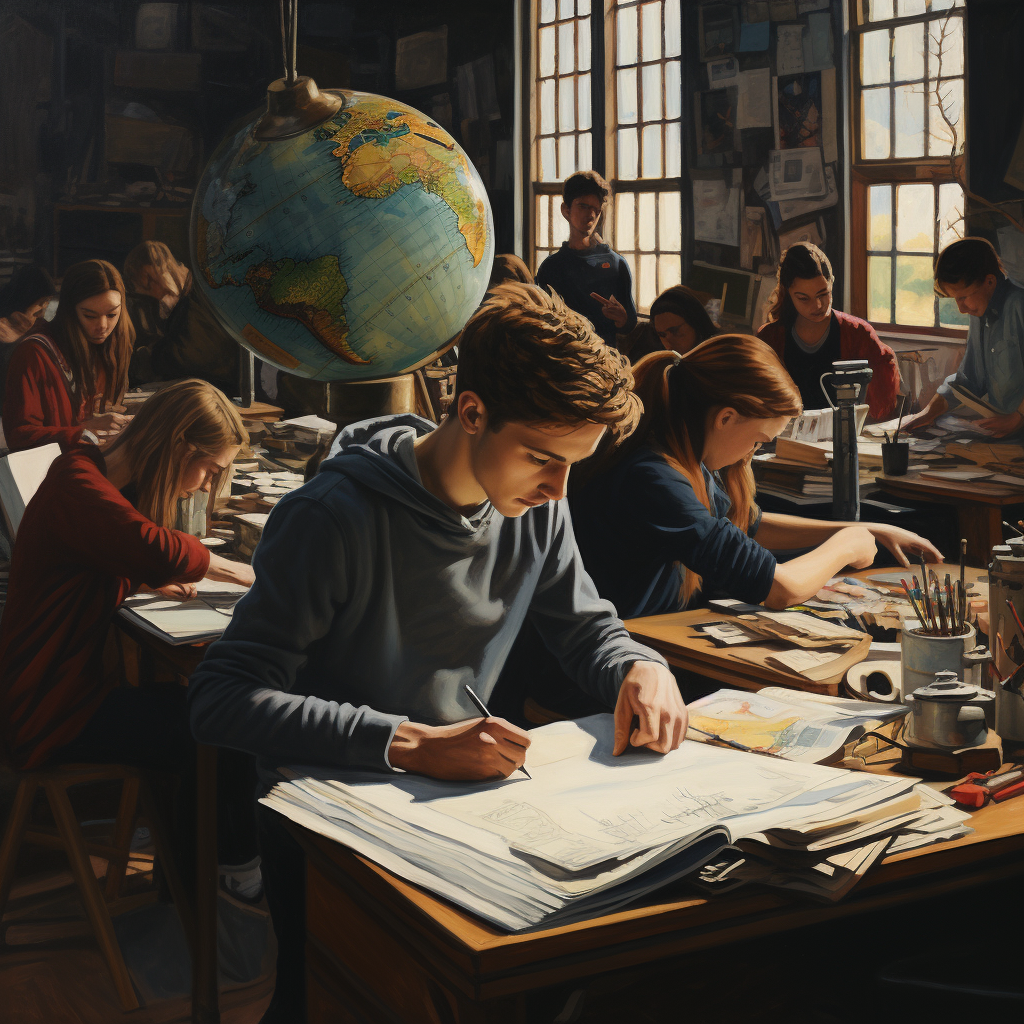 In this ultimate guide, we will explore the strategies and techniques that can help you become a high-achieving student. From setting SMART goals to managing your time effectively, from adopting effective study habits to building a strong support system, we will cover all the essential aspects of being a hardworking student.
Hard work is the key to success, and by implementing the strategies outlined in this guide, you will be on the path to not only achieving your academic goals but also developing valuable skills that will serve you well in all areas of life.
So, let's dive in and discover the secrets to becoming a hardworking student, shall we?
"Success is no accident. It is hard work, perseverance, learning, studying, sacrifice and most of all, love of what you are doing or learning to do." – Pele
For more inspiration, check out some hardworking student quotes.
If you're curious about the characteristics of a hardworking student or the qualities of a hardworking student, feel free to explore those topics as well.
Setting Goals and Prioritizing
When it comes to being a hardworking student, setting goals and prioritizing tasks are two essential strategies for success. By establishing clear objectives and determining the order of importance for your responsibilities, you can stay organized and make the most out of your academic journey.
Setting SMART Goals
Setting goals is like charting a course for your educational voyage. It gives you direction and a sense of purpose, propelling you forward with a clear vision of what you want to achieve. However, it's crucial to set goals that are not only ambitious but also SMART: Specific, Measurable, Achievable, Relevant, and Time-bound.
Specific goals provide clarity and focus. Instead of setting a vague goal like "improve my grades," a specific goal would be "raise my GPA from 3.0 to 3.5 by the end of the semester." This way, you have a concrete target to work towards.
Measurable goals allow you to track your progress. By using quantifiable metrics, such as achieving a certain percentage on a test or completing a specific number of assignments, you can assess how close you are to reaching your goal.
Achievable goals are realistic and attainable. While it's essential to challenge yourself, setting goals that are too far out of reach can lead to frustration and demotivation. Consider your abilities and resources when establishing your goals to ensure they are within your grasp.
Relevant goals align with your long-term aspirations and are meaningful to you. They should contribute to your academic growth and help you develop the skills and knowledge necessary for future success.
Time-bound goals have a deadline or timeline attached to them. By setting specific timeframes, you create a sense of urgency and accountability, pushing yourself to stay on track and complete tasks in a timely manner.
Remember, goals that are SMART provide you with a roadmap to success, guiding your efforts and keeping you focused on what truly matters. By setting clear objectives, you can measure your progress, celebrate milestones, and stay motivated throughout your academic journey.
Prioritizing Tasks
Once you have set your goals, the next step is to prioritize your tasks. As a hardworking student, you likely have a multitude of responsibilities, from attending classes to completing assignments and studying for exams. Prioritization helps you allocate your time and energy effectively, ensuring that you tackle the most important tasks first.
To prioritize effectively, start by assessing the urgency and importance of each task. Urgency refers to how soon a task needs to be completed, while importance refers to how much it contributes to your overall goals and success. By considering both factors, you can determine which tasks require immediate attention and which can be addressed at a later time.
One helpful tool for prioritizing tasks is the Eisenhower Matrix, named after former U.S. President Dwight D. Eisenhower. This matrix categorizes tasks into four quadrants based on urgency and importance. Here's an example:
| Quadrant | Urgent | Not Urgent |
|——————|————————–|————————–|
| Important | Complete assignments | Long-term projects |
| | Study for upcoming exams | Personal development |
| Not Important| Social media scrolling | Mindless distractions |
| | Unnecessary meetings | Time-wasting activities |
By using this matrix, you can identify tasks that are both urgent and important, ensuring they receive top priority. Additionally, it helps you recognize tasks that may seem urgent but are not truly important, allowing you to allocate your time and energy more wisely.
Prioritizing tasks is a skill that requires practice and self-discipline. It's crucial to stay flexible and adapt your priorities as circumstances change. Remember, prioritization is key to managing your workload effectively and staying on track towards achieving your goals as a hardworking student.
Now that you have learned about setting SMART goals and prioritizing tasks, you are well-equipped to tackle the challenges that lie ahead. In the next section, we will explore various time management techniques to help you make the most of your valuable time. Stay tuned!
Internal Links:
Time Management Techniques
Being a hardworking student requires not only dedication and effort, but also effective time management skills. Creating a schedule, avoiding procrastination, and breaking down tasks are essential strategies that can help students make the most of their time and achieve their academic goals.
Creating a Schedule
One of the key time management techniques for hardworking students is creating a well-structured schedule. By organizing their time effectively, students can ensure that they allocate sufficient time to each task and prioritize their responsibilities. A schedule provides a visual representation of the day, allowing students to see at a glance what needs to be accomplished.
When creating a schedule, it is important to consider personal preferences and peak productivity hours. Some students may be early birds, while others may be night owls. Identifying the most productive times of the day enables students to allocate the most challenging tasks during those periods. It is also crucial to include breaks and leisure time in the schedule to maintain a healthy work-life balance.
Avoiding Procrastination
Procrastination can be a stumbling block for many students, hindering their progress and causing unnecessary stress. Overcoming procrastination is essential for success as a hardworking student. One effective strategy is to break tasks into smaller, manageable parts and tackle them one at a time. This approach helps to prevent overwhelming feelings and encourages a sense of accomplishment with each completed task.
Additionally, setting deadlines for each task and holding oneself accountable can help in avoiding procrastination. By creating a sense of urgency and commitment, students can motivate themselves to stay on track and complete their work in a timely manner. Breaking down tasks into smaller, actionable steps can further alleviate the temptation to procrastinate.
Breaking Down Tasks
Breaking down tasks is a valuable technique that enhances productivity and reduces the likelihood of feeling overwhelmed. When faced with a large assignment or project, it can be beneficial to divide it into smaller, more manageable segments. This approach allows students to focus on one aspect at a time, leading to a more systematic and organized workflow.
To effectively break down tasks, students can start by identifying the main components or milestones of the assignment. They can then create a timeline or checklist to track their progress. By breaking down the task into smaller, actionable steps, students can maintain a steady pace and work towards the ultimate goal without feeling overwhelmed.
In conclusion, time management is an indispensable skill for hardworking students who strive for success. By creating a schedule, avoiding procrastination, and breaking down tasks, students can optimize their productivity, manage their time effectively, and achieve their academic aspirations. So, take control of your time, stay focused, and watch your hard work pay off!
If you're looking for some inspiration or motivation, check out some insightful hardworking student quotes that can fuel your determination and remind you of the incredible potential within you.
Effective Study Habits
To excel academically, finding the right study environment is crucial for any hardworking student. Each individual has unique preferences when it comes to studying, whether it's the serene ambiance of a library or the comfort of their own room. Some students find solace in the bustling atmosphere of a coffee shop, while others thrive in the tranquility of a park. Experimenting with different settings can help you discover the environment that suits you best, optimizing your focus and productivity.
Once you have established your ideal study environment, it's time to delve into active learning strategies. Gone are the days of passive note-taking and mindless repetition. Active learning involves engaging with the material actively, fostering a deeper understanding and retention of the subject matter. Techniques such as summarizing information in your own words, teaching concepts to others, and participating in group discussions can enhance your grasp of the material. By actively interacting with the content, you are not only reinforcing your knowledge but also strengthening your critical thinking skills.
However, the journey to academic success doesn't end with active learning alone. Reviewing and retaining information are vital components of effective study habits. It's essential to establish a systematic approach to review the material covered in class. This could include creating comprehensive study guides, using flashcards to quiz yourself, or practicing past exams. By regularly revisiting the material, you reinforce the knowledge and reinforce the connections in your brain, making it easier to recall when needed. Additionally, employing mnemonic devices, such as acronyms or visual imagery, can aid in memorization.
Incorporating these effective study habits into your routine will undoubtedly boost your academic performance. Remember, finding the right study environment, actively engaging with the material, and implementing review strategies are all essential steps on the path to becoming a hardworking student.
Want some inspiration? Check out these hardworking student quotes to stay motivated throughout your journey.
| Study Habits | Benefits |
|————–|———-|
| Finding the Right Study Environment | Optimal focus and productivity |
| Active Learning Strategies | Deeper understanding and critical thinking |
| Reviewing and Retaining Information | Reinforcement of knowledge and improved recall |
Building a Support System
In the pursuit of academic excellence, it is crucial for hardworking students to recognize the value of building a strong support system. This network of individuals, resources, and services serves as a pillar of encouragement and guidance throughout their educational journey. By seeking help and resources, collaborating with peers, and utilizing academic support services, students can enhance their learning experience and overcome challenges with resilience.
Seeking Help and Resources
When confronted with academic obstacles, it is essential for hardworking students to understand that seeking help is not a sign of weakness, but rather a testament to their commitment to success. Whether grappling with a difficult concept or in need of additional clarification, students should feel empowered to reach out to their teachers, professors, or academic advisors. These knowledgeable individuals possess a wealth of experience and are dedicated to ensuring students' academic progress. By tapping into their expertise, students can gain valuable insights and clarify any uncertainties they may have.
Moreover, accessing resources is a fundamental aspect of building a support system. Libraries, online databases, and reputable websites provide a treasure trove of knowledge that can augment students' understanding of various subjects. Textbooks, study guides, and educational videos are invaluable tools that can supplement classroom learning. By actively seeking out these resources, students can deepen their comprehension and develop a well-rounded understanding of the topics at hand.
Collaborating with Peers
Collaboration is key for hardworking students who aim to broaden their perspectives and enhance their problem-solving skills. By engaging in group discussions and study sessions, students can benefit from the diverse insights and experiences of their peers. This interactive approach to learning fosters creativity, critical thinking, and effective communication.
In the spirit of collaboration, students can also form study groups or join clubs and organizations related to their field of study. These forums provide opportunities to exchange ideas, share study materials, and support one another. The collective knowledge and shared motivation within these groups can bolster students' academic performance and cultivate a sense of camaraderie.
Utilizing Academic Support Services
Academic support services offer a wealth of assistance to hardworking students seeking to excel in their studies. Educational institutions often provide a range of support services, such as tutoring centers, writing labs, and academic counseling. These resources are designed to address specific challenges students may encounter, offering personalized guidance to help them overcome hurdles and reach their full potential.
Additionally, many universities and colleges offer workshops and seminars on various study skills, time management techniques, and exam preparation strategies. Taking advantage of these opportunities can equip students with the tools they need to thrive academically. The guidance and mentorship provided by academic support services can play a pivotal role in shaping students' educational journey and bolstering their confidence.
By actively engaging with their support system, hardworking students empower themselves to navigate the academic landscape with resilience and determination. Seeking help and resources, collaborating with peers, and utilizing academic support services are integral components of a holistic approach to learning. Remember, as the saying goes, "A problem shared is a problem halved."
Maintaining a Balanced Lifestyle
As a hardworking student, it's important not only to focus on academics but also to maintain a balanced lifestyle. Taking breaks and resting, engaging in physical activity, and managing stress and mental health are all vital aspects of achieving overall well-being. By incorporating these practices into your routine, you can enhance your productivity, improve your mental clarity, and ensure long-term success.
Taking Breaks and Resting
In the midst of a demanding academic schedule, it can be tempting to push yourself to the limit and forgo breaks. However, taking regular breaks is crucial for maintaining optimal focus and preventing burnout. Stepping away from your studies for short periods allows your mind to recharge and rejuvenate. Whether it's a short walk, a quick stretch, or even a few moments of deep breathing, these breaks can significantly enhance your productivity when you return to your work. Remember, your brain needs time to process and absorb information, so give yourself permission to take breaks guilt-free.
Engaging in Physical Activity
Physical activity is not only essential for maintaining a healthy body but also for sharpening your mind. Regular exercise has been shown to improve cognitive function, enhance memory retention, and reduce stress levels. Find an activity that you enjoy and make it a part of your routine. Whether it's going for a run, attending a fitness class, or simply taking a walk outdoors, incorporating physical activity into your day can have a profound impact on your overall well-being. Additionally, physical exercise releases endorphins, which can boost your mood and increase your energy levels, allowing you to tackle your academic responsibilities with renewed vigor.
Managing Stress and Mental Health
As a hardworking student, it's crucial to prioritize your mental health and manage stress effectively. The pressures of academia can often lead to heightened stress levels and feelings of overwhelm. Implementing strategies to manage stress can help you maintain a healthy mindset and prevent burnout. Consider incorporating activities such as meditation, deep breathing exercises, or journaling into your daily routine to promote relaxation and self-reflection. Additionally, seeking support from friends, family, or a counselor can provide a valuable outlet for expressing your feelings and finding guidance. Remember, it's okay to ask for help when needed, and taking care of your mental health is just as important as excelling academically.
Maintaining a balanced lifestyle as a hardworking student may require intentional effort, but the benefits are well worth it. By taking breaks and resting, engaging in physical activity, and managing stress and mental health, you can optimize your overall well-being and set yourself up for long-term success. Remember, prioritizing self-care is not a sign of weakness, but rather a testament to your commitment to personal growth and success.
For some inspiring hardworking student quotes, check out hardworking student quotes. If you want to learn more about the characteristics and qualities of a hardworking student, visit characteristics of a hardworking student and qualities of a hardworking student. And if you're looking for tips on how to become a hardworking student, head over to how to become a hardworking student.
Conclusion
In conclusion, becoming a hardworking student is a journey that requires dedication, perseverance, and the implementation of effective strategies. By setting SMART goals, prioritizing tasks, and managing time efficiently, students can optimize their productivity and achieve academic success. Additionally, adopting effective study habits such as finding the right study environment, utilizing active learning strategies, and consistently reviewing and retaining information can enhance the learning experience.
Building a support system is also crucial for a hardworking student. Seeking help and resources, collaborating with peers, and utilizing academic support services can provide valuable guidance and assistance throughout the academic journey. Moreover, maintaining a balanced lifestyle is essential for overall well-being. Taking breaks and resting, engaging in physical activity, and effectively managing stress and mental health contribute to a healthy and sustainable approach to education.
Remember, the path to becoming a hardworking student is unique for each individual. It is important to find what works best for you and adapt these strategies to fit your own needs and circumstances. Stay motivated, stay focused, and embrace the challenges as opportunities for growth and development.
As the great philosopher Aristotle once said, "We are what we repeatedly do. Excellence, then, is not an act, but a habit." So, let your habits of hard work and dedication shape your academic journey and pave the way for a successful future.
For more inspiration and motivation, check out some hardworking student quotes that can fuel your determination and remind you of the power of perseverance. If you want to delve deeper into the characteristics and qualities of a hardworking student, explore these insightful articles. And if you're looking for practical tips on how to become a hardworking student, be sure to click here.
Now go forth, embrace your potential, and become the hardworking student you were destined to be. The world is waiting for your brilliance and the contributions you will make. Good luck!