A sorority house is a huge home providing a living space used collectively by college students. It started taking shape in 1882 in different colleges and universities for the chapters of Greek life in the United States and Canada. Let us know in detail "What Is A Sorority House?"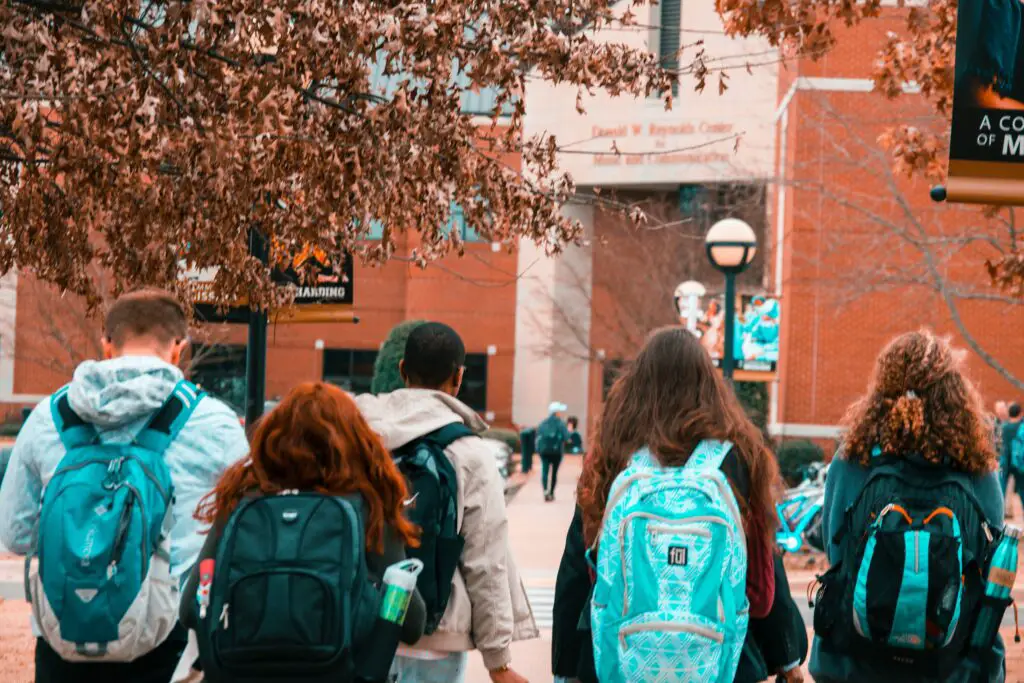 A sorority house denotes especially the houses or housing ranges in North America where women folks and sorority members live with certain together with certain goals and duties. The sorority houses serve as a rendezvous for holding social meetings, raising funds for charity, and sorority meetings. A sorority, meant especially for women, serves common objectives and ambitions. The people living here keep themselves abound by a commitment to be there for each other throughout their lifetime.
Cost of Living in a Sorority House
The members living in a sorority develop a common bonding with each other and like a family, they share their work, mutual attachment, and knowledge. The registration fees, social fees, regular dues, and living charges make living in a sorority house cost pretty high. Its costs range from $600 to $6K for every semester, alumni fees, and for being Greek. Sororities are strict with their payment and don't allow those women to continue with the membership, who fail to pay their dues to.  
Conditions to Live in a Sorority House and its Advantages
If you are a regular college student with four-year terms, you can become a sorority member. 
All the colleges are not open to letting fresher join sororities, while some colleges do allow membership, albeit with limited involvement.
 Some sororities prefer a good academic record and an average of 2.5 – 3 grade points to take you in. Being a member of a sorority brings joy to meeting new people, developing long-term connections, and enjoying life by attending parties and events.
All women, even from abroad, doing their matriculation or undergraduate, can join a sorority house of the college or university they study in. 
The sorority houses charge fees to run the sorority and organize events to pay its fees to the national organization, arrange educational tools, donations, and for its charities. 
You should be either matriculating from an accredited college or university, doing an initial baccalaureate degree; or already a degree holder of the same or higher, or an alumna. 
Rules For Sorority Members  
In most sororities, male house guests are only allowed to the first floor. However, the fathers can go upstairs but on move-in day and dad's day. Unbounded qualities develop while being a member of a sorority. 
The young folks nurture in themselves leadership skills, acquire a feeling of societal identity, and also learn to live amicably. 
It's observed that the sorority women have nurtured now and ever, a harder set of morals than the fraternity dwellers. Women in sororities abide by the rules. 
Let's Dig Deep into Some Famed Sorority Houses
Delta Sigma Theta
Establishment– in 1913 by 22 women formed Delta Sigma Theta, at Howard University. Over 2 million African women have been a member of Delta Sigma Theta since its inception. In association with charitable and corporate institutions, they have worked for the furtherance of community service to empower the communities in the US and beyond.
AIM– to promote academic excellence and support needy people. The college women of this sorority are dedicated to constructive development and promoting the welfare of the Black community through the set programs, both nationally and internationally. 
Principle– a five-point programmatic thrust with an emphasis on economic, educational, and international awareness. 
Kappa Alpha Theta
Foundation– Bettie Locke and the women students in the college found Kappa Alpha Theta Indiana Asbury College now known as DePauw University in 1870 with the inspiration of her father. It came into existence in the environment of a male-dominated college. culture
AIM– to do service, raise funds, and donations for social causes they so choose. The members formed a Kappa Alpha Theta Foundation and a National Association for Children.
Principle– to create a safer environment for women, live up to its standard, and strive to provide an inclusive space for its members, offering them lifetime opportunities necessary for their rounded growth. 
Alpha Kappa Alpha
Foundation– in 1908, at Howard University, nine college students formed a sorority to promote unity and friendship among college women. 
AIM– advancement of equality for all citizens of the world, and commitment to companionship, sisterly feelings, service, and leadership qualities for near ones and the world. However, its prime focus has been on keeping lifelong personal development for its members and making them at the forefront of effective advocacy and social change. 
Principle– to develop the foundation of love, affinity, respect, and trust. The members do community service and change the lives of people. They initiated five programs between 2018 and 2022 for community services. 
Alpha Chi Omega
Foundation– Alpha Chi Omega's establishment dates back to Indiana at DePauw University on October 15, 1885, the first to evolve from a music school and committed to advancing its members' intellectual, social, and moral cultureto hon. Women were not allowed in college. Professor James Hamilton Howe, the dean of the School of Music had been the encouraging force behind the founding of Alpha Chi Omega by seven exemplary female students. 
AIM– be committed to the shared values of wisdom, devotion, and achievement. They take up issues and challenges and help to shape them into real, strong women who can fulfill their greatest potential.  
Principle– live up to common values. They discover facts about themselves and become a better version of who they were and they receive profound support from other inmates for it, who become their confidantes and friends. 
Alpha Delta Pi
Establishment– at Wesleyan Female College, Alpha Delta Pi, the first secret women's society in the world, was established in 1851. Eugenia Tucker Fitzgerald and her five closest friends formed this sorority. 
AIM- creating an appropriate place for women's personal rounded development. Soon it became a profoundly prestigious organization, with 161 active chapters spread across college campuses in the U. S. and Canada.
Principle– strive hard for exerting a positive impact on the college and society. Their philanthropic spirit becomes visible in their contributions to charitable societies. It contributed $0.16 million for the 2019-2020 academic year alone. They are associated with the Ronald McDonald House Charities since 1979. Until now they have contributed around $1.6 million to the foundation. The organization contributes to 150 competitive academic scholarships, amounting to $0.2 million. 
 Phi Mu
Foundation– Wesleyan College, Georgia is the place where in 1852 Phi Mu, the second oldest sorority was founded, initially as a society and literary club. 
AIM– support the female students to grow personally and academically. New members support others in piloting the often-daunting life of a college student to overcome the challenges and steer ahead. 
Principle– value love, dignity, and truthfulness. They are philanthropic acts reflected in their service to humanity. Initially, they supported mobile health arranging health facilities for rural women and children. They have partnered with Children's Miracle Network to help the needy. They are the pioneer to establish the first National Philanthropy Day.
Alpha Omicron Pi
Establishment– On 2nd January 1897, four friends established Alpha Omicron Pi at Barnard College in New York City, and very soon other colleges too adopted it. It grew into 139 chapters and initiated over 0.169 million members in 120 years of its existence.
AIM– The members of this sorority are expected to support the interests of colleges and universities where they have established chapters. 
Principle– to serve humanity. In 1967 Alpha Omicron Pi partnered with the Arthritis Foundation and started donating sufficient funds for arthritis research, conference, camps, etc. The members uphold four principles: character, dignity, scholarship, and loyalty. Imbibing the spirit of friendship and strong bonds and being committed to diversity, equality, and inclusion. 
Zeta Tau Alpha
Establishment– nine young female friends established Zeta Tau Alpha in 1898, at Longwood University, formerly known as Virginia State Female Normal School. This sorority now has 2.7 million members spread across 173 chapters.
AIM– to help its members across the world develop and acquire potential, and stand close to one another. They were determined to intensify friendships, promote happiness, and build perfect womanhood. 
Principle– promoting socially useful programs and for it raising funds for scholarships and other educational and leadership development programs, also for the education of breast cancer, and sensitize people. They have also partnered with Bright Pink, the NFL, and the American Cancer Society.
Kappa Kappa Gamma
Foundation– Kappa Kappa Gamma was started by six exceptional women in 1870 at Monmouth College. 
AIM– to empower women and recognize their power to impact the world through learning, literature, academics, and leadership. 
Principles– promote sisterhood, leadership, personal development, etc. Members encourage each other to develop and grow their academic excellence and social values. They learn to become great leaders for their rights and instil positive change at every stage of their college experience and beyond. Meghan Markle is one of its worthy members.
Delta Delta Delta 
Foundation– In 1888 Sarah Ida Shaw and Eleanor Dorcas Pond founded Delta Delta Delta or Tri Delta at Boston University 
AIM– to encourage women to focus on their inner self and character and not on their appearance. The members of this sorority keep related through the bonds of truth, self-sacrifice, and friendship. 
Principle– offer opportunities to its members to develop and hone their leadership skills by attending educational programs. This makes them emerge as empowered leaders capable of making a difference. They provide scholarship funds and support others to learn. Since 1999 it has had a partnership with St. Jude Children's Research Hospital for which it procured over $75 million.
Gamma Phi Beta
Foundation– on 11 November 1874 four good friends formed Gamma Phi Beta at Syracuse University. It's a perfect place whose environment is apt for bonding among women. 
AIM– to stop gender alienation on their campus, make women confident and of strong character, and commit to making a difference in the world. 
Principle- to hone spiritual, mental, and social elasticity in girls. They organized Moonball an event and hosted kickball, volleyball, or basketball tournaments as an act of philanthropy.
 Alpha Phi
Establishment– ten female students founded Alpha Phi in 1872 at Syracuse University. 
AIM– committed to enduring friendship, learning leadership qualities, academic excellence, personal growth, and serving the community. 
Principle– The Alpha Phi Foundation grants scholarships for the programs of women's heart health, donates $1.2 million every year, and organizes blood donation drives and immersion trips.
Sigma Sigma Sigma
Foundation– eight women founded it on April 20, 1898, at State Female Normal School, now Longwood University.
AIM- keep the values of friendship and sisterhood as a part of a group of Greek-letter sororities, Farmville Four. The strong, resilient, and adaptable members of this sorority aligned themselves with the March of Dimes, to serve needy children. 
Principle– emphasize the need for personal growth and gain leadership qualities, and organize programs to become empowered women. 
Delta Gamma
Foundation– Anna Boyd, Mary Comfort, and Eva Webb of the Lewis School for Girls formed Delta Gamma in 1873. 
AIM– to create a safe and powerful organization for women on college campuses by developing in women the traits of togetherness and commitment to serve. It has now grown into a large organization of international women having over 0.2.5 million members across 150 collegiate chapters and 200 alumnae groups.
Principle– demolish the wall of differences, embrace a more open perspective, and build meaningful connections.
Delta Zeta
Foundation– six women formed Delta Zeta in 1902 to create a social sorority with a vision to establish a lifelong sisterhood on the male-dominated campus of Miami University. It now has a total of 0.2.6 million members.
AIM– promote values-based living. 
Principle– embrace the principle of friendship, togetherness, generosity, and curiosity, raise funds and help in spreading awareness. 
Conclusion
Now we have learnt "What Is A Sorority House?" Sororities are generally formed by women who share common goals and ambitions, continuing from their college life and willing to take it further. So, they join a society to nurture their interests and even intellectual pursuits. Despite talks of a few negative insights about sororities, such as members' fondness for wild parties and its huge white building, sororities are much more than the usual stereotype societies. Sorority houses gained popularity because the female students often felt deserted and as a reaction, the women formed a society comprising their close circle.