Jazz is a music genre started by African- Americans during the early part of the twentieth century. It is considered a strong and influential form of music that uses a variety of instruments. Jazz is distinctively American music and the country has many prodigious jazz schools. Many top-ranked programs are around for a decade and many popular schools offer a wide range of degrees in jazz. Finding a good jazz school is a tough choice for students as there are multiple options available. Each college is unique and has its criteria of acceptance which students should keep in mind.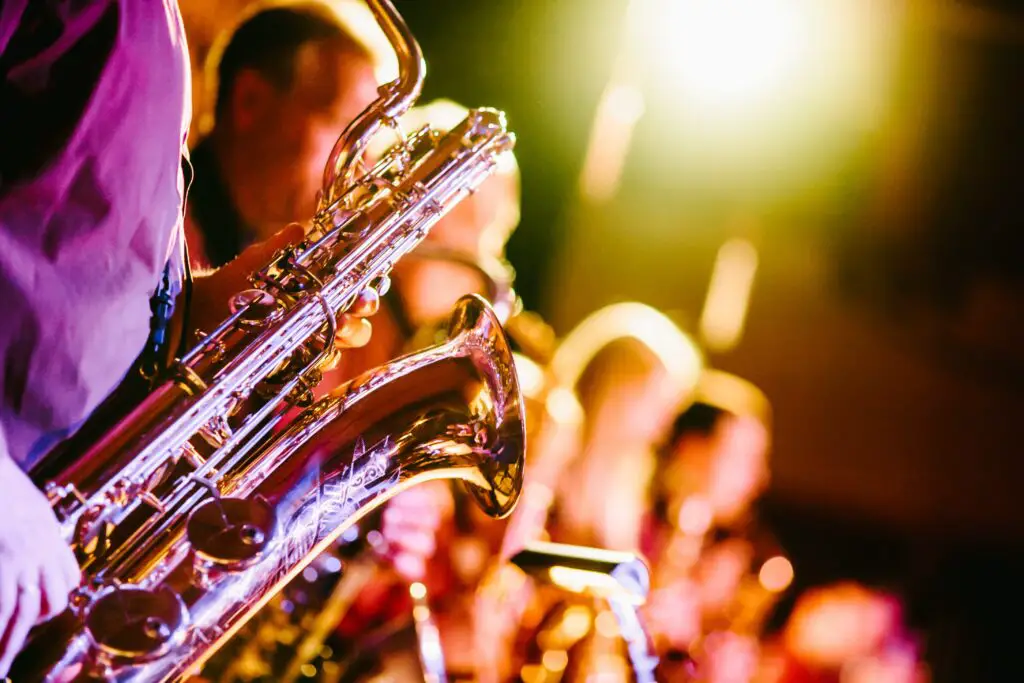 Best Jazz Schools in the US
Many schools offer jazz studies in the USA. Studying jazz at a great music school is something that many aspiring jazz musicians look for to progress in this field. The most important to consider while looking for a good jazz school are cost and the faculty. Many schools keep a faculty of well-known musicians in the music industry. They can help students to understand the music and technicalities of instruments more easily and effectively.  Alumni of the school should also be considered as the success achieved by other students from the school also helps students to find an ideal in them. The success of alumni is a sign of a great school.
List of Best Jazz Schools in the US
The most popular jazz schools in the US are: 
Manhattan School of Music 
The New School of Jazz and Contemporary Music
Berklee College of Music 
Oberlin Conservatory of Music 
The Juilliard School
University of Southern California Thorton School of Music.
Manhattan School of Music:
Manhattan School of Music is a music conservatory in New York City. Along with bachelor's, it offers masters and doctoral degrees in music too. The school was established in 1917. 
Manhattan School of Music is a very prestigious music school to study jazz. Their Jazz Arts program is well known for providing a bachelor's degree in jazz. Their program offers a bachelor's in music, a master's in music, and a doctorate in jazz arts advancement. Their comprehensive program prepares skilled performers, composers, arrangers, and jazz educators for a successful career in jazz music.
Here are some features of this program
Jazz students need to participate in ensembles. It includes three orchestras and a big band. Three orchestras are Studio Orchestra, Jazz Orchestra, and Latin X Jazz Orchestra. 
Each season some guest musicians join the groups. Recent guest soloists include Dave Liebman, Randy Brecker, Jon Faddis, Bob Mintzer, and some vocalists like Judi Silvano, Jane Monheit, and many more. 
Many popular guest artists also join the groups to train students with their skills and techniques. They conduct master classes during which students perform and later artists provide them feedback.
They provide systematic and rigorous training. Networking opportunities in New York City are provided to students and they are also given a chance to participate in a myriad of performances. 
MSM was the first university in the U.S. to identify jazz as an art form of significance. 
Notable alumni of MSM are Donald Byrd, Miguel Zenon, Christ Potter, and Jane Monheit. All the budding jazz musicians would be well acquainted with these names.
MSM has partnered with Barnard College of Columbia which provides better networking options to students.
The New School for Jazz and Contemporary Music:
The New School for Jazz and Contemporary Music was founded in 1986. Located in New York, it is a very popular music school in the US. The unique artist-as-mentor approach of the school makes it one of the most unique institutions of its kind. 
The goal of the institution is to have artists teach the next generation of jazz musicians. They provide a bachelor's degree in arts in jazz and contemporary music. Students can focus on vocals or jazz depending on their choice. They can also pursue a dual degree. It is a five-year program during which they earn a liberal arts bachelor's degree as well as a BFA (Bachelors of Fine Arts)
The New School also has two graduate programs, the master of arts in art management and the master of music in performer-composer. 
Features of their Jazz program:
The school has a collection of notable alumni in modern jazz. The famous alumni include Jazzmeia Horn, Peter Bernstein, Larry Goldings, Becca Stevens, and much more.
The faculty is also very impressive including Linda Oh, Buster Williams, Nir Felder, Jane Ia Boom, etc.,
The school has very widespread links to the music industry which provides students a chance of networking. 
Their music programs are forward and focused to work on providing music education to students. These programs are helpful to students looking for courses in jazz, and interdisciplinary collaboration.
The school also allows students to play at local venues and participate in various competitions.
Berklee College of Music:
Berklee College of Music is the finest institute of music and the performing arts. It is the most popular school of music worldwide. It is located in Boston. The college has a reputation for providing degrees in jazz and modern contemporary music styles. 
It offers lots of degree options like undergraduate and graduate in Boston. It also provides online education to students. My main degrees include a Bachelor of Music majoring in jazz composition. In this program, students study jazz history. They get to attend live performances and also study methods involved in writing music. Berklee offers a master of music program which emphasizes global jazz at its campuses. 
Features:
Berklee School of Music alumni has won 310 Grammy Awards.
It has several musics and performance-based student clubs and organizations.
It encompasses the most popular contemporary music.
Jazz is the heart of their programs which forms the core curriculum of all majors, providing each student an opportunity to see jazz as a career. 
Berklee provides student resources and also a place in the college even if they are very early in their progress. This feature has led to providing an opportunity to less experienced students also.
Many popular jazz personalities graduated from Berklee over the years like Gary Burton, Pat Metheney, Joe Lovano, Terri Lyne, etc., Some of the famous alumni also teach there. 
Berklee also has Berklee Global Jazz Institute. It is a performance program led by popular pianist and composer Daniel Perez. This program pursues to bring skilled student performers into a collective where they can record and perform jazz. 
The school offers wide opportunities to students to develop a promising career in Jazz.
Oberlin Conservatory:
It is a relatively old music school but still ranks among the tops. It was opened in 1865 in Oberlin, Ohio.  Many jazz fans might be familiar with Oberlin Conservatory as in 1953 as Brubeck's live album was recorded there.
Student in Jazz studies major in Jazz Performance and Jazz Composition. Courses include sight-singing and piano proficiency. Students can also choose courses in composing techniques, and jazz theory. 
Features:
Students in Oberlin get the opportunity to study privately from musicians who coach them and also interact with legendary artists at workshops, masterclasses, and performances. 
It provides world-class performance spaces and a professional recording studio.
Oberlin also offers a dual degree program. In this program students pursuing a bachelor's in music can also earn a degree in bachelor of arts. This provides the student an option to earn a degree in jazz and other topics like history and law.
Oberlin is generally known for classical music education and jazz major.
Jazz studies at Oberlin have a good reputation and have a collection of notably alumni to support that like Gary Bartz, Billy Hart, Eddie Henderson, Dan wall, etc.,
The campus and location of Oberlin are also pretty great and provide the student the exposure needed in their career.
The Juilliard School:
The Julliard School is one of the most recognized music schools located in New York City. It is a private performing art conservatory. It was established in 1905. Around 850 undergraduate and graduate students are trained in music, dance, and drama.
Students are offered a Bachelor of Art in Jazz Studies and a graduate Artist Diploma which focuses on performance and composition. Another program called Bachelors of Art in Vocal Arts is also offered to the singers. In this program along with vocals, and musical and dramatic studies, singers also learn the basics of expressing emotion during their stage performances.
Features:
The jazz program of this school has a great reputation as it is led by popular Jazz Trumpeter Wynton Marsalis. 
The jazz studies program at Juilliard is one of the most thrilling and advanced jazz programs in the U.S. 
It combines education and the history of jazz with professional chances designed to help students participate in a blooming jazz environment. 
Students work closely with faculty made up of some of the most famous jazz musicians and performers.
Multiple performance opportunities as a member of Juilliard Jazz Orchestra and similar ensembles not only of Juilliard but also in other famous venues in New York and beyond are provided to the students.
Juilliard has a famous pre-college program where they accept students at an early age. To get accepted students should crack the audition. After that, music teachers train them to improve their skills before college enrollment.
University of Southern California Thornton School of Music:
The University of Southern California Thornton School of Music steadily ranks in the top one percent of the music schools in the US. It was founded in 1884 and is continuously operating ever since.
USC offers minors in jazz studies. Undergraduates can take foundational classes in subjects like music theory together with regular educational courses. The Jazz studies of the university are headed by Bob Mintzer, a famous jazz musician. According to him, the main push of the bachelor's course is to achieve overall knowledge of the music industry, music theory, arranging, and teaching. He also says that recording, music production, and marketing skills should not be overlooked. 
Features:
The school partners with outstanding regional arts and cultural organizations.
Its alumni and faculty members have received the most prominent awards such as Grammys.
Jazz musicians can also pursue graduate degrees, certificates, and diplomas along with an undergraduate degree in a specialty.
Graduates of the school accomplish professional roles in orchestras, ensembles, recording studios, and music industry firms. They get an opportunity to perform on stage and around the world.
USC offers detailed music knowledge in the context of the real world. 
It helps students to make connections with popular musicians through extensive training and skill enhancement.
Some of the prominent jazz musicians are in their faculty like Russell Ferrante, Peter Erskine, Bob Sheppard, and Alan Pasqua.
The course is extensive with an outstanding status.
Notable alumni include Billy Childs, Gerand Clayton, Eldar and Taylor Eigstic, etc., 
Conclusion:
The number of best jazz schools in the US is very attractive to someone who wants to become a musician. Students should also do their research and find the best fit for them. There are many more schools apart from these which also offer amazing jazz courses. Students should also check the admission requirements by going to their desired university's website and preparing beforehand. Professional help before opting for a program is also important to have some guidance and motivation. Jazz music is the oldest and most beautiful form of music. Everyone love listening to Frank Sinatra's soulful notes and many students want to be like him. Becoming a good musician takes a lot of hard work and patience. Choosing a program that suits your requirements is important to achieving a career you want and selecting a good university is the first step towards it.
FAQs
What is a jazz study major?
Jazz studies provide detailed knowledge of the literature on jazz. Skills of improvisation, jazz arranging, and composition.
What is Manhattan School of Music known for?
It is known for top-class education in music, jazz, and music theory.
Is there an age limit at Juilliard?
No, they did not set any maximum or minimum age limit.
Are Juilliard students successful?
Juilliard students are very successful in terms of job security and salaries.