Well, the answer to this question may vary from person to person. Some students prefer going to a small college, some to a not-so-big and not-so-small college and some are really fond of going to big colleges. So area wise campus can be divided into three categories i.e. Small, Medium and Big. Each such college has different pros and cons. If a student is not a socialite he/she will prefer to go to a smaller college and can also be called an introvert. If one is really extroverted and likes meeting new people he/she will prefer a larger campus. One who is an ambivert will prefer a medium-size campus. So, the categorization according to the nature of the people is also the part which is crucial to a student while deciding the size of the college campus.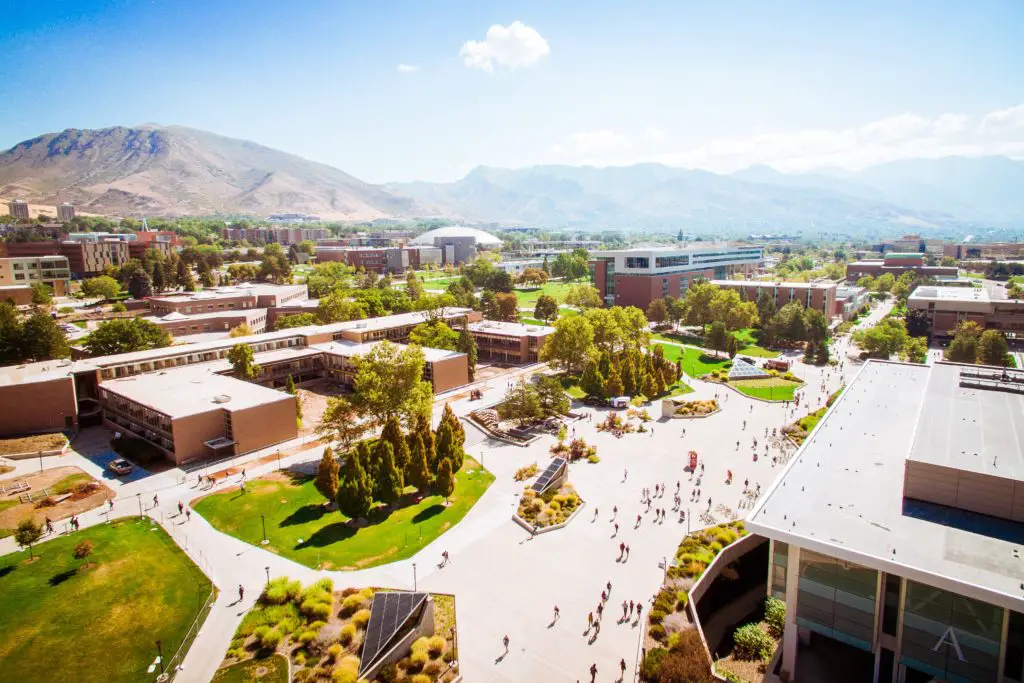 Colleges which are Largest in size
Berry College 
Berry College is a private college and has the biggest University campus in the US. It was established in 1902 i.e. 120 years ago. It is situated in Mount Berry, Georgia. It has an area of 27,000 acres (110 km2). The college has a total of 2,141 undergraduates. The female to male ratio is 66:34 and 68% of the students are residents of the US. The international students are also part of this college and they come from 17 foreign countries. In the movie 'Remember the Titans' this college has been featured.
Motto: Not to be Ministered Unto, but to Minister 
United States Air Force Academy
The United States Air Force Academy is the second largest with 18,455 acres in the area. It is located in Colorado Springs, Colorado. It was opened in 1954. It has 4,304 cadets in 2021. It serves to train officer cadets for the US Air Force. It is not easy to enroll here as students need to fulfill some conditions. Their age should be between 17 to 23 years and need to be unmarried without any dependents. 
Motto: Integrity first, Service before self, Excellence in all we do  
United States Military Academy
This is also known as West Point Prep School. It was established in 1947 in West Point, New York. It has two types of cadet candidates one is Prior Service (PSs) and another is Invitational Reservists (IRs). The Commandant of the academy is COL Joshua P Higgins. Its official mission is 'to provide academic, Military and physical instruction in a moral-ethical Military environment to prepare and motivate candidates for success at the United States Military academy. 
Motto: Desire. Faith. Effort
Sewanee : The University of South
This private Episcopal liberal arts college is located in Sewanee, Tennessee and the area is 13000 acre. It was established in 1857 i.e. 165 years ago. The chancellor of the University is Robert Skirving. The areas of study are Theology, Religion, Political Science, Economics, English and Literature. The building is made of various materials faced with local stone, most done in the Gothic style. The students are known as Sewaneesians at Sewanee.
Motto: Behold how good and how pleasant it is for brethren to dwell together in unity 
Pennsylvania State University
This Private Research University is large in size as well as by enrollment. The area that it covers is 8,556 acres and it has 22,432 (2019) number of students. The founder of the University was Benjamin Franklin and accredited by MSCHE.  It is located in Philadelphia, Pennsylvania, US and founded in 1740 (282 years ago). The University has its own newspaper named The Daily Pennsylvania. It has four undergraduate schools and twelve graduate and undergraduate schools.  
Motto: Laws without morals are useless
Pros and cons of Bigger Colleges
Let's discuss pro's first:
Availability of various courses
Smaller the college, the fewer options are available to a student. If we have a look at colleges nearby we can see the smaller colleges have few courses available and a student has to immigrate to another state or city to pursue their courses. Pursuing your goal without leaving your home is a good advantage.  
More extracurricular activities
It is very important to participate in activities which are held in your college or school as a student. These kinds of activities teach us a lot which helps us in future. Through activities, we explore a lot and learn about working in a team, boosts our confidence, and makes us less reserved. We get to know how to take failures. The various clubs and groups in large colleges organize activities these clubs could be for sports, travelling and many more. The club could be football, basketball, tennis, badminton, hiking, skiing etc. These activities are less available in small colleges.
Network
As the number of students is more in big colleges so will be your network or connections. You meet hundreds or thousands of people every day if you don't talk at least you will see them and you never know which person can benefit you in future in your internships, jobs or anything. After completing your course you may have more friends than you have before college.
Cons of a bigger college
Less individual attention
No one can deny the fact that the smaller the size of the class greater the undivided attention. It is observed that in a class that has more than a 100 student teachers can't give attention to every individual student's improvement. At this point you need to take responsibility for your own learning. It has a positive side too that you become aware of your actions and you become self reliant.
More crowd
Another disadvantage of a bigger college is you will see a lot of crowds which can make you late for your class. Some students need cars as their college is so big that they cannot reach there on time for their class or library but a walk will be good for your health. Some people think they are a part of the crowd and they lose a sense of belongingness. But this is how a person comes out of their comfort zone and inhibitions. 
Expensive
For some students it becomes very difficult to go to a larger college because they have to pay a huge sum of money which everyone can't afford and this is a problem for international students too. For a person who has not enough funds available he/she has no option left besides enrolling in a smaller campus. These big colleges offer the scholarships too, students can go through and check if he/she is eligible.
Conclusion
The largest college is Berry College in Mount Berry, Georgia (US) with 27,000 acres. There are many other colleges in the US but they are not as large in area as Berry College. Berry College comes in first position while checking what has the largest college in the US?