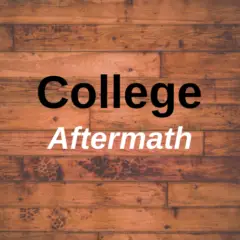 To know the meaning of college undergraduate …read on this article..
College:
The college has a different meaning according to the circumstances. But, the best-suited meaning associated with the college is an institution or university where students can study after their college (after 12th) to earn their first degree which is an undergraduate degree. A college is not just a place to study but to explore different ends and enhance the skills, build new expertise, and develop both in academics and extracurricular activities.
Types of Education at the college level:
Undergraduate education
Postgraduate education
Undergraduate education: 
Undergraduate education refers to the education which is pursued after secondary schooling which is class 12th. This education gives a bachelor's degree to the student and helps them with their first degree.
Postgraduate education: 
Postgraduate education is pursued typically after undergraduate education which is after pursuing the bachelor's degree. This type of education provides the second qualification which is mostly a master's postgraduate certificate or postgraduate diploma.
College Undergraduate meaning:
College undergraduate means students who pursue an undergraduate program after they have completed their secondary education in their respective fields. By pursuing students to earn bachelor's degrees in whichever field they apply for.
Undergraduate is just a program in which a student has the privilege to learn and take one subject as the honours subject. This program is helpful in a way to get a diverse knowledge about a particular subject and explore it to the other end. This helps students to follow their most fantasized and excellent subject and get a deep knowledge regarding different topics in that particular subject.
A college undergraduate is not just a person who is excellent in academics but a college undergraduate is a person vibrant in academics and the extracurricular, co-curricular activities offered by the college.
How to become a college undergraduate?
For becoming a college undergraduate, a student has to pass different eligibility criteria which are as follows:
The person applying for the undergraduate program in the college should have passed class 12th with the minimum marks allotted by the particular college.
Some colleges have age criteria for them to pursue the undergraduate program and become a college undergraduate.
Students' intake into the college is dependent on two things. Either the college will take an entrance exam or they will make a merit list based on class 12th marks and percentage.
Different types of entrance exams a student is required to give to get an undergraduate program:
There are 2 types of degrees, the first one is a professional degree and the second one is an honours degree.
A professional degree is a degree in which the students get a chance to prepare for their career in a specific field like engineering, medicine, and law education. The duration of this program is around 1 to 5 years depending on the college the student has applied for.
An academic degree or the research degree is a degree that helps the student to take a particular field of study and focus on it, with research in that particular field. The duration of this academic degree is around two to three years depending on the college a student applies for.
Different types of professional undergraduate degrees:
Engineering
Law
Medical
Defense
Fashion designing
Hotel management, etc.
The academic degree includes doing honors in a particular subject which encapsulates research-oriented teaching.
Bachelor of Arts
Bachelor of engineering
Bachelor of Fine Arts
Bachelor of commerce
Bachelor of Science
Bachelor of nursing
Bachelor of business administration
How to apply for a college undergraduate program?
The first step is to pass the secondary high school with the specified percentage by the College to which you want to apply.
After getting a high school diploma, fill out the application form for the course in which you want to apply, both merit-based and entrance-based.
After giving the entrance exam the result will be declared with the rank and the cut-off.
The next step will be a counselling process in which you have to Choose the colleges according to the rank or marks obtained by keeping in mind the cut-off of the particular college with a particular course.
Now you are done with the counselling process and the last step is to apply to the college by depositing the required amount.
Different exams for obtaining an undergraduate program:
For engineering, a candidate needs to qualify for JEE Mains and advance exam.
For getting into a medical college a candidate needs to give the NEET exam.
For obtaining law as a career a candidate is required to give CLAT.
An exam like the ACT is one type of entrance exam to study in America. This exam is also taken by the Canadian government and tests and evaluates the student based on writing verbal and scientific skills
The SAT is a type of exam, often referred to as a scholastic assessment test which helps the student to get admission to the undergraduate schools around the world.
Conclusion:
College undergraduate meaning is explained in this article with all the relevant details associated with this. College undergraduate means a candidate who pursues a program after finishing their secondary education. This article gives a very brief outline of the college undergraduate and the undergraduate program. It also brings in the distinction between undergraduate education and postgraduate education with movies in which a person can apply for undergraduate education. It also lays down the eligibility criteria and different entrance exams associated with this program.
FAQs:
What are the most common undergraduate qualifications?
The most common undergraduate qualifications are:
Higher national certificate and diploma
Foundation degree
Certificate continuing education
Certificate and diploma in higher education
Top-up degree
Bachelor's degree
How can a candidate apply for undergraduate research?
Undergraduate research is a way to explore a specific topic within the field the student has studied and can do it through the undergraduate research opportunities program.
Do private colleges take entrance exams?
Yes, private colleges are also entitled to take the entrance exam. But some colleges take students based on their results in the previous year.