Nutrition is a crucial part of human health. Every person, irrespective of age and health condition, needs nutrition. The right kind of food in the right amount brings reduced health risks, weight control, better mood, longevity, and more. If you bag a degree in nutrition, places that will need you are numerous. Let us know What Can I Do With A Nutrition Degree?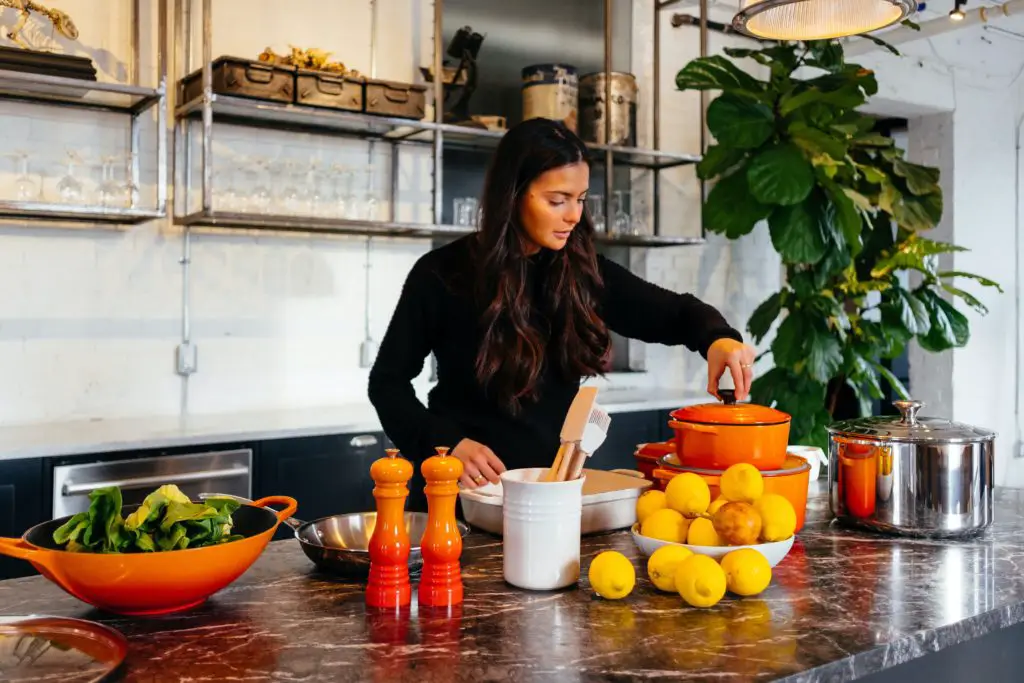 There are over 35 career paths open for degree holders in nutrition. You can be a nutritionist, food microbiologist, dietitian, food safety auditor, research chef, health educator, and more. Every one of those jobs also brings substantial pay. Let's examine a few.
Dietitian
Dietitians are health experts who recommend the right food and nutrition to improve one's health based on each person's needs. With their professional knowledge in food and nutrition, they diagnose clients' nutritional needs, recommend meal plans, educate, research and counsel. They do things that contribute to the nutrition of whoever their clients are, and the public when they research and educate.
Students must fulfil some requirements before becoming Registered dietitians (RD). You must possess a nutrition degree by completing coursework the Accreditation Council For Education in Nutrition and Dietetics (ACEND) endorses. ACEND is a part of the Academy of Nutrition and Dietetics. You must also complete an ACEND Internship after or before graduation, and pass a registration exam organized by the Commission on Dietetic Registration.
Dietitians can work in clinics, schools, nursing homes, and fitness centres. They can also work with the government. After becoming a registered dietitian, you can earn an average of$66,225 per year. This pay can vary depending on where you choose to work and your experience.
Nutritionist
A nutritionist is an expert that advises on food and nutrition and how they impact human health. Nutritionists deliver guidance on meal plans and nutrition education. Their job description might sound similar to a dietitian's, but it's different. Nutritionists do not need the certification dietitians to go through.
You need a degree after completing coursework that the ACEND approves to become a nutritionist. You can work in hospitals, research labs, corporate cafeterias, schools, etc. An average nutritionist can earn $56,529 annually.
Blogger
Blogging is a well-paid job in 2022. Creating writing content that entertains and informs people can be a full-time job that requires hard work. With your knowledge of nutrition, you can start creating blog posts that educate people about food and nutrition. This kind of information is not something people are exposed to every day but have to find. By providing quality information, you contribute to the fitness and well-being of the populace.
There is no academic requirement to become a nutrition blogger. Still, you need a niche to succeed, given the fierce struggle in the industry. An average blogger earns about $38,000, but this job has immense potential. Moving up to hundreds of thousands in a year isn't impossible.
Food Microbiologist
Food microbiologists are important when it comes to ensuring the safety of what we consume. They undergo extensive research and perform experiments on microorganisms found in food. They aim to ensure the safety of the food we consume and find ways to maintain that safety. Their work is especially important to the food manufacturing industry.
Microbial genetics, plant pathology, virology, food microbiology, and chemistry are subjects important to this line of work. A degree in food science or microbiology can be considered a minimum requirement. The majority of food microbiologists work in labs but can be seen in diverse industries. They can earn up to $65,814 annually.
Food Safety Auditor
A food safety auditor is a professional who examines the food safety of businesses responsible for creating the food we consume. They audit every chain that the food consumed by the public goes through. In this chain, we'll find farms, manufacturing plants, food packaging plants, restaurants, etc. Food safety auditors spend time examining their findings and assembling reports to be submitted. Their results are compared to the existing food safety regulations to see if food safety requirements are met.
Food safety auditing has no specific degree. You'll need a degree in an area relating to food safety auditing if you want to become one. A degree in biology, agriculture, food science, chemistry, nutrition, and any similar field will get you started in this line of work.
Working as a food safety auditor, you can earn up to $69,000 annually.
Public Health Nutritionist
Members of this occupation work with a large number of people. For example, groups or communities. They do many of the things a registered dietitian does except with a larger group. They assess a community's nutrition to identify issues and devise ways to tackle them. They also educate the public on the nutrition-related habits to build. They aim to boost the health and nutrition of the community.
A bachelor's degree in food and nutrition allows you to work at an entry-level. You'll need a master's degree to get a job as a senior or middle-level public health nutritionist. You also need to belong to the American Dietitian Association. 
As a public health nutritionist, you can work in hospitals, universities, and with the government. People working as public health nutritionists can earn about $53,000 a year.
Research Chefs
Research chefs are professionals who combine their knowledge in culinary and food science to create food recipes that appeal to the eyes and taste buds. They create new recipes after much research on what consumers want. Research chefs need to be creative and innovative to produce superb recipes that satisfy consumers. 
A bachelor's degree in nutrition or food science is a good start. You can choose to seek an education in culinary. You will need knowledge in food science and culinary skills throughout your career as a research chef. You can obtain a certificate from the Research Chef Association, but it's not compulsory.
A research chef can work with food manufacturers, restaurants, or alone. According to ZipRecruiter, a research chef can earn up to $72,240 per year.
Food Scientists
Food scientists combine their knowledge in nutrition, chemistry, and biology to improve the quality and safety of food products. They research the ingredients of food products to ensure that they follow the regulations and satisfy quality standards. They also contribute to the food manufacturing industry by improving processed food's nutritional value, flavour, and texture.
Having a bachelor's degree in food science is seen as a minimum. A bachelor's degree in chemistry or biology should also qualify you to start as a food scientist. Knowledge in food safety, food analysis, food microbiology, and more are also important in becoming a food scientist.
Food scientists can work in private companies, research centres, and the government. According to Glassdoor, food scientists earn $65,774 yearly.
Nutrition Consultant
Nutrition consultants are professionals with knowledge of different types of food and how they affect the human body. They offer health and nutrition advice and consider the different physiques of their clients as they offer advice. Nutrition Consultants also create meal plans aimed at providing the right amount of nutrients for clients.
For a position as a nutrition consultant, you will need a degree in physiology, dietetics, nutrition, or any field related. Having an Associate's degree can also get you a job as a nutrition consultant. Employers usually have different educational requirements based on the position they want you to fill.
Nutrition consultants can work in care facilities, hospitals, schools, or government organizations. They can earn an average of $44,066 per year.
Nutrition Educator
Nutrition educators spend time creating and delivering quality training about the importance of good eating habits, nutrition, and diet. They also research, deliver courses and teach at seminars. They also find the best ways to communicate nutrition practices to the populace. They strive to enhance their clients' health and wellness.
A bachelor's degree in food science, nutrition, dietetics, nutrition, or a related field is needed to qualify for a job as a nutrition educator. Knowledge in food chemistry, anatomy, physiology, public health, and dietetics are needed in this field.
A nutrition educator can work in schools, hospitals, government organizations, care facilities, and clinics. Their annual pay can go as high as $60,609, according to ZipRecruiter.
Food Technologists
Food technologists are experts who research innovative ways food can be processed. They work to ensure that processed food is safe and healthy. They also contribute to the preservation and packaging of processed food.
Future food technologists need a bachelor's degree in related fields like nutrition, food science, microbiology, biochemistry, food technology, etc. Based on where you desire to work, the degree of education will differ. A food technologist working in a science and research field will need a master's degree.
A food technologist can work in food production organizations, labs, factories, or offices. Their average annual pay is $50,641, according to Glassdoor.
Sports Nutritionist
Sports nutritionists, as the name implies, as nutritionists who specialize in providing nutrition-related guidance to athletes. They examine their clients and come up with a nutrition plan that is supposed to enhance their clients' athletic performance. An effective nutrition plan helps athletes increase their endurance and recovery after exercise.
There are requirements before you can become a sports nutritionist. First, you need a degree in dietetics, nutrition, sports nutrition, or a field related. Then you need experience. Most states require a license before you can be allowed to practice sports nutrition. But you can only take the licensure exam after graduating and gaining the required amount of experience.
You can become part of an internship program. After getting the experience needed, you can take the licensure exams. Upon passing, you can now practice sports nutrition.
Sports nutritionists can fitness centres, hospitals, professional sports teams, athletic clubs, and more. A sports nutritionist can make up to $50,000 in a year or more.
What Are The Recommended Universities To Study Nutrition?
For students who intend to pursue a degree in nutrition, the following universities are known to offer the best nutrition courses.
New York University
Cornell University
University of Texas
Tulane University
Boston University
Ohio State University, etc
What Are The Benefits Of Pursuing A Degree In Nutrition?
One key part of having nutrition knowledge is that you get to help others pursue a healthy lifestyle. You get to help people develop good eating habits and lifestyles that prolong their lives and prevent diseases. You also enjoy an abundance of job opportunities. There are many career paths linked to nutrition, and in all of them, you get to help people.
Is An Online Degree In Nutrition Useful?
Yes, it is. An online degree from a creditable university is as good as one earned by attending physically. It's believed that universities put the same effort into creating these online courses as they do for courses attended physically. Online degrees also show the dedication and time management skills of students.
Conclusion
A degree in nutrition is something that'll always be useful as long as humans exist, and that's for a very long time. Jobs relating to nutrition are in high demand and pay well. If you are considering a career path in nutrition, you don't have to panic or worry about not getting a job or getting one with little pay. There are always people who need the expertise and knowledge of a person specializing in nutrition.
Frequently Asked Questions
What is the highest paying job for a degree holder in nutrition?
According to ZipRecruiter, the highest paying job for a degree holder in nutrition is a Chief Clinical Dietitian. A Chief Clinical Dietitian can earn up to $111,000 in a year.
Are nutritionists and dietitians in demand?
The U.S Bureau of Labor Statistics says that the demand for nutritionists and dietitians is expected to grow by 11% from the year 2020 to 2030.
Is nutrition a good career choice?
Yes, it is. A career in nutrition will never run out of demand, and it's expected to grow in the future. This career path also allows you to enjoy flexibility.
Where do dietitians get paid the most?
According to NutritionJobs, California, Oregon, New Jersey, Connecticut, and New York are the states where Dietitians get paid the most. The highest is in California, with an annual salary of $87,000 to $126,500.