The oldest university in the English-speaking world, the University of Oxford was established in 1096 and comprises 39 semi-autonomous colleges that are all self-governing within Oxford. All students of Oxford belong to one of these colleges and each college takes control over its membership and internal curricular and co-curricular. Let's start with Best Colleges At Oxford.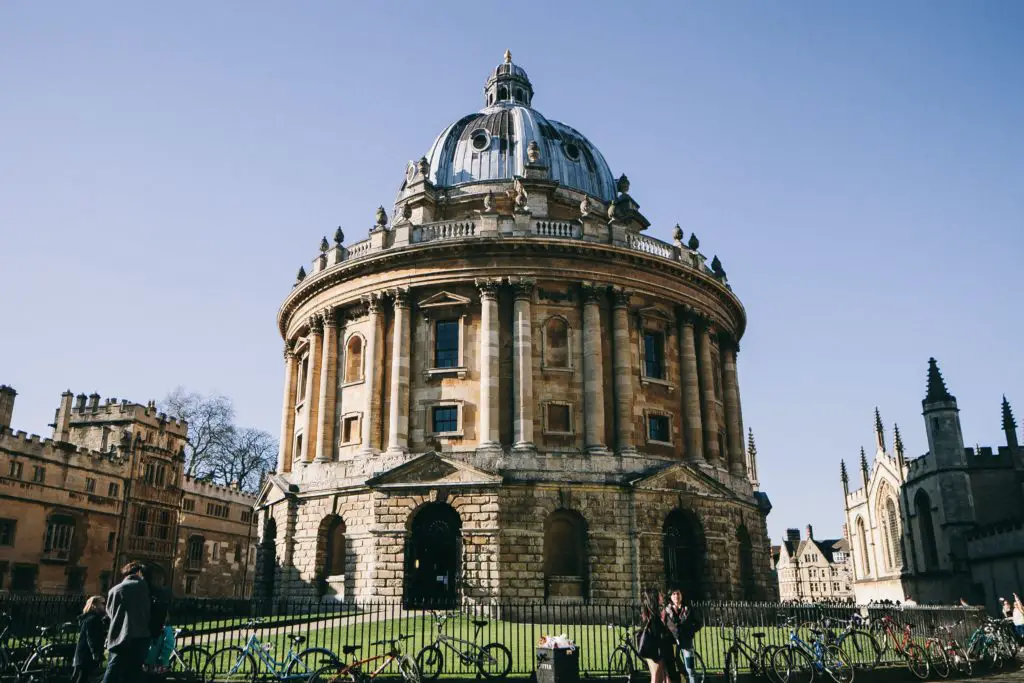 Amongst the 39 halls and colleges at Oxford, there are a few that stand apart from the rest, based on education, rankings, curriculum, admissions, and structure. Each year these colleges receive numerous applications for limited seats, each fighting and running into a competition to reach the best one. In this article, we will discuss the best colleges at the University of Oxford.
St John's College: 
Founded in 1955 St John's College is one of the oldest colleges of the University of Oxford. It is considered one of the wealthiest colleges in Oxford, this is mainly due to its suburban development in the city of Oxford. The college is amongst the most academically-oriented colleges of Oxford and ranks on the top of the Norrington Table which is the annual ranking of Oxford University. 
St John's college supports an inclusive environment with a socially and culturally diverse community. They specialize in offering the widest range of courses for undergraduates that are taught by lecturers and experts in the field. The college has one of the best libraries and study centers. Additionally, the college also offers meals to the undergraduates at a comparatively affordable price and also offers accommodation within the campus for the whole duration of the degree, thus building a greater sense of community. 
The college is known to offer scholarship and study grants to help students with any expenses related to academics and co-curricular like books, travel, equipment, devices, etc, for various projects, research, and dissertation. These diverse ranges of courses and facilities make St John's one of a kind and course the first on the list.
Trinity College 
Known for its beautiful and spacious site in the city center, Trinity college is a midsize college that is amongst the friendliest Oxford colleges. What makes the college so beautiful is its building which has four large quadrangles that are around beautiful lawns and gardens. The college looks majestic with its details architecture that comprises intricate work. Trinity can thus be seen in numerous movies as it is a famous filming location. 
Trinity offers admission to applicants from all backgrounds and ensures their full-time study at the college. They also provide accommodation for the undergraduate and food that is amongst the best offered at Oxford University. The student community is extremely welcoming and humble. Trinity students excel at co-curricular and thus represent a diverse community, they are known for sports.
Apart from sports, Trinity students also have a beautiful choir that gives recitals in both Oxford and other universities. They also give recitals in various places like Madrid, Budapest, and Tuscany. It ranks 8th on the Norrington score.
Merton College
Merton college is amongst the oldest and the most splendid college in Oxford that was founded in 1264, with its building from medieval times and the 17th century. This also includes a 13th-century chapel surrounded by immensely beautiful gardens that are protected by the city wall. 
Merton is known for its renowned alumni that have names like T.S Eliot, and various Nobel Prize winners like Anthony Leggett, Frederick Soddy, and more. 
Merton college takes in around 90 undergraduates every year while offering various courses. The Merton student body mainly comprises graduate students. Merton also has two big research groups known as the Life Sciences Research Group and the History of the Book Research Group.
Merton has one of the most stimulating and exciting atmospheres for academic enthusiasts. At Merton, Undergraduates can live off-campus in college-owned accommodation during their whole duration of stay, rooms are also available for students with disabilities. 
Merton is known to offer generous study grants and financial support to students in regard to learning languages, course-related projects, research, and travel.
Merton also has the oldest academic university library known as the Mob Library.
The New College 
Known as 'A place to thrive', the New College was ironically founded in 1379. The college is amongst the wealthiest colleges in Oxford with large grounds, strikingly splendid architecture, extravagant interior, vast gardens, paintings, and a medieval kitchen. One can also find the college in the fan-favorite Harry Potter series- "Harry Potter and the Goblet of Fire" where Professor Mad-Eye turns Draco Malfoy into a ferret.
The new college offers an outstanding culture of sports and musical life. It also comprises a vast sports ground that is just a few minutes away from the main college building.
It is rightfully a place to flourish and offers its students a team of mentors to support them throughout their academics and other ventures. The college plans to accommodate students on campus with spaces of art and learning for an exciting and welcoming environment. 
New College also has renowned alumni like- Kate Beckinsale, Richard Dawkins, and more.
Magdalen College 
When one thinks of Magdalen, one instantly gets the image, the feeling of its rich culture, college fun rituals, and its charm. If someone thinks about the most beautiful Oxford college, it would be Magdalen. It's filled with fascinating buildings, exquisite architecture, and paintings. However, what stands out the most is its Magdalen tower, Addison's riverside walks, and a Deer Park. Magdalen also has a large ground.
Magdalen offers accommodation to undergraduate students during the whole duration of their course. Magdalen is also known for its academic excellence and provides efficient financial grants to many of its undergraduates. Magdalen also stands out in terms of student and campus welfare as it provides a nurse, counselors, mentors, and a team for various activities like yoga, teas for the students, dog walking, and others.
As mentioned earlier Magdalen is known for its rich culture, as an example, when Oxford celebrates May Day, the Magdalen choir sings standing on top of the tower at 6:00 AM, it also has fun student traditions where when an Oxford student goes partying out at night and they stay up, they all gather in front of Magdalen college early in the morning. After its renowned alumni Oscar Wilde, the college celebrated 'Oscar Wilde Day' which is hosted by Magdalen's LGBTQ+ society. It also has famous personalities such as the writer CS Lewis, philosopher Ronald Dworkin, and more.
Christ Church College 
Oxford's other Harry Potter college is Christ Church College, where the dining hall of Hogwarts was filmed. The college's dining hall is the real dining hall shown in the Harry Potter series. Apart from this, Christ Church is known for its welcoming and lively student and staff community. 
Students of Christ Church get to eat subsidized meals at their picturesque dining hall and most of them live on campus. The college is also known for its huge library which can only be accessed by Oxford students. College also offers a common room for students, with its café, a Tv room, a college bar named 'Undercroft', free gym access, a big swimming pool, and more. 
It is also called a cathedral as well as a college for its buildings and elegant architecture.
Corpus Christi College 
Full of pride in its tolerance, traditions, fairness, and strong community, Corpus Christi College is a small Oxford college with overall excellence in academics. The college has its way of colliding history with the modern world, as can be seen by its library which has more than 60,000 books, PCs, and 24-hour open service for its students. 
Students here get to access the college's boathouse, common rooms, TV rooms, sports grounds, and a gorgeous beer cellar. The college also accommodated concerts, dramas, performances, parties, special lectures, club and society gatherings, and more. Corpus is known for its 'Owlets' student club and choir. 
Not to miss, the college organizes a ball every spring and a fest every June, with special events, setting the college's traditions apart.
St. Catherine's College 
St. Catherine's College is the youngest college in Oxford that holds one of Oxford's largest and most diverse student communities. It was established in 1962 and is now known as "St. Catz". St Catz excels in theater courses for undergraduates and graduates and attracts students as Cameron Mackintosh is one of its visiting professors of Contemporary Theater.
Being the youngest, St. Catz takes in a large number of students into Oxford.
St Catz is also known for its dreamy River Cherwell, where students can walk and sit along, with a water garden, a punt house, a music house, squash courts, and an amphitheater for indoor and outdoor productions.
Its quality of being traditional with modern aspects is depicted by its motto- 'Nova et Vetera'- meaning the new and the old, makes one feel at home.
All Souls 
Known to be holding the "hardest exam in the world", All Souls is a difficult Oxford college to get into. It does not take in Undergraduate students and has a complex admission process. Thus, having a student community of great academics and research fellows. All Souls is thus a college of no students.
All Souls excels in humanities, social sciences, and theoretical sciences, with a strong tie to public life. It is one of the biggest academic research institutes in Oxford.
All Souls is known as the 'College of the souls of all the faithful departed, as it was built in the 1430s and holds some religious values. It has some of the most respected Archbishops as its alumnus as Archbishop Cosmo Gordon Lang and philosophers like Bernard William.
Tips to Decide Your Oxford College
Here are some tips to decide which Oxford college one can prefer while applying for any program:
Keep in mind the location, as Oxford offers many parks, rivers, city center, sports center
Scholarships and grants, i.e., what particular grants each college has
Accommodation, if one can stay on campus or other college-owned accommodation off-campus
Facilities, as different Oxford colleges offer a different set of facilities and services
Going through student clubs and societies, one can surely find their interests in Oxford.
Look at the alumni, if you are fond of one or a set of common alumnus at an Oxford college, well, you have your answer.
Conclusion
When one chooses Oxford, one signs up for the most wonderful academic and learning experience of their life. It's as blissful as college life gets. In the case of courses, none of these colleges can be said to excel at one and not at the other, all of these colleges are well known for their course structures and world-renowned faculty. Every aspect of your life- academic, social, cultural is all well celebrated at Oxford. 
FAQs
Can we choose an Oxford college?
-Yes! and no! well the answer is that one can put in their preference while applying for Oxford, however, it is not a sure thing as the applicant might be shortlisted for some other college for the same course. Though keep in mind that all of these colleges are under Oxford and work on a common framework for admissions.
To choose your preference, you can check the Oxford website- https://www.ox.ac.uk/admissions/undergraduate/colleges/a-z-of-colleges for a well-detailed list of Oxford colleges.
Is Oxford friendly towards disabled students?
-Yes! Oxford has a welcoming and inclusive environment. However, for access to certain buildings, rooms, and areas, a disabled person might need special assistance, for which they must contact Oxford's Disability Advisory Service. Oxford also grants special scholarships and enormous grants for disabled students. One can look it up on the official website of Oxford University.
Is there any specific Oxford college that is easier to get into?
-No! Oxford usually gets a lot of applicants and has a tough level of competition. None of the Oxford colleges are easier to get into as some colleges receive higher applications while the others might receive averagely. This benefits students applying to other colleges. The eligible students who could not get into their preferred college are often reallocated and admitted to other Oxford colleges after the same admission process.