Overview of Gallaudet University and its housing options
Gallaudet University, located in Washington, D.C., is the world's only university designed specifically for deaf and hard-of-hearing students. With a rich history dating back to 1864, when it was established by President Abraham Lincoln, Gallaudet has been at the forefront of deaf education and empowerment for over a century and a half. The university offers a variety of academic programs, including majors in fields such as Deaf Studies, Psychology, and Business, and is renowned for its commitment to American Sign Language (ASL) as the primary language of instruction.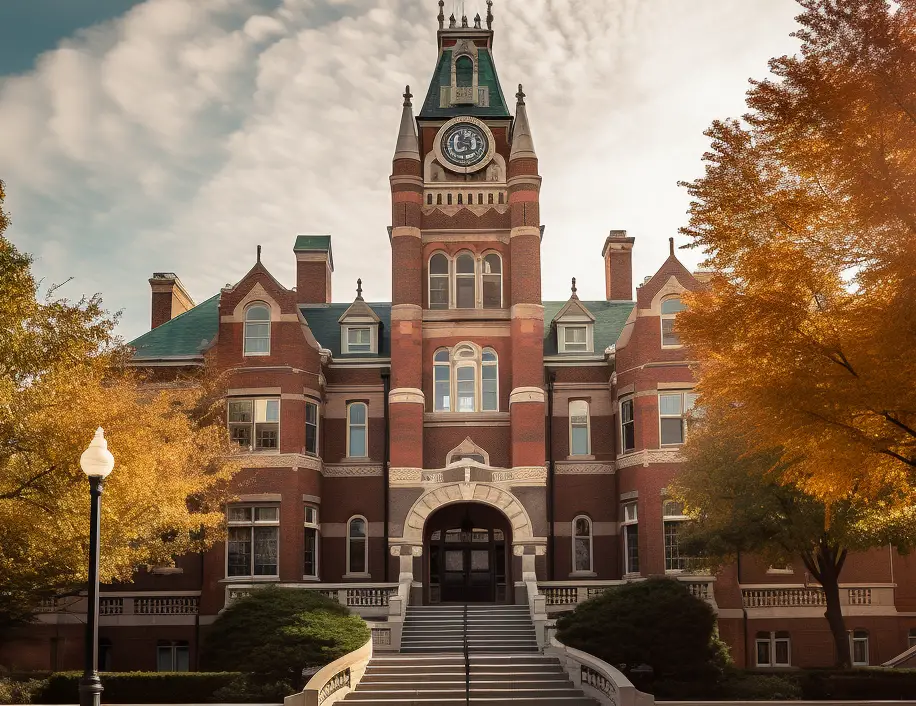 As a residential university, Gallaudet provides its students with a range of housing options that are not only comfortable but also accessible. The university understands the unique needs and preferences of its students, and its housing facilities are designed to cater to those requirements. Whether you're a freshman just starting your college journey or a graduate student pursuing advanced studies, Gallaudet University housing offers a supportive and inclusive environment that fosters academic success and personal growth.
In this article, we will explore the benefits of living in Gallaudet University housing, the different types of housing available, the amenities and facilities provided, the application process, and some helpful tips for making the most of your experience in Gallaudet University housing. So, let's dive in and discover why Gallaudet University housing is the perfect choice for deaf and hard-of-hearing students seeking a comfortable and accessible living environment.
Benefits of Gallaudet University Housing
When it comes to choosing housing options, Gallaudet University offers a range of benefits that make it a top choice for students. From its accessibility features to its supportive community, there are numerous advantages to living on campus.
Accessibility Features
One of the standout benefits of Gallaudet University housing is its focus on accessibility. As the world's only university designed specifically for deaf and hard of hearing students, Gallaudet goes above and beyond to ensure that its housing options are fully accessible. From visual fire alarms and flashing lights to video phone capabilities and vibrating alarm clocks, every effort is made to accommodate the unique needs of the students. This commitment to accessibility creates an inclusive environment where students can thrive without barriers.
Proximity to Campus
Another key advantage of living in Gallaudet University housing is its proximity to campus. With most housing options located right on campus or within walking distance, students have the convenience of a short commute to classes, libraries, and other university facilities. This proximity not only saves time but also allows students to fully immerse themselves in campus life and take advantage of the various resources and opportunities available.
Supportive Community
Living in Gallaudet University housing means becoming part of a supportive community. The university fosters a strong sense of belonging and encourages students to connect with their peers. From participating in residence hall activities to joining student organizations and attending campus events, there are countless opportunities to build friendships and create lasting memories. The tight-knit community at Gallaudet provides a support system that extends beyond the classroom, ensuring that students feel valued and supported throughout their university experience.
Cultural and Linguistic Accessibility
Gallaudet University housing offers more than just physical accessibility; it also prioritizes cultural and linguistic accessibility. As a bilingual university, Gallaudet values both American Sign Language (ASL) and English, creating an environment where students can freely communicate and express themselves in their preferred language. This linguistic accessibility fosters a rich cultural exchange, allowing students to learn from one another and develop a deeper understanding of deaf culture. Living in Gallaudet University housing provides a unique opportunity to be immersed in this vibrant community and fully embrace the richness of deaf culture.
By choosing Gallaudet University housing, students gain access to a comfortable and inclusive living environment that supports their unique needs. From the accessibility features to the proximity to campus, the benefits are clear. The supportive community and emphasis on cultural and linguistic accessibility further enhance the living experience. Gallaudet University housing is not just a place to stay; it is a home where students can thrive and grow both academically and personally.
Types of Gallaudet University Housing
When it comes to housing options at Gallaudet University, students have a variety of choices that cater to their individual needs and preferences. Whether they prefer the lively atmosphere of a residence hall, the independence of an apartment, or the spaciousness of a townhouse, Gallaudet University offers options to suit every student's lifestyle.
Residence Halls
One of the most popular housing options at Gallaudet University is the residence halls. These halls provide a vibrant and inclusive community experience for students. They offer a range of room configurations, including single, double, and suite-style rooms, allowing students to choose the living arrangement that best suits their needs.
The residence halls are equipped with essential amenities such as study lounges, community kitchens, and laundry facilities, ensuring that students have everything they need within arm's reach. Living in a residence hall also provides a great opportunity for students to connect with their peers, build lasting friendships, and fully immerse themselves in the vibrant campus life.
Apartments
For students who desire a greater level of independence, apartments are an excellent option. Located on or near the campus, these apartments offer students the freedom to live more autonomously while still enjoying the convenience of being close to all the university resources.
Gallaudet University apartments come in a variety of sizes and layouts, including studio, one-bedroom, and two-bedroom apartments. Each apartment is equipped with a kitchen, bathroom, and living area, providing students with the space they need to study, relax, and socialize. Living in an apartment allows students to experience a more private and self-sufficient lifestyle, while still being part of the vibrant Gallaudet community.
Townhouses
For those seeking even more space and privacy, townhouses are an ideal option. These multi-level units offer students the feeling of living in a home away from home. With multiple bedrooms, a kitchen, living area, and often a backyard or patio, townhouses provide ample space for students to live comfortably and create their own unique living environment.
Townhouses at Gallaudet University are designed to accommodate multiple students, making them a great choice for groups of friends or roommates who wish to live together. With their spacious layouts and additional amenities, such as parking spaces, townhouses offer a sense of independence and a cozy atmosphere that is perfect for students who value privacy and tranquility.
No matter which housing option students choose, Gallaudet University strives to provide a comfortable and inclusive environment that meets their diverse needs. With a range of options, students can find housing that suits their lifestyle and enhances their overall college experience.
Now that we have explored the different types of housing available at Gallaudet University, let's take a closer look at the amenities and facilities that make living on campus truly exceptional.
Amenities and Facilities
On-Campus Dining Options
Gallaudet University offers a wide range of dining options that cater to the diverse tastes and preferences of its students. Whether you're looking for a quick bite between classes or a sit-down meal with friends, the university has got you covered.
The dining halls on campus serve a variety of delicious and nutritious meals, including vegetarian and vegan options. With a focus on providing fresh and locally sourced ingredients, students can enjoy a well-balanced and satisfying meal every day. From made-to-order omelets and stir-fry stations to international cuisine and comfort food classics, there is something for everyone.
For those seeking a more casual dining experience, food courts and cafes are conveniently located throughout the campus. Grab a sandwich or salad at one of the cafes, or indulge in a slice of pizza or a burger at the food court. These options provide a quick and convenient way to refuel and recharge between classes.
Recreation and Fitness Facilities
Staying active and maintaining a healthy lifestyle is important for students, and Gallaudet University understands this. The campus boasts state-of-the-art recreation and fitness facilities that cater to all fitness levels and interests.
The recreation center is equipped with a variety of cardio and strength training equipment, ensuring that students have access to everything they need to stay fit. Whether you prefer running on the treadmill, lifting weights, or participating in group fitness classes, you'll find everything you need under one roof.
Additionally, the university offers a range of intramural sports and club sports for students who want to engage in friendly competition and team camaraderie. From basketball and soccer to volleyball and ultimate frisbee, there are plenty of opportunities to get involved and stay active.
Study Spaces
Finding the perfect study spot is essential for academic success, and Gallaudet University recognizes this. The campus provides a variety of study spaces that cater to different learning styles and preferences.
The library is a popular choice for students looking for a quiet and focused environment. With its extensive collection of books, journals, and online resources, the library is a valuable asset for students conducting research or studying for exams. Additionally, the library offers private study rooms and group study areas, allowing students to collaborate and work together.
For those who prefer a more relaxed and informal setting, coffee shops and lounges are scattered across the campus. These spaces provide a cozy atmosphere where students can sip on a cup of coffee or tea while studying or engaging in group discussions.
Laundry Facilities
Doing laundry is a necessary part of college life, and Gallaudet University makes it convenient for students with its on-campus laundry facilities. No need to worry about lugging your laundry to an off-campus laundromat or waiting in long queues.
The laundry facilities are equipped with modern washers and dryers, ensuring that students can easily clean their clothes without any hassle. The convenience of having these facilities on campus allows students to manage their laundry needs efficiently, giving them more time to focus on their studies and other activities.
With a wide range of amenities and facilities, Gallaudet University prioritizes the overall well-being and comfort of its students. From satisfying dining options to top-notch fitness facilities, convenient study spaces, and on-campus laundry facilities, the university strives to create an environment that supports both academic and personal growth.
Click here to learn more about Gallaudet University and its commitment to providing a comprehensive college experience.
Application Process
The application process for Gallaudet University housing is straightforward and designed to ensure that students have a smooth transition into their new living arrangements. Whether you are a prospective student or a current student at Gallaudet, the housing application process is accessible and accommodating.
Housing Application Timeline
To secure your spot in Gallaudet University housing, it is important to be aware of the housing application timeline. The application process typically opens several months before the start of the academic year, allowing students ample time to complete their applications and make necessary arrangements. It is recommended to submit your housing application as early as possible to increase your chances of getting your preferred housing option.
Roommate Selection
Gallaudet University understands the importance of creating a supportive and inclusive living environment. As part of the housing application process, students have the opportunity to select their roommates. This allows students to live with friends or individuals who share similar interests, ensuring a positive and comfortable living experience. For those who prefer not to select their own roommates, the university's housing staff can assist in finding suitable matches based on compatibility.
Special Accommodations
Gallaudet University is committed to providing equal access and accommodations for students with disabilities or unique needs. The university offers special accommodations for students who require specific living arrangements, such as accessible housing, visual or auditory assistance, or any other necessary accommodations. Students with special accommodation needs are encouraged to contact the Office of Residence Life to discuss their requirements and ensure that their housing needs are met.
Overall, the application process for Gallaudet University housing is designed to prioritize the comfort and accessibility of its students. From the housing application timeline to roommate selection and special accommodations, the university strives to create an inclusive and supportive living environment for all students. By participating in the application process, students can secure their place in one of the many housing options available at Gallaudet University.
For more information on Gallaudet University housing options, visit the Gallaudet University Housing page.
Tips for Living in Gallaudet University Housing
Living in Gallaudet University housing offers students a unique and enriching experience. To make the most of your time in the vibrant community, here are some tips to help you navigate residential life, build strong relationships with your roommates, and manage personal space and noise.
Getting Involved in Residential Life
One of the best ways to fully immerse yourself in the Gallaudet University community is by getting involved in residential life. Take advantage of the various activities and programs organized by the university's residential life staff. These events can range from social gatherings, cultural celebrations, and educational workshops, to community service initiatives. By participating in these activities, you can connect with fellow students, learn about different cultures, and develop valuable leadership skills.
Additionally, consider joining a residential student organization. These groups focus on specific interests and provide opportunities to engage with like-minded individuals. Whether you have a passion for sports, art, or social justice, there is likely a residential student organization that aligns with your interests. Joining these organizations not only allows you to pursue your passions but also fosters a sense of belonging within the Gallaudet community.
Building Relationships with Roommates
Living with roommates can be a rewarding experience that contributes to personal growth and lifelong friendships. To foster a positive living environment, it's crucial to establish open lines of communication from the start. Take the time to get to know your roommates, their interests, and their preferred communication methods. Regularly engage in conversations to address any concerns or conflicts that may arise and work together to find mutually satisfactory solutions.
Respect is key when living with roommates. Be mindful of each other's personal space and belongings. Establish boundaries and communicate any specific needs or expectations early on. Remember, everyone has different habits and preferences, so maintaining open-mindedness and flexibility is essential for a harmonious living arrangement.
Participating in shared activities and spending quality time with your roommates outside of the dorm or apartment can also strengthen your bond. Explore the vibrant campus, attend sporting events, or plan outings to nearby attractions. These shared experiences can create lasting memories and deepen your connection with your roommates.
Managing Personal Space and Noise
In any living environment, it's important to be considerate of others' need for personal space and quiet. Respecting quiet hours is crucial, especially during designated study times or late at night when others may be sleeping. Be mindful of the volume of your conversations, music, or electronic devices, and use headphones when appropriate.
To maintain a peaceful living environment, establish clear guidelines with your roommates regarding noise levels and quiet hours. Discuss individual study habits and establish a system that allows everyone to concentrate without distractions. By fostering a culture of respect and consideration, you can create an environment conducive to academic success and personal well-being.
In conclusion, living in Gallaudet University housing provides a unique opportunity to engage with the vibrant community, build meaningful relationships, and cultivate a peaceful living environment. By getting involved in residential life, establishing open communication with roommates, and being mindful of personal space and noise, you can make the most of your experience and create lasting memories during your time at Gallaudet University.
Conclusion
In conclusion, Gallaudet University housing provides a comfortable and accessible option for students. With its array of benefits, including accessibility features, proximity to campus, a supportive community, and cultural and linguistic accessibility, students can feel at ease and supported in their living environment.
The university offers various types of housing, including residence halls, apartments, and townhouses, catering to different preferences and needs. Each option provides students with a safe and inclusive space to call home during their time at Gallaudet.
Moreover, Gallaudet University housing offers an abundance of amenities and facilities to enhance the overall living experience. From on-campus dining options to recreation and fitness facilities, study spaces, and laundry facilities, students have everything they need within reach.
The application process for Gallaudet University housing is straightforward, with a housing application timeline, roommate selection process, and the option for special accommodations. The university strives to accommodate students' specific needs and preferences to ensure a comfortable and enjoyable living experience.
For students living in Gallaudet University housing, there are tips to make the most of their experience. Getting involved in residential life, building relationships with roommates, and managing personal space and noise are essential aspects of creating a positive living environment.
Overall, Gallaudet University housing provides a supportive and inclusive community for students. With its comfortable accommodations, convenient amenities, and accessible features, students can focus on their studies and personal growth while feeling at home. Whether residing in residence halls, apartments, or townhouses, Gallaudet University housing offers an enriching and vibrant living experience for all students.