You know that you often check the website of your favorite college. You even work hard to achieve this dream. However, no institute will tell you what should be your unweighted GPA if you want to get admission to this college. This compels you to think about whether or not you should apply to this institute. Will your hard work pay off or you are just wasting your time and money? You are left in a lurch deciding what should be your unweighted GPA if you want to get admission to this college.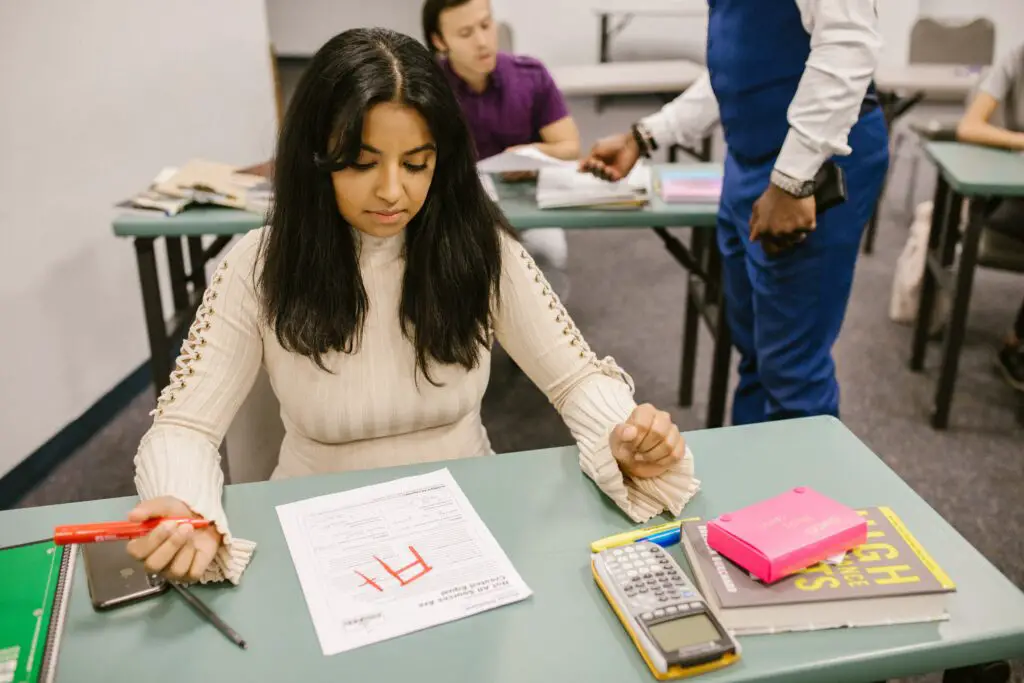 Good Unweighted GPA
While keeping in view college applications, an unweighted GPA that is good in one college can be bad in another. Many selected schools give preference to scoring perfect GPAs. In this regard, a 3.0 GPA is the national average score if you want to get admission to a prestigious institute. If you have lower grades than this, then it becomes difficult for you to get admission to the college. In this regard, gaining a good unweighted GPA comes in handy. 
So, if you are one of those who are preparing a list to get admission to the college, keep reading this article. To this end, you will be able to decide what should be your unweighted GPA if you want your name in various colleges and universities, whether they are famous or not. This will enable you to send your application with sureness.
But before we get into it, let's answer a very common question.
The difference between Unweighted and Weighted GPA
To put it in simple words, let's understand it this way – the main point of difference between the two is the acceptance of the difficulty level in your coursework. You can score 4.0 as the highest in an unweighted GPA and this does not take into consideration any coursework. On the contrary, a weighted GPA, the score of which ranges from 5 to 12, does include that.
Many high schools give preference to an unweighted GPA scale. And there are those colleges as well that only consider the weighted GPA – so it varies from college to college. 
Each scale has its advantages and disadvantages.
The downside of scoring low unweighted GPA 
This can be illustrated with an example. For instance, those students who are taking average classes and score high unweighted GPA stand equal to those who prefer to take challenging classes and end up getting low grades. In other words, both have the same unweighted GPAs. While there is no denying the fact that all the admission staff analyzes the academic record to assess various applicants.
Meanwhile, one of the positive impacts of a weighted GPA is that it enables students to opt for advanced courses so that they can be mentally prepared before they go to college. On the contrary, it is difficult to compute the weighted GPA of the students.
Many colleges won't even consider the fact that whether your school gives preference to a weighted GPA scale or an unweighted GPA scale.
If you score a good unweighted GPA, and the college to which you are intending to apply includes a holistic approach while giving admission to the students, make sure that you can easily get admission to the college.
The requirement of an Unweighted GPA in Colleges
Many institutes in the US don't set criteria for minimum GPA. This statement holds paramount importance for those colleges that have strict admission policies. However, the rule of thumb is, the more competitive institutions will likely select those students who score more GPAs in their schools.
Well, the high school GPA is indeed an important factor to analyze the secondary education performance of the students as it helps admission officers to evaluate the success chances of the applicants.
However, it is not the sole aspect that can help you analyze whether or not the student is ready to get admission to the college.
This is the reason why many admission officers follow a pragmatic approach by examining the various aspects of the applicants.
Others factors the admission staff consider
So, apart from taking into account their class rank, standardized test scores, GPAs, and academic rigor, there are some other factors as well that play a vital role in getting admission to competitive institutes.
Therefore, to give an idea to the applicants, the average high school GPA of the students is published by the institution. This gives an idea to the brightest students so that they can get college admission. Moreover, both students and parents will be able to analyze the standard of the institution as well.  
If you are also one who wants to know whether their unweighted GPA stands equal to those students who get admission to your desired college or not, then all you need to do is to check out the CDS of the institution.
The importance of Common Data Set
CDS stands for Common Data Set.  It is an association between different institutions that have links with secondary as well as postsecondary education in the USA. Their range is very diverse, including college ranking sites, high school counselors, and National Center for Education Statistics (NCES).
The aim of the CDS is very clear: to give clear and authentic data to those students who are seeking admission to different colleges. Therefore, by evaluating the CDS of different institutions, you can have a clear picture in your mind about the criteria of those colleges to which you wish to get admission.
Below is the list of the top-notch colleges and universities that can help you understand the scale of the unweighted GPA of those students who got admission to these institutions. Let's get to them now!
Harvard University – undeniably the famous popular Ivy League school
Stanford University – and admired institute often mistaken as an Ivy League
Georgia Institute of Technology – a prestigious public school
Stony Brook University – an average school scoring an acceptance rate of 44%
Columbia College – a normal school with having 97% acceptance rate
Enrollment in local colleges, 2005
| | | | | | |
| --- | --- | --- | --- | --- | --- |
| GPA RANGE | HARVARD | STANFORD | GEORGIA TECH | STONY BROOK | COLUMBIA  |
| 1.0 and below | 0.00% | 0.00% | 0.00% | 0.00% | 0.00% |
| 1.0 to 1.99 | 0.00% | 0.00% | 0.05% | 0.00% | 0.00% |
| 2.0 to 2.49 | 0.00% | 0.00% | 0.24% | 0.15% | 2.00% |
| 2.50 to 2.99 | 0.11% | 0.00% | 0.38% | 0.69% | 13.00% |
| 3.00 to 3.24 | 0.32% | 0.30% | 0.61% | 3.77% | 9.00% |
| 3.25 to 3.49 | 1.79% | 0.40% | 0.94% | 8.22% | 15.00% |
| 3.50 to 3.74 | 4.00% | 3.10% | 2.45% | 20.58% | 19.00% |
| 3.75 to 3.99 | 18.02% | 27.50% | 10.75% | 27.85% | 24.00% |
| 4 | 75.76% | 68.70% | 84.58% | 38.74% | 18.00% |
Now you can easily analyze that those students who successfully get admission in the top universities such as Stanford University, Harvard University, and Georgia Institute of Technology, scored an ideal 4.0 unweighted GPA.
This simply demonstrates that if your unweighted GPA is less than 4.0, then it becomes difficult for you to get admission to prestigious institutes. However, there are some chances that you can get admission to these universities if the other aspects of your application help you stand out from the crowd.
Remember before you apply to any college
Many institutions don't set the criteria to score a minimum GPA in your schools. However, the moment you analyze their CDS, which is located in the Freshman Profile section, then you can get a clear idea that these colleges and universities give admission to those applicants who have scored certain unweighted GPAs that fall within a specific range.
However, just because you have a less unweighted GPA when compared to other students, doesn't mean you lose your chance to get admission to your dream college.
There are other factors that these institutions take into account.
So, your GPA is not the only deciding factor that admission officers consider. Other aspects include recommendation letters, admissions essays, work experience, extracurricular activities, volunteerism, and others.
No need to say now that if your overall application seems good, then get ready to receive the acceptance letter from the college of your dreams.
Conclusion
To conclude, if you want to know whether or not your unweighted GPA can get you admission to the desired college, check out the CDS of the institutions. Other factors include the college which you select, the academic rigor you have, and the type of courses you want to take in your college. Many colleges have a holistic approach when selecting applicants. So, you need to work on all your areas if you want to secure your position in a good institute.
Frequently Asked Questions
Do all the colleges have GPA requirements?
No, some institutions never implement such criteria. However, they have some requirements to check if you are ready to get admission to the school. For example, some schools want you to have some work experience in a certain field.
What is the requirement for an unweighted GPA for Harvard University?
In reality, you need to score a 4.0 unweighted GPA if you want to secure a position at this university. This means you should have straight As in every class.
What is Yale University's criteria for an unweighted GPA?
You need to have close to a 4.0 unweighted GPA to get admission to this university.
Do Ivy Leagues take into account unweighted GPA?
The academic expectations of Ivy League schools are very high. Many of their students have more than a 4.0 GPA. This is because all Ivy League universities prefer a weighted GPA when compared to an unweighted one.