Office supplies include everything from pen, pencil, or eraser to frames, organizers, seaters, or planners. Cute office supplies are essential attributes to make the office space more enjoyable to work in. It develops a sense of aesthetic and pleasant feel to being in the environment. Let's start with Cute Office Supplies Stores.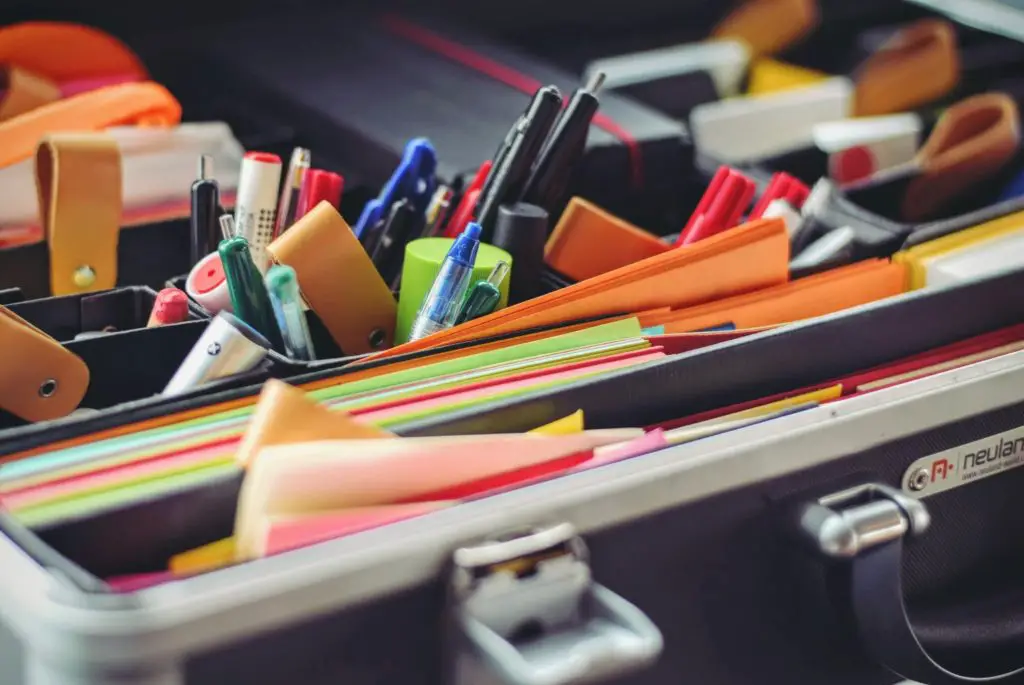 Various stores provide cute office supplies that stimulate the pleasure of working in the office. Notable stores include Romwe, Nordstrom Rack Online, Anthropologie, Etsy, Joann, Michaels, TJ Maxx, Hobby Lobby, and Wayfair.
Some Common Office Supplies Stores
Anthropologie
Anthropologie guarantees the customers that its office supplies are modern and classy. The Anthropologie supplies may not always be cheap but they can be added in the best cute office supplies stores. This is because their products are extremely cute. The major attractive items of Anthropologie include but are not limited to crystal bookends, marble paperweights, and leather magazine holders. It is a step ahead of its competitors concerning decorating your office. 
Romwe
Romwe is best suited for the term "cheap and best". Yes, it is the cheapest store to purchase cute office supplies. But also to mention that the quality is not that bad. Romwe is a perfect choice to decorate your office at an affordable cost. It is specialized in hidden drawers, all types of stationery, and pleasant fruit-shaped stickers.  
Nordstrom Rack Online
Nordstrom Rack Online has a lot of superior quality office supplies at a surprisingly affordable cost. The added advantage of purchasing in Nordstrom Rack is its painless shipping and pricing. The rack contains everything that is needed to fulfill the office racks like pens, journals, calendars, and planners. 
Joann 
If the office needs a crafty and artsy look Joann is the go-to place. It contains everything from a pencil, and eraser to a calendar, seaters, etc. Reaching out to Joann is a perfect choice if the office needs to have a classy look. 
Etsy 
Etsy is the right place to decorate the office with talented professionals. It supplies handmade items exclusively made by artists from all over the world. It has a wide collection of supplies made from the heart by expert hands. Etsy assures unique and cute office supplies at a premium price. They provide all kinds of custom items of high quality. 
Wayfair 
Wayfair is one of the best stores that supply office supplies. It has numerous items to decorate the office space as a classy work area. It also provides organizers, shelving units, desktop drawers, etc. They also provide free shipping for purchases above 35 dollars. This is also one of the reasons why it is most loved in the industry. 
Hobby Lobby
The prices and the collection of items that Hobby Lobby has can just not be beaten. They have a whole lot of things that will not make you leave empty-handed if you visit either an online or offline store.  They provide the best and most unique collection at a very low price. This is the reason why it is absurdly popular among the shopping freaks. Its unique collections include custom office coffee mugs, customized calendars, cheetah print globes, etc.
Michaels
Michaels has got everything you need. There is nothing left out to be found in the store. Also, they have enormous choices and options to be selected for any particular item. Michaels helps the customers to design their offices more professionally with their customized photo frames.
TJ Maxx
TJ Maxx has a collection of cool and useful office supplies. They have both offline and online stores. They are specialists in handcrafted bookcases and wireless keyboards. They provide multiple trendy organizers. Also, the prices do not hurt the wallets.    
Target 
Target is yet another giant of online commercials. It is a warehouse of multiple office accessories. It has everything that is needed to set up a new space. It has abundant choices that make the customers perplexed to find the right one. Since there are enormous supplies it is very easy to complete the purchase in a single place.
Conclusion
Various stores sell everything that is connected with the office space. And each store is specialized for particular types of items, so it is advised to search for the right option to buy each item. Also, some stores give good quality supplies at an affordable budget, select according to your preference. 
FAQs
Where can I find the best quality bookmarks?
Urban Outfitters has diverse options of bookmarks. You can select from a wide range of collections.  
Where can I find fashionable office items at an affordable cost?
SheIn is the site of fashion, they provide classy items at a cheap price.  
Which is the best choice for office furniture? 
Overstock has various desks, filing cabinets, and office tables that are premium in quality. 
Where can I find the entire stationery item?
Poppin has everything you need to organize your office. It includes ultra-sleek notebooks, staplers, etc.