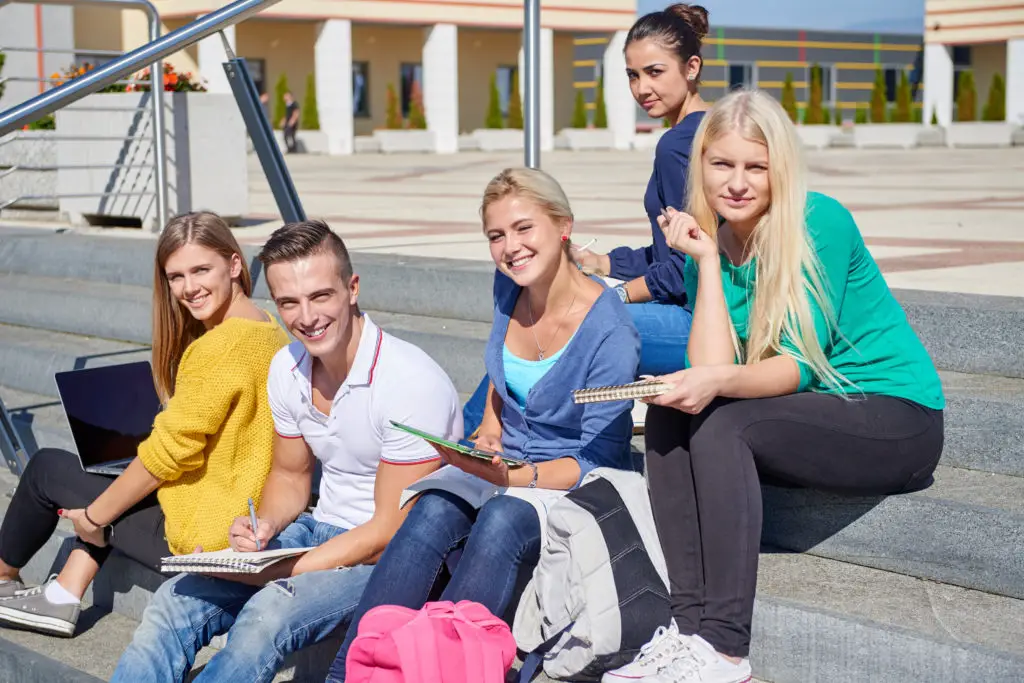 Introduction 
In Iowa, there are several colleges like the prestigious Grinnell College and Northwestern College. A college is a form of higher institution of learning where students proceed with learning after gaining certification in high school. Colleges produce students with degree certification. However, colleges and universities are quite different. While universities are larger institutions, colleges are often smaller.
How many colleges are in Iowa? 
The United States is known around the world to have several outstanding institutions. There are over 7000 higher institutions in the United States.  These institutions offer different degrees and diploma programs depending on their accreditation level. The state of Iowa with the popular nickname "The Hawkeye State" is known for many things, one of which is education. 
In 2019, Iowa was recognized to have a 91.3 per cent of graduation rate, which is the highest rate in the United States. There are approximately 60 to 70 colleges and colleges within the universities in Iowa. There are also more non-profit private schools than there are public colleges in Iowa. Most of these non-profit colleges are owned by religious institutions. There are approximately 19 public colleges either as standalone colleges or university colleges. The private-owned colleges are privately funded while the public colleges receive their funding from the government. 
Iowa is one of the states in the United State located in the Midwestern region. It has the largest city, the largest metro and urban areas such as Des Moines. The state ranks 26th based on geographical occupancy with a total of 144,669.2 km square. It is also the 31st state when considering the population of inhabitants of the state. 
Colleges in Iowa 
There are over 60 approved colleges and colleges within the universities in Iowa. Here are some of the top colleges in Iowa: 
Grinnell College 
Luther College 
Lora College 
Cornell College 
Northwestern College 
Grinnell College 
Grinnell College is one of the privately-owned non-profit colleges in Grinnell, Iowa. The college was founded in the year 1846. It has 87 per cent of first-time and full-time undergraduate students who graduated within 6 years. The average cost of education at Grinnell College runs to about $73,644. Students can also enjoy aid at an average of $22,486. According to Business Insider, Grinnell College ranks 25 out of 50 colleges where students work the hardest. It is also Niche's No. 5 of 2022 best colleges without an application fee in America. At Grinnell College in Iowa, programs such as computer science, political science, and econometrics are the most popular area of study. 
Luther College 
Luther College is a private non-profit institution located in Decorah, Iowa. The college was established in the year 1861 as a Lutheran seminary. The college boasts of its commitment to quality education as it seeks the growth of knowledge among humans. Typical admission requirements at Luther College includes SAT and ACT examination test scores. The populated area of study at Luther College is music, biology, registered nursing, and business administration. The college has been ranked by Nurse.org as the No. 6 top 10 nursing school in Iowa. It was also ranked the No. 7 in the 2021 Iowa University ranking by 4icu.org 
Loras College 
Loras College is a catholic-owned private non-profit institution located in Dubuque, Iowa, United States. The college offers programs such as finance, social work, psychology, mass communication and kinesiology among others. Loras College ranks 21st among the top 50 colleges that award the most merit aid. The college also ranks 2nd among the rankings of universities in Dubuque, United States in 2022. 
Cornell College 
Cornell College was established in the year 1853 by George Bryant Bowman. The college is situated in Mount Vernon, Iowa, United States. Currently, Cornell College's student base is made up of 7 per cent international students, and 16 per cent among blacks among other races. The college ranks among colleges that are no longer requiring SAT and ACT scores for admission. 
Northwestern College 
Northwestern College is located in Orange City, Iowa, United States. The college is a private, non-profit Christian-owned college. It is affiliated with the Reformed Church. Northwestern College offers bachelor's programs in areas such as Accounting, public relations, and secondary education among others. 
What are the requirements to consider when applying for a college in Iowa? 
The following are the requirement for application to any college in Iowa: 
You will be required to present your secondary or high school academic reports. You will also need your higher degree transcript if you are applying for a master's degree program. 
English Language proficiency – 
Though some colleges in Iowa no longer require English language proficiency tests, some do. Colleges that require English language proficiency will accept tests based on SAT, ACT or TOEFL. You must check the school website or contact an administrator on what proficiency test is acceptable in the college. 
Evidence of financial support – 
This is to ensure that you can comfortably afford to pay your levies and fees as a student. Especially for international students, no school would want to start stressing over defaulters. 
There might be more requirements other than those above, but this will be specific to the college you applied to. Applicants must check the college site to ensure they understand all the requirements of the college. This should be done before applying. 
How much does it cost to school in Iowa? 
Education is generally expensive. According to collegecalc.org Iowa ranks amongst the costliest in the United States. It ranks as the 8 most expensive and 45th most affordable state in the United States. Schooling in Iowa can be considered expensive compared to other states in the United States. For instance, Loras College's tuition fee cost $35,218 while other expenses such as books, and the room could be up to $11,711. This puts the average cost of education at Loras College at $46,929. 
Conclusion 
There are several colleges in the state of Iowa. Most of these colleges are privately owned and are recognized as non-profit institutions. However, the cost of living in Iowa is high and therefore this factor affects the cost of acquiring education in the counties of the state. Regardless of this, Iowa has a reputation of high graduation rate than many other states in the United States. 
Frequently Asked Questions 
Is Iowa a safe place? 
According to safehome.org, Iowa is ranked No. 16 for property crime out of 50 states in the United States. Similarly, Iowa is considered safer than Michigan, Louisiana, Maryland, and Ohio among others. 
What is the employment rate in Iowa? 
The unemployment rate in Iowa is said to have dropped from 40 per cent in 2021 to 3.3 per cent in March 2022. This can only be attributed to increasing job opportunities and citizenry welfare.