Once upon a time, students were frowned upon for using their cell phones in the classroom. Despite this, teachers are beginning to embrace the potential of smartphones as instructional tools. Over time, phones have developed into potent educational tools that, when implemented correctly, can boost student achievement. Let us know about 'Cell Phones Learning Tools'.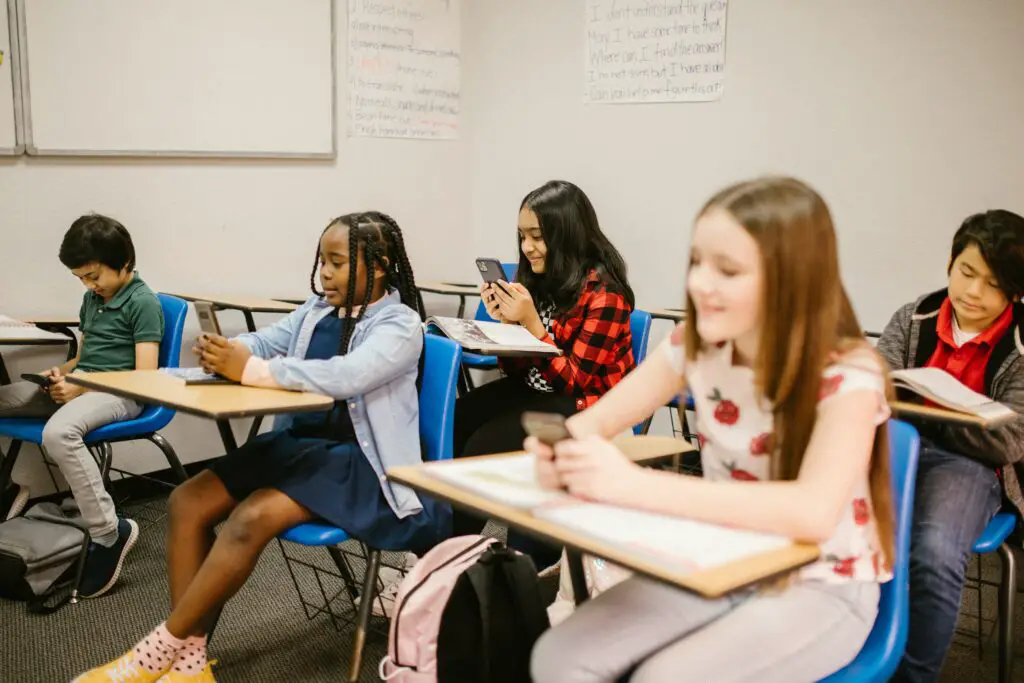 Classroom Cell Phone Use: A Brief History
They are more efficient with their time, thanks to their cell phones. The user may program a variety of reminders, alarms, and so on. In addition, students may benefit from cell phones by downloading and utilizing e-reading apps and textbooks. The many available online IQ tests are an excellent resources for helping pupils improve their mental abilities.
1. Vocabulary Builder
Exam Vocabulary Builder for smartphones simplifies English word learning. The program teaches new words to first-year students, college students, and entrance test takers. Use new words in sentences. The service assists GRE, SAT, and TOEFL test takers in prestigious institutions. Cloud technologies can sync your studies across devices. Downloadable onto a user's mobile device, such an app serves as a portal to a library of educational materials.
2. Quizlet
Quizlet is a simple online flashcard maker, learning tool, and academic booster. Business, physics, chemistry, and math may be diagrammed and defined. The software makes learning fun. Quizlet might help you learn a new topic next time, as Quizlet allows innovative learning and higher marks.
3. Exam timer
Exam Countdown, a free Android and iOS app, may help you study. You managed to submit your last high-weight project before examinations. The program arranges assignments, exams, quizzes, and presentations. Exam Countdown organizes important dates.
4. Cold Turkey
Windows, Mac, and Android users may download Cold Turkey for free. Install this app if social media or other websites distract you. Studying without distractions helps. The program only lets you go on time. No applications or websites are allowed. Students use Cold Turkey App to learn a new topic for one hour. You cannot cheat or quit the app.
5. MyScript Smart Note 
Isn't your tablet's QWERTY keypad quick enough for class notes? MyScript Smart Note simplifies tablet note-taking. A simple interface allows you to change your handwriting with gestures. Photos, math, PDFs, and sound are allowed. The application enables unlimited pages, backups, file exporters, and languages for a fee.
6. Dawn
Sunrise keeps students organized and on schedule. Simple calendar app. LinkedIn and Facebook can use it. Android users may install home screen widgets.
7. EverNote
New York Times' top 10 free applications include Evernote. Students must juggle exams, homework, and group projects. To-do lists, notes, voice recordings, and photos need Evernote. The revamped Evernote lets you create messages with a finger or pen.
These are just a few options. The app store offers hundreds of entertainment alternatives. Thus, students have more alternatives while using mobile phones in class, which may be advantageous. They'll start with smartphone multitaskers. Searching online requires just a mobile device and a browser. Educators need more time to help pupils set up and use the gadget. It saves class time.
The Center for Digital Education provides several suggestions for using mobile devices in the educational setting. Using mobile devices as information gatherers is the most apparent method. Connecting to the internet via a mobile device allows for easy access to reliable online resources that may be included in written work. Nonetheless, the Center proposed several other novels uses for mobile phones.
Students' Use of Cell Phones in the Classroom
We've covered the background of mobile phones and their general use in the classroom, but we have not looked at how specific instructors use them in their classes. Mobile phones' efficacy and utilization may be shown via concrete instances. Here are two ways mobile phones have been used in the classroom.
Six ways students may study using smartphones:
1. Shorten videos
Students may be creative with 5-to-20-second videos. Students may use their mobile devices to produce movies on the spot or contribute to a teacher-created compilation. Music videos, interviews, literary trailers, historical reenactments, tutorials, and stop animations may all teach.
2. QR codes
QR codes provide rapid access to audio, video, website contact details, and short text. I use them in a German scavenger hunt. Most phones have QR code readers, but if your pupils don't, there are many free applications. QR codes require extra work, but kids appreciate the learning twist. 
QR codes may produce answer keys alongside each issue for students to self-check. The codes might connect to informative websites or YouTube videos. Scavenger hunts, where students solve riddles or answer questions, are my favorite application for QR codes. The QR code will guide them to the following question if they respond correctly. Technology and gaming interest students.
3. Online dictionaries and thesauri
Once pupils master dictionary applications and websites, their work improves dramatically. As a German instructor, I know how useful it is for my pupils to quickly look up the gender of a word using a tool like PONS or LEO. Verb conjugation? LEO! (for German). Need help with a term in a book or double-checking an essay word? Try Linguee. Tired of saying the same period multiple times again? Open Thesaurus has multilingual synonyms!
4. Padlet and Twitter allow collaboration
These two technologies boost student involvement and give instructors real-time feedback on student learning. Shy students may use Padlet and Twitter to react to class questions and brainstorm, resulting in valuable insights. If a student has a question, they may post it on the class's Twitter account, and their instructor can react to it during the course without calling attention to anyone. When the instructor establishes a memorable hashtag, pupils may more easily share their work. Maintaining a Facebook page for the classroom is one example of using social media to serve a similar objective of keeping students informed.
5. Podcasts and news
Smartphones provide rapid access to civics, political science, English, psychology, mathematics, foreign language, and hard science media sources. These sources include periodicals, magazines, news websites, podcasts, and other formats. Students who are eager learners who want to keep studying outside of class and struggling learners who need more exposure, and everyone in between, may benefit from this technology. 
6. Memrise
Memrise, a language-learning program, makes learning easy. Avoid restricting pupils to instructional applications. Let children play imaginative games. You may alter the language option of Trivia Crack.
Apps created to educate pupils are interactive and fun. There are many benefits to using a learning app, including but not limited to knowledge augmentation, individualized learning experiences, increased engagement, online study materials, streamlined communication, and remote access.
Advice on Using Mobile Devices in the Classroom
As Sung, Chang, and Liu pointed out, teachers should be mindful of specific guidelines while implementing mobile phone use in the classroom. They started by pointing out that more than a mobile device's numerous functions were needed to boost performance in school. Instead, effective ways of teaching and learning have to be created. For instance, educators must watch to ensure pupils aren't mindlessly scrolling through social media or playing games on their phones. Students might be reminded to remain on track and given an estimate of how much time they have left to complete a particular assignment using wireless communications that are broadcast to the whole class. Scientists generally warned educators to keep a close eye on their courses to ensure children don't become distracted. The studies discovered that many educators only employed mobile technology for a small portion of the semester's curriculum. Teachers may be able to find more effective educational strategies by using mobile devices.
Conclusion
Mobile phones have come a long way from being considered disruptive in the classroom to being recognized as a resource for learning. Using mobile devices in school has several positive effects, including better learning outcomes, more student engagement, and simpler assignment management. As with any resource, though, instructors must think about the best to use technology in the classroom.
FAQ:
How can mobile phones help improve student learning?
When asked how classroom technology may best improve student learning, experts emphasized the need to integrate it deeply into lessons. Teachers should develop strategies for anticipating the condition to utilize technology in the classroom. In other words, students should only use their phones for educational purposes while in class. 
What is the Instructable App?
The Instructable app is another one that might come in handy. Over a hundred thousand DIY projects, along with detailed how-to guides, may be found in this app. This program is ideal for "maker" schools that encourage students to put their knowledge of science and technology to practical use by developing original projects that enhance student purview.
How can students use Twitter for learning?
Teachers may utilize a Twitter feed designed for the classroom to keep students informed of class activities and upcoming deadlines. Twitter feeds are an excellent way for teachers to interact with students, especially those who may be too bashful to voice a question in class.